Gita Govinda, Part 18
BY: SUN STAFF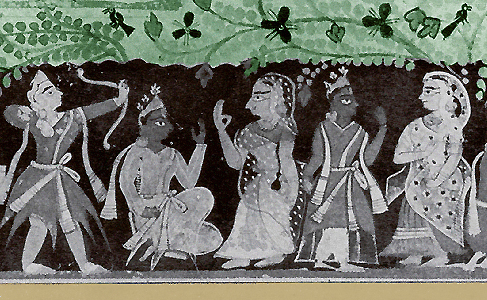 Sep 24, 2011 — CANADA (SUN) — Reprise of a 2005 month-long series on Gita-Govinda.
In the book "Kangra Paintings of the Gita Govinda", published by the National Museum, New Delhi in 1963, we read: "A wave of Vaishnavism spread in Rajasthan in the sixteenth and seventeenth centuries, and along with the worship of Krishna the song of Jayadeva also became popular. There is an imaginary painting of Jayadeva with five other poets in the Khajanchi collection, painted in the primitive Chaurapanchasika style, which has been dated c. 1580.
In c. 1610 the Gita Govinda was painted in Western Rajasthan in the mellowed and modified Jaina style. A large series of paintings of the poem were painted in Mewar in 1723 under the patronage of Maharana Samgram Singh II (1710-1734), which are now in Sarasvatii Bhandar, Udaipur. An artist of Kishangarh painted a delightful series of paintings of the Gita Govinda in 1820 for Raja Kalayan Singh, which are in the collection of the present Raja."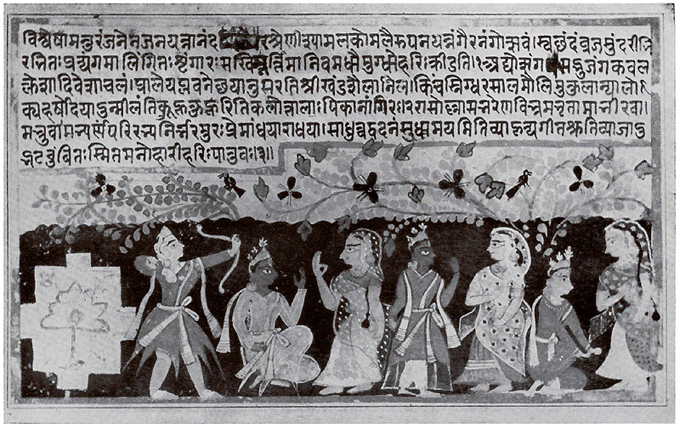 The Jaur Gita-Govinda was created, in 1593 A.D. (1650 Samvat), near the beginning of the era described above. During the same century, the Western Indian style of painting emerged. Pictured above and below, we see two excellent examples of Gita-Govinda manuscript illustrations painted in the Western Indian style.
These Western Indian style paintings have certain similarities to both the Jaur Gita-Govinda and the Caurapancasika style paintings. For example, the splendid trees pictured here have sprays of small leaves similar to the Caurapancasika paintings, rather than the large, solid bodied trees often appearing in the Jaur manuscript. At the bottom of the painting below, we see the wavy line of the Yamuna and at the top, the Sanskrit text, again similar to the Caurapancasika style.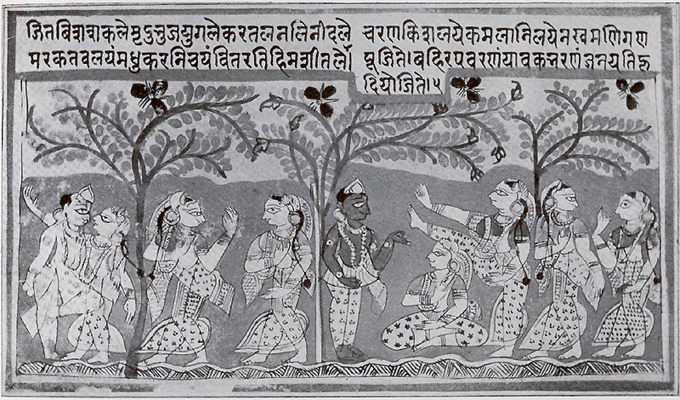 The faces depicted in the Western Indian style, however, are more like those in the Jaur : less formal, more softly styled, and with greater uniqueness of character from face to face. The Western Indian style includes an array of delightfully rendered birds in the trees, also reminiscent of the more naïve style of the Jaur folios.

The Western Indian style succeeded the Ajanta style in western India. Included among the earliest examples are a few surviving wall paintings at the Kailasa temple (mid-8th century), at Ellora, and at some of the Jaina temples built nearby about a hundred years later. Most examples of the Western Indian style survived not on the walls of temples, but in the great many illustrated manuscripts of the day. The Gita-Govinda pictured here provides an excellent example of both the school and period.





The Sun News Editorials Features Sun Blogs Classifieds Events Recipes PodCasts
Copyright 2005, 2011, HareKrsna.com. All rights reserved.