Jaur Gita Govinda, Part 12
BY: SUN STAFF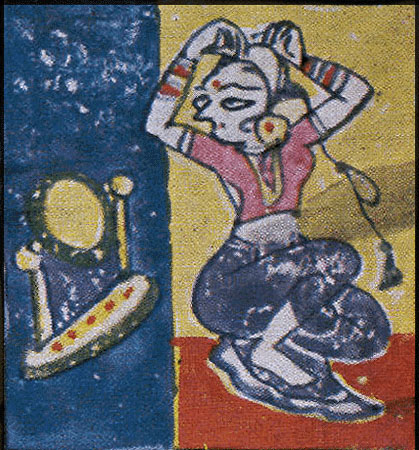 Sep 18, 2011 — CANADA (SUN) — Reprise of a 2005 month-long series on the illustrious Jaur Gita-Govinda.

Text Folio No. 25, Bhava 29
Bhava 29 describes Radha's suspicions as she imagines Krsna surrounded by innumerable maidens. She can be neither patient nor tolerant towards one such as he. 'Why did he desert me,' asks she, 'when we had promised to meet?'
In bhavas 30 and 31, Radha addresses the Yamuna and asks the river why its water has also receded and cannot give her refuge and drown her. She cries out to the wind (pavana) and asks why it does not tear her heart out. In bhava 31, the sakhi advises Radha and entreats her to give up her anger and to meet Krsna. The sakhi uses all her persuasive powers lest they appear to be of no avail. Bhavas 30 and 31 are a faithful prose translation of some verses of the sixteenth prabandha.

Illustration Folio 24
Folio 24 shows a lonely Radha on the banks of the Yamuna, obviously conveying the sense of the imagery from the last part of bhava 30. Radha's state is conveyed through the expanse of the Yamuna, which she is addressing. The diagonal of the Yamuna separates her from the woods, which can be seen in an opposite corner. The folio is one continuous panel and not broken up into compartments. In this monochrome panel, Radha cries out to the Yamuna, "Are your waters not enough to drown me?"
Text Folio No. 25, Bhava 32 and 33
In bhavas 32 and 33 the scene changes radically. After a sentence of praise for Krsna, it speaks of Krsna's addressing Radha in endearing terms, asking her pardon. He will suffer any punishment she will deem fit for him. He apologises for his forgetfulness, and offers all he can. He offers to paint in vermillion (lac) her feet, do whatever she will want him to do, and will let her do what she will to him. He describes the beauty of her hair, brow and lips, and sings praises to her incomparable beauty full of the sixteen types of adornment (solah Srngara).


Illustration Folio 25
This folio is divided into three sections. Radha has arrived and Krsna receives her with the loving tenderness expressed in the famous twenty-second prabandha of Jayadev's Gita-Govinda. She must be tired. Hari pleads with her to place her feet on his head: pada pallavamudaram. These verses have inspired poets, writers and painters alike. In the N.C. Mehta Collection's Gita-Govinda and the manuscript at City Palace Museum in Jaipur, we find illustrations showing Radha literally placing her feet on the diminutive figure of Krsna.
In the Jaur folio, Krsna is seen decorating Radha's feet in the first panel. Radha sits on a striped floor cover with her leg extended, looking proud but affectionate. She is framed on a bright yellow background while Krsna sits humbly against a dark blue background, tenderly holding her foot aloft. The lacquer on Radha's foot is suggested by the red patches, which match Krsna's halo. The transition of indoor and outdoor background colors may also suggest the passage of time.
In the second panel, Krsna sits on the striped floor mat with Radha, holding her close to him. The humility with which Krsna sits in the first section is replaced by the passionate embrace in which he holds Radha in this panel. The background color has changed to a soft, mottled green, with a feeling of sunshine and light. Radha no longer sits proud, but is now soft and tender.
In the third panel, Radha is adorning herself in front of a mirror. She sits on a bright red floor against a yellow background.


The Sun News Editorials Features Sun Blogs Classifieds Events Recipes PodCasts
Copyright 2005, 2011, HareKrsna.com. All rights reserved.