Jaur Gita Govinda, Part 10
BY: SUN STAFF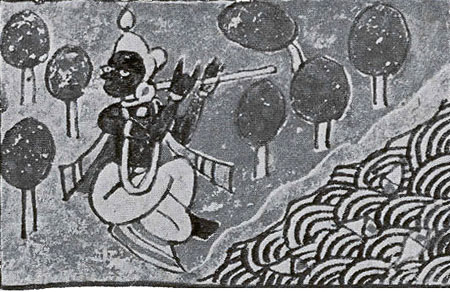 Sep 16, 2011 — CANADA (SUN) — Reprise of a 2005 month-long series on the illustrious Jaur Gita-Govinda.

Text Folio No. 22
Bhava 19
Bhava 24 describes the sakhi again pleading with Radha. She tells Radha that the moment of her meeting Krsna is fast approaching. She says that Krsna can no longer play the flute in rhythm because his thoughts are constantly with her. Radha must not waste time, the moment draws near and she must prepare herself for the meeting.


Illustration Folios 21 and 22
This folio shows Radha and the sakhi in conversation in two sections, and Krsna sitting alone and huddled up under a tree in the third. The expanse of space given to the sakhis is balanced with the small secluded place given to Krsna in a limited frame. The unequal division of the sections emphasizes their longing for one another, but in different moods. The passage of time is indicated by the changing background colour.

Folio 22 develops on the same theme. In one section, Krsna is playing on the flute, sitting on the banks of the Yamuna. In the other, he is seen in conversation with the sakhi, who appears to be telling him of Radha's state. Cows accompany Krsna. Receding trees and a diagonal Yamuna appear in the first section, with a light blue and red background. Flat background patches of pink and yellow cover the surface of the other two.


The Sun News Editorials Features Sun Blogs Classifieds Events Recipes PodCasts
Copyright 2005, 2011, HareKrsna.com. All rights reserved.