Worship of Lord Brahma, Part 29

BY: SUN STAFF

Brahma Temple, Sangam Mahuli
[Photo: (c) tany@picasaweb]




Sep 06, CANADA (SUN) — A serial exploration of places of Lord Brahma's worship.


Brahma Temple, Sangam Mahuli

Today we move north to the state of Maharashtra, which is home to the Brahma Temple at Sangam Mahuli. Situated 3 miles east of Satara in the Thane district, the place gets its name from the fact that Mahuli sits at the confluence of the Krishna, Venna (Yenna) and Kakudri rivers. The town is divided into 2 sections: Kshetra Mahuli on the east bank of the Krishna, and Vasti Mahuli on the west bank.

A number of the temples here were built by the Pant Pratinidhi family in the 18th century, but quite a number are ancient. In an 1800's edition of the Gazetteer of the Bombay Presidency, a description of ten important Mahuli shrines is given, the foremost of which is the Radhashankar Temple, on the east bank. Unfortunately, the Brahma Temple is not among the group surveyed, and we have little information about its history, architecture or sanctum and presiding deity.




Brahma Temple, Mahuli
[Photo: (c) tany@picasaweb]
Many of the temples in Mahuli are built in the Hemmadi style, and most are in quite good condition. During monsoon season, the Krishna and Venna rivers flood the area and keep it verdant and green, but the flooding has fortunately not brought the many riverside temples to ruin.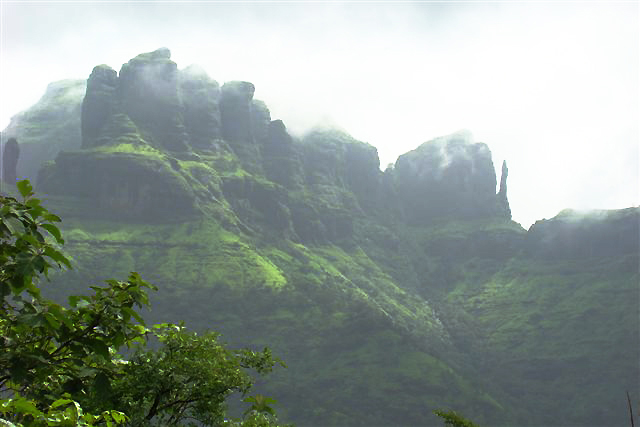 Monsoon clouds striking the Mahuli pinnacles
While Mahuli village is home to many forts which attract the tourists, the devotees come to visit the holy sites and attend the many festivals and fairs held here. On the last Monday of Shravan and on Maha-sivarathri, 10,000 pilgrims come to Mahuli. Situated just 90 kms. from Mumbai, the place gets a considerable amount of traffic.
The forts of Mahuli were constructed under the great Maratha regime. The imposing hills and peaks of Mahuli draw many trekkers, who enjoy the thick forests and hills, which are now protected as a national reserve. From many of these high point fort ruins, visitors get an excellent view of the temples below, lining the river banks. Mahuli Fort, the main fortification, stands at the highest point of the Sahyadri range.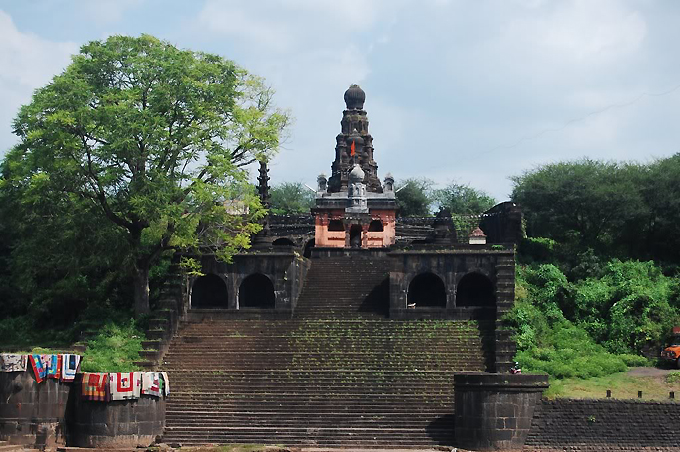 Brahma Temple, Mahuli
[Photo: (c) tany@picasaweb]
Mahuli is also home to one of India's largest Banyan trees which, in 1882, had a measured circumference of 483 meters, or over 1,580 feet. This Banyan is said to be home to more than 60 nagas.
Mahuli is also home to a Jain shrine, the Manas Mandir, whose 76 feet dome makes it highly recognizable. Near the basadi is another old temple, whose murtis date back 500-700 years, having been excavated from a farmers land.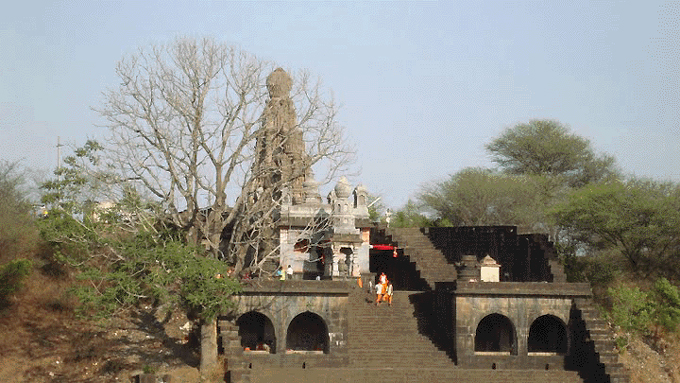 Brahma Temple, Rear Entrance

The Sun News Editorials Features Sun Blogs Classifieds Events Recipes PodCasts
Copyright 2005, HareKrsna.com. All rights reserved.