Portland Ratha Yatra
BY: ISKCON PORTLAND (HILLSBORO)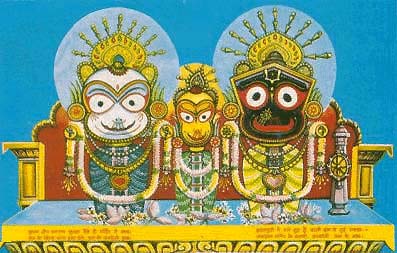 Sep 24, USA (SUN) — We are proud to announce that this years Ratha-Yatra will be held on Sunday, September 25, 2005 at The Radha-Krishna Temple in Portland/Hillsboro.
By the generous arrangement of His Grace, Ksetrajana Dasa and Her Grace, Mahabhagavat Devi Dasi, Lord Jagannath, Lady Subhadra and Lord Baladeva will be blessing us with their Darshan.
Festivities will include a Palanquin Procession of their Lordships around the immediate area of our temple. An ecstatic Kirtan will accompany the procession.
Following the procession there will be an Arotik ceremony at the temple, as well as readings about the meaning of Ratha-Yatra and the origin of Lord Jagannath. His Grace Ksetrajana dasa and my unworthy self will give the readings.
Afterwards the devotees will be enjoying Prasadam in Honor of Lord Jaganath.
The Festivities will begin at 5.00 pm and last until approximately 7.30 pm.
Everybody is requested to bring a dish that will be offered to their Lordships and then distributed to all the assembled devotees and guests.
Please do not hesitate to bring as many of your friends and relatives as possible to this most auspicious occasion! We are all looking forward to seeing you this Sunday, September 25th.
We thank you all in advance for coming and sharing with us this most glorious of events.
If you have any questions, please do not hesitate to call me at (503) 617-9735, or contact me by e-mail: hetu108@earthlink.net
Hoping to see as many of you.
We remain, your most unworthy servants,
Hetu Dasa and Bhaktin Kerensa
ISKCON Portland (Hillsboro)
ALL GLORIES TO THE LORD OF THE UNIVERSE
ALL GLORIES TO SRILA PRABHUPADA !!!!!!!!!!
HARE KRISHNA HARE KRISHNA, KRISHNA KRISHNA HARE HARE, HARE RAMA HARE RAMA, RAMA RAMA HARE HARE.

| The Sun | News | Editorials | Features | Sun Blogs | Classifieds | Events | Recipes | PodCasts |

| About | Submit an Article | Contact Us | Advertise | HareKrsna.com |
Copyright 2005, HareKrsna.com. All rights reserved.