Kirtanananda Forms Alliance with ISKCON Devotees

BY: SUN STAFF

Kirtanananda with Disciple, Lokanatha dasa
Sep 2, USA (SUN) Over the last few weeks, we have received reports of an alliance that has formed between the devotees of ISKCON New York at 26 Second Avenue and Kirtanananda's 'Sanctuary' asrama. The rumours gained strength over the Janmastami festival period, as acknowledgement of the alliance was mentioned during a Vyasa-puja offering to Srila Prabhupada at an ISKCON temple in New York.
In the spring of 2004, Kirtanananda obtained early release from prison, where he landed after accusations of child molestation and solicitation to murder, and a criminal racketeering charge that resulted in his incarceration. In poor health and wheelchair bound, Kirtanananda has now taken up residence at the Sanctuary, his preaching center at 25 First Avenue in New York City. The Sanctuary is managed by Kirtanananda's organization, the Interfaith League of Devotees. While the conditions of his early release dictate that Kirtanananda is not permitted to take part in temple management, he has been serving as the Sanctuary's guru-in-residence.
At the time of its inception, the Sanctuary was in no way affiliated with ISKCON. In fact, immediately following his release, the GBC issued a statement reminding ISKCON members that Kirtanananda Swami is prohibited from visiting any ISKCON temple or center (see below). The GBC's mandate has done little to discourage many devotees, who visit the Sanctuary when they pass through New York. The Sanctuary has also received visits from ISKCON leaders, including HH Krishna Balarama Swami and HH Radhanath Swami. HH Radhanath Swami, pictured below, was joined by Yajna Purusa and a group of devotees from 26 Second Avenue late last year, when they] made a group visit to the Sanctuary.
The Interfaith League
During the period when Kirtanananda was still in prison, his Interfaith League raised funds, reportedly through book sales and panhandling, to buy the derelict six-story tenement on First Avenue. In 1992, they purchased it for $500,000. After six years of renovations, the Sanctuary opened with 14 guestrooms, 16 private rooms for devotees on the upper floors, a temple and various meeting spaces. A prasadam restaurant was initially opened on the ground floor, but has since been closed down. Sri Sri Radha-Krsna Deities are in residence in the temple room on the second floor.
The Interfaith League planned to generate income from the guestrooms, meeting spaces and restaurant to cover operating expenses there. Today, however, with the restaurant no longer operating, funds to cover maintenance of the property are being made up in other areas.
Interestingly, it appears that finances, both on the side of the Sanctuary property and on the side of the devotees at 26 Second Avenue, may have been a catalyst for the newly formed alliance.
Beginning several months ago, the devotees from 26 Second Avenue began visiting Kirtanananda's program, joining in kirtans and Deity worship programs, etc. The Second Avenue brahmacaris, who had been spending in the neighborhood of $3,000/month for an apartment, were invited to become tenants at Kirtanananda's First Avenue property, where they would have to pay just over half of their previous rent. A few weeks ago, approximately eight brahmacaris from the ISKCON temple moved into Kirtananda's property, where they are now fully cooperating in a joint program. Together, they are reportedly raising funds for the Sanctuary temple, which they consider to be like their own.
Before agreeing to make the move, the devotees from 26 Second Avenue apparently worked out an arrangement with Kirtanananda whereby he would no longer be worshipped there as the guru, and the temple program would be re-arranged to conform to ISKCON's standards. While Kirtanananda reportedly goes out on daily sankirtana with his followers, he is no longer in the same leadership role as before.
Yajna Purusa, well known for his management of the 26 Second Avenue temple, was recently congratulated by another devotee during his Vyasa-puja offering, in which he acknowledged that Yajna Purusa was cooperating nicely alongside Kirtanananda. Praghosa prabhu, the famous book distributor who recently underwent a serious battle with cancer, is reportedly distributing books in New York, also in association with the Sanctuary.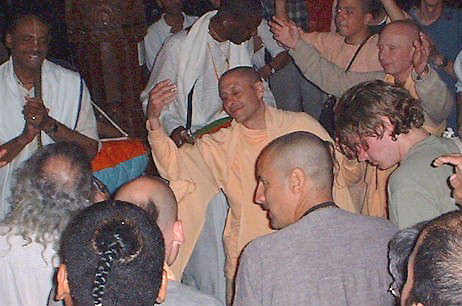 Radhanatha Swami and Devotees
While the GBC has decreed that Kirtanananda is prohibited from visiting any ISKCON temple or ISKCON-affiliated project, their mandate apparently does not extend to regulating the visitation of Kirtanananda and his Sanctuary asrama by ISKCON leaders or devotees in good standing. A few months ago it was rumored that Kirtanananda had also made a visit to the Gita-Nagari property, but that report is as yet unconfirmed.
Management at the Sanctuary is still in transition, but it seems apparent that Kirtanananda and his followers do not wish to have their facility considered as an ISKCON temple. One would expect that the Sanctuary will not come under GBC control anytime soon. In the meantime, it will be interesting to see how the GBC responds to the new alliance and what, if any, negative impact this will have on the 26 Second Avenue temple, which will hopefully continue to be fully supported by both the GBC and the devotees.
To read an interesting online manuscript outline entitled, "New Vrindaban: The Black Sheep of ISKCON", visit the author's site at:
http://henrydoktorski.com/newvrindaban.shtml
---

GBC Statement, June 20, 2004
Dear Maharajas and Prabhus,
Please accept my humble obeisances. All glories to Srila Prabhupada.
I am writing on behalf of the Executive Officers of the ISKCON North American Temple Presidents and GBC.
Kirtanananda dasa Swami, aka Swami Bhaktipada, aka Keith Ham, will be released from the United States Federal Prison system Wednesday, June 16, 2004, having served approximately eight years in prison. Although unlikely, he may wish to visit your temple, or you may be contacted about the possibilities of such a visit. We are sending you this letter as an update of his continued status in relation to ISKCON.
Kirtanananda is prohibited from visiting any ISKCON temple or ISKCON-affiliated project.
This prohibition remains in place per prior decisions of the Governing Body Commission (GBC) of ISKCON, and ISKCON's Child Protection Office, or the Association for the Protection of Vaishnava Children (APVC). These decisions were made in 1987 and 2000, respectively, as outlined below:
Kirtanananda Swami was expelled from the International Society for Krishna Consciousness (ISKCON), on March 16, 1987, by resolution of the Governing Body Commission (GBC). That expulsion concludes with the following: "The ISKCON GBC hereby expels Kirtanananda Swami from ISKCON and thereby removes all his rights and responsibilities related to ISKCON. The ISKCON GBC further issues a notice of non-participation forbidding Kirtanananda Swami from participating in the functions of ISKCON." (Full text of the Resolution is below.)
On October 25, 2000, a decision was rendered by the ISKCON Child Protection Office, or the Association for the Protection of Vaishnava Children (APVC) regarding Kirtanananda Swami. That decision involves a series of restriction and requirements, including the following: "Kirtanananda is not permitted to have any contact with ISKCON or ISKCON-affiliated organizations for five years from the date of this Official Decision...If Kirtanananda dasa violates any of the dictates of this Official Decision, then he can have no association with ISKCON temples or projects until his case is reviewed by the APVC. This ban means that he cannot enter ISKCON property or the property of any organization affiliated with ISKCON."
As of this date, Kirtanananda has not complied with the list of requirements of the APVC decision and is violation. He therefore remains banned from ISKCON temples and affiliated projects by both the 1987 GBC resolution and 2000 APVC decision.
If you have additional questions, please contact me, Anuttama dasa, at 301 299-9707, or my assistant, Chitralekha dd, at info@icinternational.org
For further information regarding the CPO decision, please contact that office at 386- 418-0882, or at kkesavavbd@alltel.net
Thank you.
Your servant,
Anuttama Dasa
Vice Chair
On behalf of:
Romapada Swami, Chair
Malati Dasi, Vice Chair
Nityananda Dasa, Vice Chair

| The Sun | News | Editorials | Features | Sun Blogs | Classifieds | Events | Recipes | PodCasts |

| About | Submit an Article | Contact Us | Advertise | HareKrsna.com |
Copyright 2005, HareKrsna.com. All rights reserved.