James Baillie Fraser: A Scotsman in the Himalayas

BY: SUN STAFF

Crossing the Touse (1820) From the Folio, 'Views in the Himalayas'
Aug 10, 2017 — CANADA (SUN) — An artist's expedition to the Himalayan realms.
Inspired by a painting of Yamunotri-dhama that appeared in a past Sun Feature series on Panch Prayag, today we begin a series excerpted from the Himalayan travel diary of Scottish painter James Fraser.
James Baillie Fraser (1783-1856), the 15th laird of Reelig, was an intrepid traveler, writer, and artist, and one of a school of Anglo painters who produce beautiful depictions of Indian landscape and culture.
The painting above, entitled 'Crossing the Touse', is plate 10 of the 20-plate folio, Views in the Himalayas. The scene depicts a detachment of William Fraser's 'Irregulars' crossing the River Tons - a tributary of the Yamuna. This hazardous undertaking over the raging torrents of the Yamuna was made via rope and harness.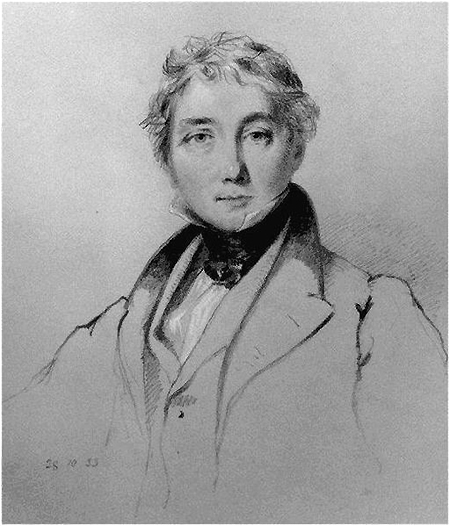 Portrait of James Baillie Fraser by William Brockedon (1833)
Fraser was the eldest son of Edward Satchell Fraser and grandson of James Fraser, the author of The History of Nadir Shah (London, 1742). Born in Edinburgh, he spent his boyhood in the family home at Moniack (now Reelig House) in the Scottish Highlands near Inverness, where this land-owning branch of the Fraser clan had been settled since the 15th century. At the age of sixteen he went to Berbice, Guyana, to manage his debt-encumbered family's sugar and cotton plantations. The venture was not a success, and in 1811 he returned to Scotland.
Unable to find suitable employment at home, Fraser set sail early in January 1813 for India where all four of his brothers were employed by the East India Co. (q.v.). After a short-lived business partnership in Calcutta, he traveled north to join his second brother William in a strenuous three-month tour of the Himalayan hill states (May-July 1815), during which he sketched and mapped uncharted country, collected geological specimens; and kept a detailed journal (Archer and Falk, pp. 19-57).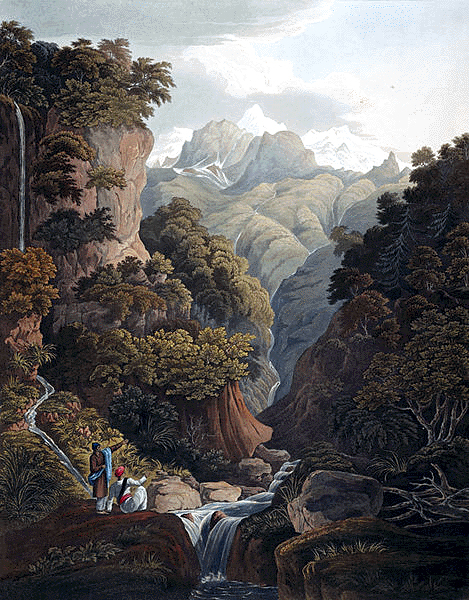 Yamunotri
James Baillie Fraser, c. 1820
Fraser returned to Calcutta from Delhi in June 1816. He again tried his hand unsuccessfully at commerce while remaining much more interested in painting and writing. He was also homesick, and in May 1820 left Calcutta for good. In the same year, his 548 page Journal and twenty superb aquatints of his Himalayan water colors were published in London.
From Calcutta, Fraser traveled first to Delhi, then through Rajasthan to Bombay, where he joined Dr. Andrew Jukes, who was bound for Persia on a mission for the East India Co. Jukes died upon arriving in Tehran, and Fraser traveled throughout Iran for the next two years. He then returned to England, after an absence of ten years.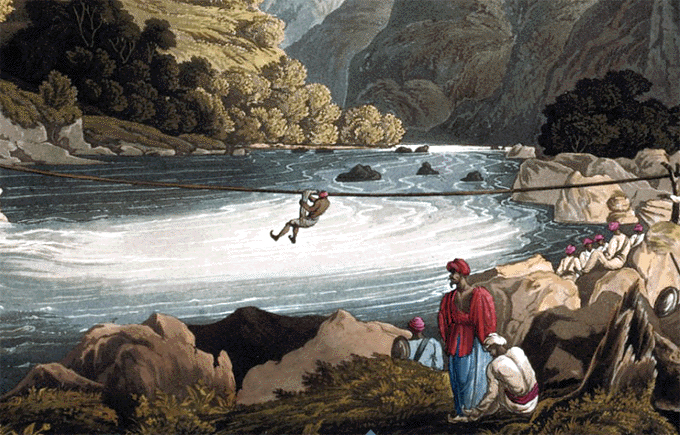 Crossing the Touse (Detail)
For the next decade, Fraser divided his time between London and Scotland and wrote seven lengthy books of travel and fiction, most about Persia.
In our next segment, we'll begin to present excerpts from the travel journals of James Baillie Fraser, particularly his travels to two of the Char-dhamas -- Yamunotri, Gangotri -- and Nepal.
(To be continued…)
SOURCES:
M. Archer and T. Falk, India Revealed: The Art and Adventures of James and William Fraser 1801-35, London, 1989
Encyclopedia Iranica

The Sun News Editorials Features Sun Blogs Classifieds Events Recipes PodCasts
Copyright 2005, 2017, HareKrsna.com. All rights reserved.