Prasadam - Squash, Part Two
BY: SUN STAFF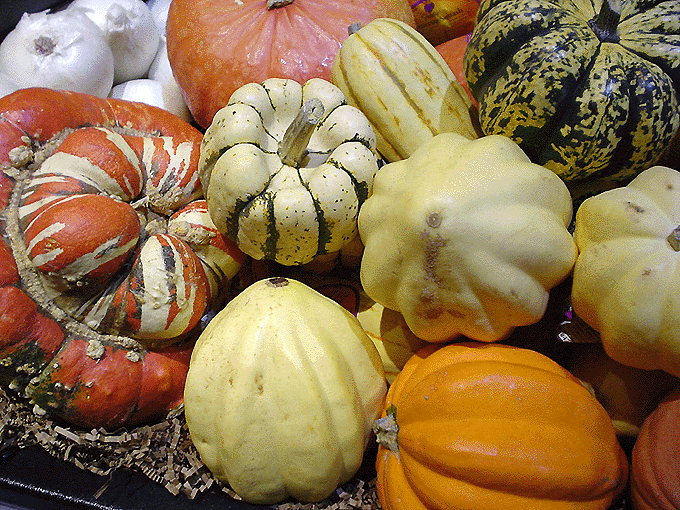 Aug 29, 2016 — CANADA (SUN) — A journey through India: border to border, bhoga to prasadam.
Though always called a vegetable when it comes to cooking, botanically speaking, squash is really a fruit, because it's a vessel for the plant's seeds. The earliest known evidence of squash was discovered by anthropologists in the Peruvian Andes, where seeds were discovered that have been dated to somewhere between 5,000 and 10,000 years old. Of course, we know that Radharani cooked squash for Sri Krsna in Vrindavan, and the ingredient has undoubtedly been used in prasada preparations for untold ages.
Squash belongs to the Cucurbitaceae family, which also includes cucumbers and melons. There are nearly 1,000 different species of squash, but they're generally divided into two main categories: summer squash, and winter squash. Summer squash are the soft-skinned types, usually picked while still immature. Winter squash are allowed to fully ripen, thus having a hard skin by the time they're harvested. Cucumbers and squash are considered vegetables, while most melons are considered fruit, with pumpkins being a crossover.
Zucchini, yellow squash and patty pans (petit pan) are some of the most popular summer squashes in the West, and the soft squash known as marrow is a favorite in India. India also has a popular squash that looks like a patty pan but is large, with a hard skin.
Squash can be prepared in an endless number of ways. It's wonderful fresh, cubed into salads, fried in ghee, stuffed and baked, or pickled. The seeds of squash are also excellent, and can be used like pumpkin seeds: they can be dried and eaten raw with a little salt, lightly toasted in a dry pan, or fried in a bit of ghee. Toasted squash seeds also make an excellent gravy base, ground and pureed with cream or tomato and spices. Squash also lends itself beautifully to sweet dishes. Submerged in milk or yoghurt, it holds its texture while taking on the lovely flavors of kheers, sugars and aromatic spices like cardamom, vanilla, cinnamon and nutmeg.
There are wonderful descriptions of squash cooked as both a savory and a sweet preparation by Srimati Radharani, whose pastimes of cooking for Krsna are described in Sri Govinda-lilamrta:
Govinda-lilamrta verses 88-109:

"Oh sakhi! Oh auspicious Yashoda! Radha made the dish called rayata with yogurt, squash, pumpkin, jyotanika and rajika seeds. And look! Here are Krishna's favorite baka flowers and kanchan flowers simply fried in ghee and mixed with yogurt. Over here, two types of flowers were fried in ghee and made into dumplings, adding yogurt and here are patola fruits fried in ghee. These are squash pies made with arum roots, sagara roots and potatos. Some are mixed with juta leaf powder or cabika (a hot spice).

Radha has made mouth-watering dugdha-tumbi (milk and squash) adding sugar, cardamom and black pepper. Then using khira (instead of milk), she made khira-tumbi also. Here is another dish made with large turnips cooked in ghee with dhatriphala seasoning, yogurt and sugar. And using kad-bael fruits, another variety was prepared. We cooked banana flowers and large squash, adding yogurt and sugar. This cooling dish has a sweet and sour taste."
Rayata, or raita, is often made with cucumber, but here Radharani is making rayata with squash and pumpkin. Rajika seeds are mustard seeds, and jyotanika is another type of vegetable gourd, like bottlegourd. Some of the same preparations mentioned above are also found in an earlier verse from Govinda-lilamrta, 3.96-99, where Rohini is praising Radha's breakfast preparations to Mother Yasoda:
"Many kinds of dishes have been made in separate combinations, with either nutmeg, fruits, roots, licorice or black pepper. O auspicious friend! This Rayata was made with yoghurt, Rajika-seeds, pumpkin, gourd and jyotsnika. Krishna's beloved Baka-flowers and kovidara-buds are fried with ghee and dressed with yoghurt. Two kinds of flower pies were fried in ghee end dressed with yoghurt. There is also Patola fruit, fried in ghee."
Just like the baka flowers and kanchan flowers that Radha fried in ghee for dumplings with yoghurt, squash flowers are a super-excellent foodstuff -- tasty, healthful and beautiful on the offering plate. The squash pies made with arum and sagara roots and potatoes may be similar to the squash and millet bake featured in yesterday's segment, or perhaps a spiced squash mixture encased in dough, then baked or fried.
Radharani is also described as having cooked a preparation of banana flowers and large squash with yogurt and sugar, in a sweet and sour dish. A similar dish could be prepared by making squash sabji in a yoghurt base, sweetened with sugar, and sharpened with tamarind or green mango.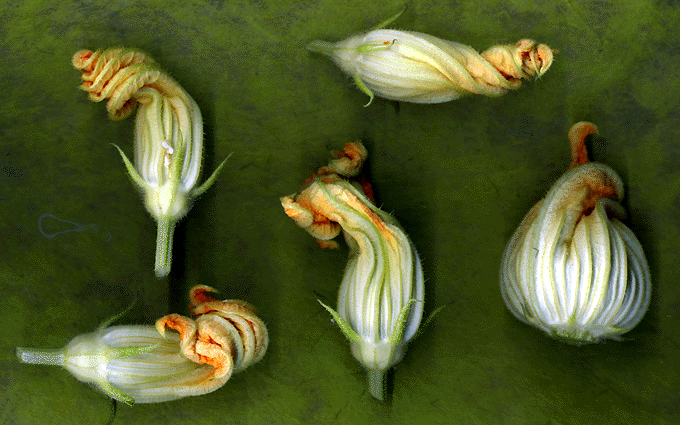 Squash Blossoms
Squash flowers are a delectable eatables, and one appreciated by Srila Prabhupada. Picked fresh and cooked immediately, they're very easy to prepare and beautiful to offer. You can simply fry them in ghee just as they are and offer as a snack, fold them into a creamy raita, or add as garnish on salad or dal.
For a crunchier treat, you can coat the blossoms in flour with spices and pan fry them. Spread a few of the blooms open to fry them, for a nice contrast in shapes. Or, coat them in a pakora batter and deep fry. To offer, drizzle them with a little honey, sour cream or buttermilk, or sprinkle with fresh chopped herbs.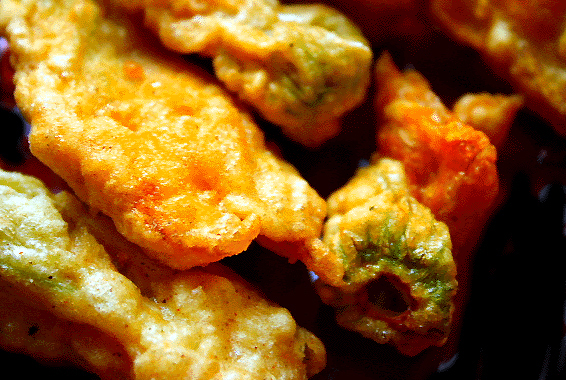 Fried Squash Blossoms
One of the sweet squash preparations Radha cooked for Krsna was dugdha-tumbi, combing milk and squash with sugar, cardamom and black pepper. This preparation was also served to Lord Caitanya at the home of Sarvabhauma Bhattacarya:
Madhya 15.211

dugdha-tumbi, dugdha-kusmanda, vesara, laphra
moca-ghanta, moca-bhaja, vividha sacra

"There were preparations of dugdha-tumbi, dugdha-kusmanda, vesara, laphra, moca-ghanta, moca-bhaja and other vegetables."
There is also mention of dugdha-tumbi in the Bhoga-arati song from Srila Bhaktivinnoda Thakura's Gitavali:
Shri Surabhi-Kunjera Shri Bhoga-arati
The Ceremony of Offering Foodstuffs for the Noon Meal at Shri Surabhi-Kunja



Verse (4)
shukta-shakadi bhaji nalita kushmanda
dali dalna dugdha-tumbi dadhi moca-khanda

"They are served a feast of shukta, various kinds of green leafy vegetables, then nice savories, a salad made of the green leaves of the jute plant, pumpkin, baskets of fruit, small square cakes made of lentils and cooked-down milk, then squash cooked with milk, thick yogurt and vegetable preparations made with the flowers of the banana tree."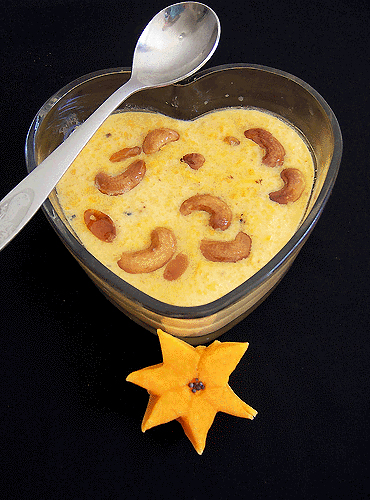 Toor Dal & Squash Kheer
[Photo courtesty of Vinella @ Food for Life]
While the following recipe for Toor Dal & Squash Kheer is not a traditional dugdha-tumbi recipe, this payasam is a delightful combination of the same ingredients: squash, milk, sugar, cardamom and black pepper, with a few nuts and raisins for garnish:
Toor Dal Butternut Squash Kheer
Ingredients:

Butternut Squash - 2 cups, grated
Sugar - 1 cup
Milk - 2 cups
Toor dal – 2 Tblsp.
Cardamom - 4
Cashews - 6
Raisins – a handful
Black pepper, ground
Ghee – 3 tsp
Wash and peel the squash, removing the seeds and center fiber. Grate into long, julienned strips. Boil the dal until cooked, then mash it. In a little ghee, fry the grated squash for a few minutes, then add the milk, cover and cook for 5 to 10 minutes, until the squash is tender. Add the sugar, mashed dal paste and cardamom to the squash, and stir until the sugar is melted. Pour the squash kheer into a bowl. Fry the nuts and raisins in a little ghee, and pour on top of the kheer. Sprinkle with a little finely ground black pepper, and put in the refrigerator to chill for an hour or two, then offer.

The Sun News Editorials Features Sun Blogs Classifieds Events Recipes PodCasts
Copyright 2005, 2016, HareKrsna.com. All rights reserved.