Prasadam - Spinach, Part Three
BY: SUN STAFF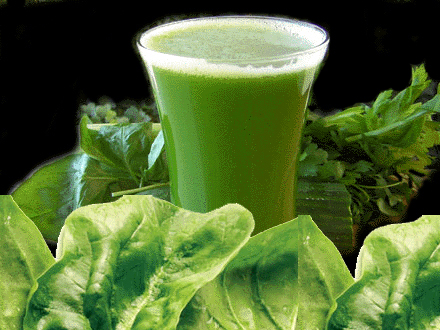 Aug 15, 2016 — CANADA (SUN) — A journey through India: border to border, bhoga to prasadam.
For every name that spinach goes by there is an array of preparations, each with a unique regional flavor. In Malayalam, spinach is called cheera, in Tamil, it is keerai, and in Marathi it is known as palak. While many of the South Indian recipes for spinach feature it in sambars, spicy raitas or dals with a bright tamarind edge, here is a Tamil spinach curry recipe that uses ingredients found in many northern sabjis, but flavored with a southern Madras sambar powder:
Tamil Spinach Curry
Ingredients:

1 large Sweet Potato
1 large Eggplant
2 bunches fresh Spinach
1-1/2 Tblsp. Cumin seeds
1 Tblsp. Madras Sambar powder
½ tsp Asofoetida
1 tsp black Mustard seeds
1 tsp Sea Salt
¼ tsp Turmeric powder
Ghee for frying
a handful of chopped Coriander leaves
Peel and cube the sweet potato, and cube the eggplant. Wash the spinach and blanch it, then press out the liquid and chop into a medium-fine shred. In the ghee, fry the mustard seeds till they pop, then add the asofoetida and cumin seeds, and fry till they darken a few shades. Add the sweet potato pieces and cook until half-way done, then add the eggplant, spinach, sea salt, turmeric, and sambar powder. Cook on medium heat until the vegetables are tender. Remove from the heat and stir the coriander leaves into the dish. Allow it to sit, covered for 20 or 30 minutes before offering, to let the flavors mix.
To make your own Sambar Masala, fry the following spices in a little ghee: coriander seeds (5 Tblsp.), mustard seeds (1 tsp), moong dal (1 tsp), chana dal (½ tsp), urad dal (½ tsp), fenugreek seeds (1 tsp), black peppercorns (1 tsp), asofoetida (1/4 tsp), and cumin seeds (1 tsp). Once the mustard seeds pop, add about 20 curry leaves and 8 to 12 dried chillies, and roast for a few more minutes, until the chillies darken. Cool the spices and grind to a fine powder.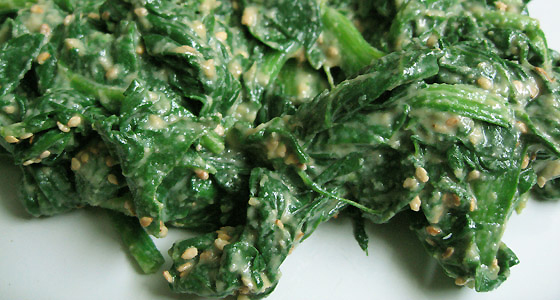 Spinach with Gram
At its most essential, fresh raw spinach that's juiced up and taken as a beverage is one of the best tonics around. The high food value given by all the rich vitamins and minerals in spinach is also very evident in the flavor of the cooked greens, which have a decidedly healthy, robust flavor. This makes spinach a great addition to any preparation. Rice, sabjis, dahl and raita are all perfect vehicles for the flavor, color, and texture of spinach.
Like all the leafy green vegetables, spinach is high in chlorophyll. Along with the chlorophyll being a good anti-bacterial and laxative, spinach is rich in minerals which help reduce acidity in the stomach and balance blood alkalinity. It's also high in Vitamins A, B, C, and beta carotene.
Thanks to all its healthful constituents, spinach is featured prominently in the Ayurvedic diet. But it's also been used in folk remedies for countless years. To fend off demoniac energy, some villagers in India tie a bundle of spinach beside their bed at night, and in the morning feed it to the cow.
Spinach is good not only for the individual, but for the entire village relying on local agriculture. In Srila Prabhupada's The Higher Taste, growing spinach is mentioned as a means to counter social conflict, which is a sure by-product of meat production. While an acre of grains produces five times more protein than an acre of pasture set aside for meat production, and an acre of beans or peas produces ten times more, an acre of spinach provides twenty-eight times more protein! Although we don't tend to think of spinach as being a protein food, given that it contains a lot of water and is fairly low fiber, it contains a great deal of chlorophyll, which is a high quality protein.
Being much-loved by Lord Caitanya, spinach is a regular item offered in Krsna temples, but it's also a favored temple preparation in Visnu temples. For example, Lord Ranganatha is regularly offered Keerai Kootu, a spinach dal made with moong. The following recipe is a traditional one followed by Tamil brahmanas:
Keerai Kootu
(Spinach with Moong Dal)
Ingredients:

Spinach - 1 bunch
Moong dal (paasi paruppu) - 1 cup
Coconut, fresh grated - 1 cup
Red Chillis, dried - 3
Cumin seeds - 1 tsp
Turmeric powder – ½ tsp
Salt to taste

For tempering:
Mustard seeds - 1/4 tsp
Urad dal - 1/2 tsp
Additional chilis to taste
Ghee for frying
Wash and chop the spinach into small pieces. Cook the dal in water until done. Cook the spinach in scant water with salt and turmeric. Grind the coconut, cumin and chillis to a fine paste. Add the paste to the dal, mixing well, and bring to a boil. Add a little water if needed. Fry the remaining spices, then add to the dal along with the spinach. You can add 1/2 tsp of coconut oil as a variation.
Among the many wonderful references to spinach in Sri Caitanya-caritamrta, in Madhya 3.39 we read that Advaita Prabhu enticed Mahaprabhu to his home for prasadam, promising that he had only cooked 'a palmful of rice', some simple liquid vegetable and spinach (saka). In Madhya lila 3.45, Srila Kaviraja Gosvami describes the many preparations offered to the Lord by Advaita Acarya: "Among the cooked vegetables were patolas, squash, manakacu and a salad made with pieces of ginger and various types of spinach."
In Madhya lila 15.54-55, the narrative about Mother Saci's pastimes after her son Nimai had taken sannyasa, we read that she also cooked spinach to offer her Salagram-sila, but her son kindly accepted and ate the foodstuffs:
"One day My mother, Saci, offered food to Salagrama Visnu. She offered rice cooked from sali paddies, various kinds of vegetables, spinach, curry made of banana flowers, fried patola with nimba leaves, pieces of ginger with lemon, and also yogurt, milk, sugar candy and many other foods.
Likewise, Raghava Pandita is described in Madhya 15.88 as preparing various foodstuffs for the Lord:
"Thus with great care and attention Raghava Pandita prepares spinach, other vegetables, radishes, fruits, chipped rice, powdered rice and sweetmeats."
When the Lord came to Sarvabhauma Bhattacarya's house to take prasada, He was offered "about ten kinds of spinach" (Madhya 15.210). At other times, Advaita Acarya offered Mahaprabhu and the devotees "two or four kinds of spinach" (Antya 10.135-136).
In the pastime of Madhavendra Puri rescuing Sri Govardhana-dhari (Ksira-cora-gopinath), prasadam was prepared by ten brahmanas who cooked the grains, and five brahmanas who cooked both dry and liquid vegetables:
"The vegetable preparations were made from various kinds of spinach [vanya saka -- spinach of the forest], roots and fruits collected from the forest, and someone had made bada and badi by mashing dhal. In this way the brahmanas prepared all kinds of food." (Madhya 4.70)
Here's a very nice recipe from North India that features spinach rolled into roti, and served with spinach chutney: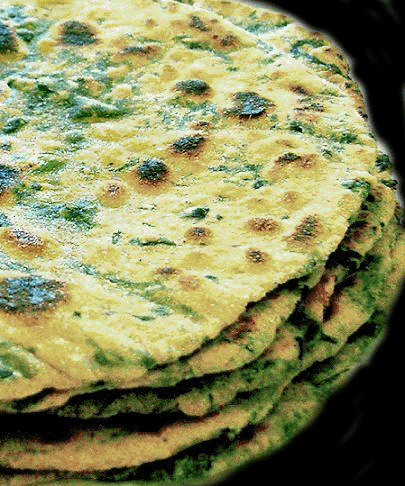 Spinach Roti



Hariyali Roti
(Roti with Chutney)

Ingredients:


For Roti:
1 cup Wheat Flour
Fresh Spinach, 1 bunch
2 Green Chillies, minced
1 tsp Salt
2 tsp Chaat Masala
½ cup Curd (yoghurt)
4 Tblsp Ghee
2 Tblsp chopped Coriander leaves
2 Tblsp chopped Mint leaves
2 Tblsp Kasoori Methi (dry Fenugreek leaves)
Ghee for pan frying the Roti



For Chutney:
½ cup Spinach Puree (leftover after kneading dough)
1 tsp Asofoetida
4 Tblsp Tomato Puree
1 Tblsp Chaat Masala
1 cup Vegetable Stock
1 tsp Red Chilli powder

Wash the spinach for the roti and steam it with salt, then squeeze out the water, and puree. Make Roti, kneading all the ingredients together into a smooth dough. Let the dough rest for half an hour. Keep aside ½ cup spinach puree for the Chutney.

Make Chutney: sauté spinach puree with the tomato puree, chaat masala, vege stock and red chilli powder. Stir well and let the chutney thicken and cool a bit.

Assembling the Roti: divide the dough into small balls and roll on a floured board. While rolling the roti, roll a bit and then spread ghee on it and dust with flour. Fold in half and spread ghee and dust flour. And roll again. Repeat. Now fold it in the form of a triangle and roll out a round roti, dusting only flour on it. Heat a griddle and shallow fry the roti, applying ghee on both the sides.




Spread the spinach chutney on the roti and offer hot, garnished with coriander leaves.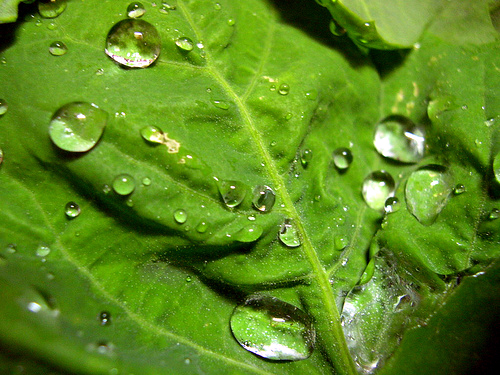 Here are two spinach dishes that are nice to offer as snacks:
Crackling Spinach
Ingredients:

Spinach, 2 bunches
Ghee for frying
Sesame oil, 2 Tblsp.
Red Chilli flakes, 1 tsp
Sugar, 1 Tblsp.
Sesame seeds, toasted, 1 Tblsp.
Salt to taste
Wash, trim and drain the spinach leaves. Pat dry thoroughly and cut into thin strips. Heat a little ghee and pan fry the spinach leaves until crisp. Remove immediately and drain. Heat the sesame oil and fry the red chilli flakes, and add immediately to the fried spinach. Sprinkle salt, sugar and toasted sesame seeds onto the mixture, toss well, and offer.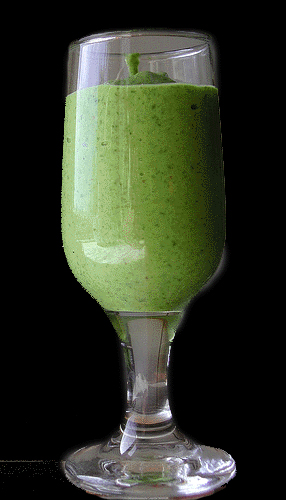 Spinach Avocado Dip



Spinach Avocado Dip

Ingredients:


4 cups fresh Spinach
1 large ripe Avocado
1/2 cup Yogurt
1/2 Tblsp. Lemon juice
1/2 tsp Salt
1/8 tsp. Asofoetida
1/4 tsp Curry powder
½ inch fresh Ginger, minced
Red Chili powder and/or Cayenne to taste
¼ tsp. roasted Cumin powder

Blend all the ingredients in a food processor until smooth. Chill for an hour, and offer. Very nice with fresh vegetables like celery, carrot sticks, tomatoes, etc., or serve like a raita.
As always, there are many more super-excellent recipes for spinach than we can possibly mention here. You'll find a collection of wet spinach sabji recipes in our Hare Krsna Prasadam section.
We'll close our Spinach Prasadam segment with a very versatile recipe for Tambuli, a traditional Karnataka dish that can be served as an excellent curry with rice or bread, or mixed with a little extra water and served as a soup:
Tambuli
(Minced Spinach and Cilantro Masala)
Ingredients:

2 cups Spinach, chopped
½ cup Cilantro leaves
1 small Green Chilli, minced
1" fresh Ginger, minced
½ tsp Cumin seeds
1 Tblsp. Coconut powder
½ Tblsp. Ghee
Salt to taste
a handful fresh Mint leaves
In a little ghee, fry the cumin seeds for a minute, then add the chillies and ginger, until crispy brown. Add the spinach leaves and cook until just soft and most moisture is evaporated. Remove from heat and set aside until cooled. Then put the spinach and fried spices in a blender with the remaining ingredients. Blend to a smooth paste, adding scant water as needed (for curry). Garnish with mint leaves and offer.

The Sun News Editorials Features Sun Blogs Classifieds Events Recipes PodCasts
Copyright 2005, 2016, HareKrsna.com. All rights reserved.