Middle Kingdoms of India, Part 76
BY: SUN STAFF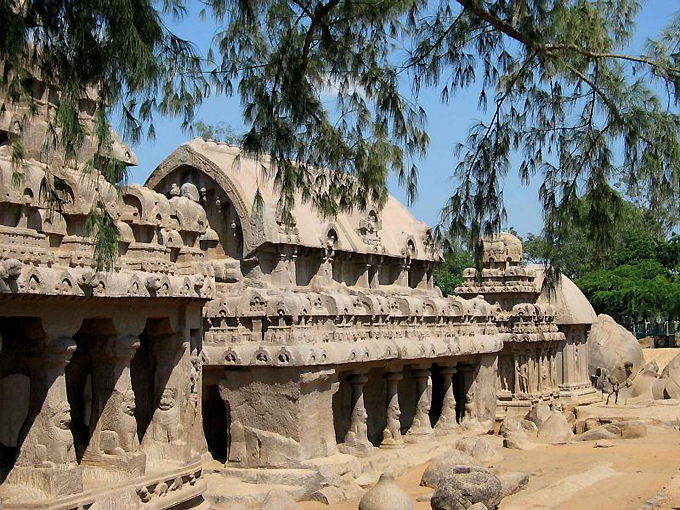 Aug 22, 2015 — CANADA (SUN) — A serial presentation of India's great history, religious movements and temple architecture.
The Pallavas
As the Pallava dynasty ascended to rule, they made their capital city at Kanchi, and developed it into a great centre of Sanskrit learning and culture. Their support for Vaisnavism is evident is a great many temples and shrines across the southern and central regions of India. In our opening segment on the Pallavas, we looked at the famous Krishna Cave temple at Mahabalipuram (or Mamallpurma), a small village to the south of Chennai, Tamil Nadu. Today, we'll look at this entire complex -- now one of the most famous Pallava constructions in the land.
The famous rock-cut shrines of Mahabalipuram were carved during the reign of King Mamalla, also known as Narasimhavarman I (630-670 A.D.), for whom the site is named. Residing on the site are five monolith temples and three animal sculptures (elephant, lion and bull). Each one of these was carved whole from an outcropping of rock, being a pink granite found in some other rock-cut shrines in the area.
While the structures are commonly referred to as raths (pancha rathas, or 'five chariots'), they are actually temples, although they were never used for worship. The five shrines were named for the five Pandavas (Arjuna, Bhima, Yudhishthira, Nakula and Sahadeva) and for Draupadi.

Four of the shrines have pyramidal roofs, and the original designs are thought to have been rendered in wood construction, or possibly stone. The structures give the impression of a life-sized model tirtha complex. Many examples of South Indian architectural style and motif that were carved into these monoliths were repeated over the next 1,000 years in South Indian temple structures.
The stonecutters working at Mahaballipuram used an innovative method for hewing out the rock-cut shapes. They cut into the ridge of what appears to be multiple outcroppings of a single, sizeable base of pink granite, drilling holes and then driving chisels downward in unison, thus breaking off sheets of rock to arrive at their design.
Four of the rathas have stepped pyramidal roofs, and each has an interior room, intended for use as the garbha-griha in a functioning temple. It is thought that the temples were never consecrated and used for worship because their stupas remained attached to the bedrock, i.e., they were not separated as part of the shrine complex completion.
Given the sturdiness of the pink granite, the Pancha Ratha shrines remain in amazingly good condition, even after having been pummeled by catastrophic tsunamis in the 13th century, and most recently during the 2004 Banda Aceh disaster.
Next, we'll provide a brief description of each of these Pallava monoliths -- the five 'chariots', known as pancha-ratha, and three vahana (vehicle) animals.
REFERENCES:
Pancha Rathas, Mahabalipuram, Wondermondo
Pancha Rathas, Art and Archaeology

The Sun News Editorials Features Sun Blogs Classifieds Events Recipes PodCasts
Copyright 2005, 2015, HareKrsna.com. All rights reserved.