Middle Kingdoms of India, Part 74
BY: SUN STAFF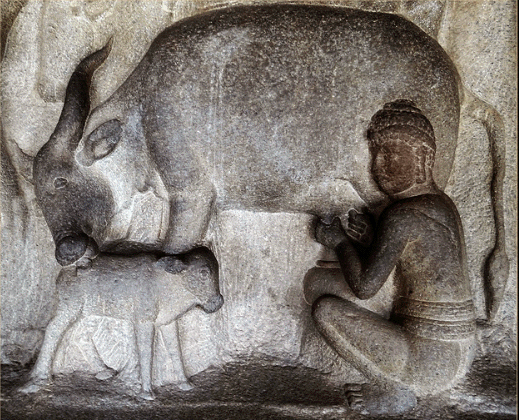 Krishna Milking
The Krishna Cave, Mahabalipuram
Aug 18, 2015 — CANADA (SUN) — A serial presentation of India's great history, religious movements and temple architecture.
The Pallavas
There is a great deal to be said about the Pallava dynasty, which left its mark on nearly every aspect of Vaisnava devotional art, from temple architecture to painting, to rock-cut sculpture. Before making a detailed study of their influence, we begin with a presentation of one of the most beautiful and extraordinary examples: the rock-cut temple known as the Krishna Cave in Mahabalipuram (Mamallpurma), a small village to the south of Chennai, Tamil Nadu.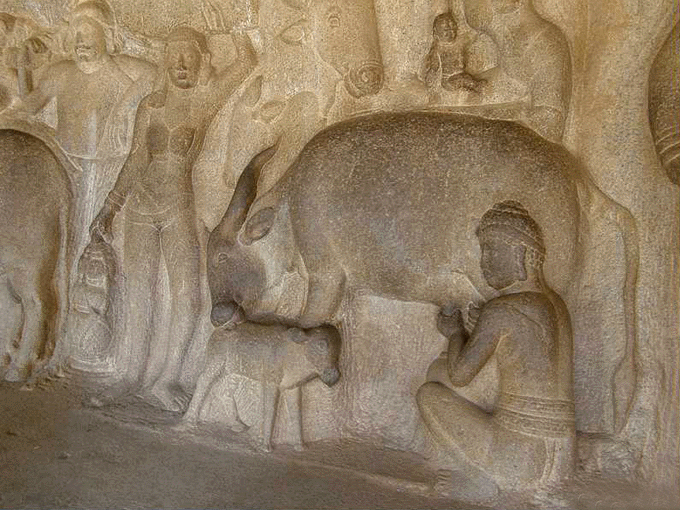 Although simple in design and layout, this rock-cut complex is a glorious example of Pallava dynasty art and architecture, and exemplifies the work of the ancient Vishwakarma sthapathis (sculptors). In creating the cave, the sculptors worked on the rock face to make an outline and polished the rock face to define the façade. This was followed by the cutting of columns into the polished surface, creating square panels on which frescoes depicting various lila narratives and images of divine personalities were carved. Chisels were the basic tool used to first draw incised outlines, with projections to be carved at the later stage of sculpting. The depth of the cave structure was dictated by the number of chambers to be excavated through the rock.
This Krishna tirtha temple exemplifies an important category of caves, or guhas, being those which have been crafted at least in part by the hand of man. Such cave temples are usually constructed in large rock edifices that are naturally conducive to being further hollowed into sacred spaces.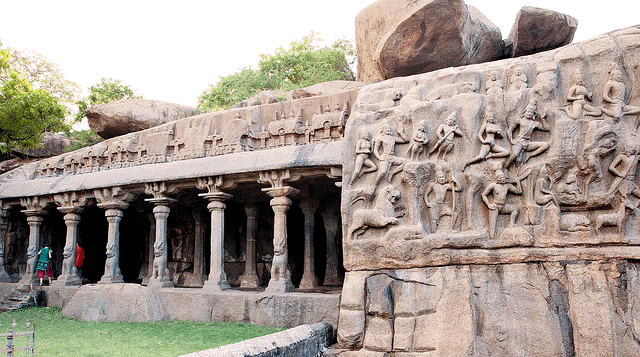 Entrance to the Krishna Mandapa
Also known as the Mandapa of Krishna, this Krishna Cave is now a UNESCO World Heritage Site, and throngs of visitors come each year to have darshan of the beautiful Krishna-lila carvings. Situated on the Coromandel Coast of the Bay of Bengal, in Kanchipuram district, Mahabalipuram is home to a whole complex of rock-cut tirthas, at least four which are also referred to as caves. Krishna Mandapa faces east, and is 29 feet long by twelve feet high. It is situated on a hillock next to another famous open rock cut bas-relief, depicting the descent of the Ganges.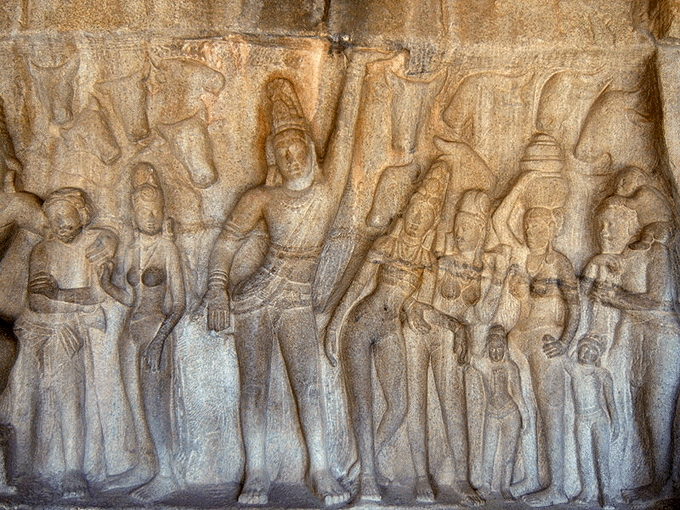 Krishna lifting Govardhan Hil, Krishna Mandapa
Krishna Cave has a shallow portico hewn into the rock face. Dating to the mid-7th Century, its excavated entry is ornamented with impressive columns leading to a hall. Carvings that will no doubt be familiar to many devotees depict the Lord's Vraja pastimes, including milking the cows, herding the cows and bulls of Vrindavan, Krishna lifting Govardhana Hill, and Krishna sporting with the gopis.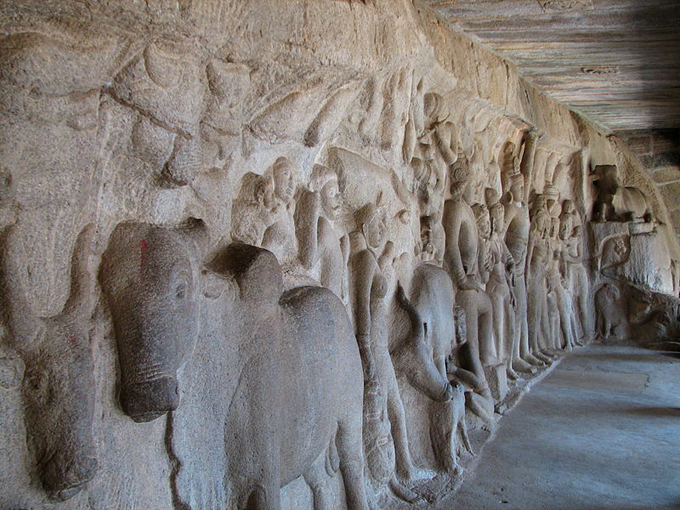 The Krishna Cave has nine main sculptural reliefs carved on the rock surfaces. All date to the 7th Century, but most were refurbished, with some additions made in the 16th Century.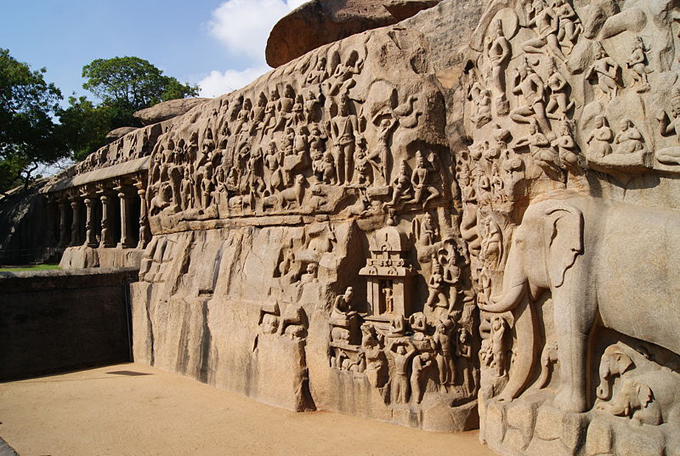 Among the most famous images are those of Krishna milking, and lifting Govardhan on His finger. Along with rasa-lila scenes there is an elderly person carrying a child on his shoulders; a village scene of cowherds milking a cow while Mother licks her calf; the gopis with water pots on their heads and Krishna nearby playing a flute; a woodcutter walking with an axe and a lady carrying a milk pot and rolled bundle of grass; and a child hugging its mother. Krishna's main fresco shows Him playing a flute in the fields of Vrindavan.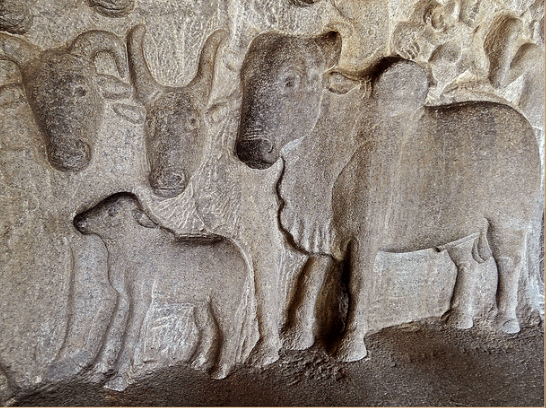 Krsna's Cows
REFERENCES
Mahabalipuram – The Workshop of Pallavas – Part IV - Open Air Bas-Reliefs; Puratatva.com
The Indian Encyclopaedia: Mahi-Mewat - Kapoor, Subodh (2002)
Source: Wiki

The Sun News Editorials Features Sun Blogs Classifieds Events Recipes PodCasts
Copyright 2005, 2015, HareKrsna.com. All rights reserved.