The Holy Places of Jaiva Dharma: Yamuna
BY: SUN STAFF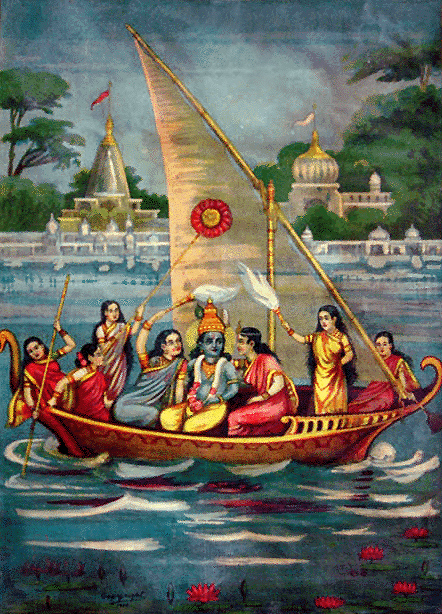 Aug 21, 2014 — CANADA (SUN) — A serial presentation of the holy places mentioned in the Jaiva Dharma of Srila Bhaktivinoda Thakur - Part 183.
Among the many glorious pastimes enjoyed by the Lord at the Yamuna, the sporting of Krsna and the Gopis in their pleasure boats are most relishable. In the Sri Padyavali of Srila Rupa Gosvami we find the following wonderful passage:
Nauka-lila
Boating Pastimes
Text 269
kuru param yamunaya
muhur iti gopibhir utkarahutah
tari-tata-kapata-sayalur
dvi-gunalasyo harir jayati
kuru-carry us; param-to the other shore; yamunayah-of the Yamuna; muhuh-repeatedly; iti-thus; gopibhih-by the gopis; utkara-many times; ahutah-called; tari-of the boat; tata-on the side; kapata-pretended; sayaluh-sleepy; dvi-guna-doubled; alasyah-laziness; harih-to Lord Krishna; jayati-all glories.
"Take us to the other side of the Yamuna!" Repeatedly called by the gopis, Krishna pretended to nap by His boat. All glories to doubly indolent Lord Krishna. Sri Sanjaya Kavisekhara
Text 270
uttishtharat tarau me taruni mama taroh saktir arohane ka
sakshad akhyami mugdhe taranim iha raver akhyaya ka ratir me
vateyam nau-prasange katham api bhavita navayoh sangamartha
vartapiti smitasyam jita-giram ajitam radhayaradhayami
yatha-just as; padyavalyam-in Padyavali; uttistha-stand; arat-nearby; tarau-on the boat; me-My; taruni-o young girl; mama-of Me; taroh-of the tree; saktih-the power; arohane-in climbing; ka-what?; sakshat-directly; akhyami-I say; mugdhe-O charming and bewildered girl; taranim-boat; iha-in this connection; raveh-of the sun; akhyaya-by name; ka-what?; ratih-happiness; me-of Me; varta-words; iyam-these; nau-to the boat; prasange-in relation; katham api-somehow; bhavita-will be; na-not; avayoh-of Us two; sangama-association; artha-for the purpose; varta-words; api-also; iti-in this way; smita-smiling; asyam-whose face; jita-defeated; giram-in words; ajitam-undefeateable Lord Krishna; radhaya-with Srimati Radharani; aradhayami-I worship.
Krishna: My dear young girl, please step into My tari (boat, which become tarau in the locative case).
Radha: What power do I have to climb trees? (Here Radha interprets tarau to be the locative of taru, which means tree.)
Krishna: My dear, charming, bewildered girl, I do not mean tree, I mean tarani (boat).
Radha: Why would I want to go to the sun? (Here She interprets the word tarani to mean sun.)
Krishna: All these words I have used mean nau (boat).
Radha: All these words are meant to bring Us together. (Here She interprets the word nau to mean Us.)
I worship unconquerable Lord Krishna, who happily smiled as Sri Radha defeated Him in this playful verbal-duel. -Sri Rupa Gosvami
Text 271
mukta taranga-nivahena patanga-putri
navya ca naur iti vacas tava tathyam eva
sanka-nidanam idam eva mamati-matram
tvam cancalo yad iha madhava naviko 'si
mukta-free; taranga-of waves; nivahena-of the multitude; patanga-putri-the Yamuna River, the daughter of the sun-god; navya-new; ca-also; nauh-boat; iti-thus; vacah-statement; tava-of You; tathyam-true; eva-certainly; sanka-of anxiety; nidanam-the cause; idam-this; eva-certainly; mama-of me; ati-matram-boundless; tvam-You; cancalah-restless; yat-because; iha-here; madhava-O Krishna; navikah-the navigator; asi-are.
What You say is true. There are no waves on the Yamuna, and this is a new, sturdy boat. I am so afraid because You, O Madhava, are the reckless captain of the boat. -Sri Rupa Gosvami
Text 272
jirna tari sarid ativa-gabhira-nira
bala vayam sakalam ittham anartha-hetuh
nistara-bijam idam eva krisodarinam
yan madhava tvam asi samprati karnadharah
jirna-old; tari-boat; sarit-the river; ativa-very; gabhira-deep; nira-water; balah-young girls; vayam-we; sakalam-completely; ittham-in this way; anartha-of danger; hetuh-the source; nistara-for crossing; bijam-the method; idam-this; eva-certainly; krsa-udarinam-of slender girls; yat-because; madhava-O Krishna; tvam-You; asi-are; samprati-now; karnadharah-captain of the boat.
The river is very deep, this is an old boat, and we are simply helpless girls. It is very dangerous for us. Nevertheless, O Madhava, at the present moment You are the only boat-captain who can take us slender girls across the Yamuna. -Sri Jagadananda Raya
Text 273
ambhasi tarani-sutayah
stambhita-taranih sa devaki-sutah
atura-virahita-gopyah
katara-mukham ikshate smerah
ambhasi-in the water; tarani-of the Yamuna River, the daughter of the sun-god; stambhita-motinless; taranih-boat; sah-He; devaki-sutah-Lord Krishna, the son of Devaki; atara-the boat-fare; virahita-without; gopyah-of the gopi; katara-distressed; mukha-face; ikshate-gazes; smerah-smiling.
Krishna suddenly stopped the boat in the middle of the Yamuna and demanded immediate payment of the fare. He smiled as He gazed at the frightened face of the gopi, who had no money to give. -Sri Suryadasa
Text 274
vaca tavaiva yadunandana gavya-bharo
haro 'pi varini maya sahasa vikirnah
duri-kritam ca kucayor anayor dukulam
kulam kalinda-duhitur na tathapy aduram
vaca-by the statement; tava-of You; eva-certainly; yadu-nandana-O Krishna, descendent of Maharaja Yadu; gavya-of milk-products; bharah-the great load; harah-the necklace; api-also; varini-in the water; maya-by Me; sahasa-at once; vikirnah-in the water; maya-by Me; sahasa-at once; vikirnah-cast; duri-kritam-thrown far away; ca-also; kucayoh-on the breasts; anayoh-on them; dukulam-the garment; kulam-the shore; kalinda-Kalinda; na-not; tatha api-still; aduram-is near.
O Yadunandana, by Your order I have cast into the water these milk-products as well as My own necklace. I have thrown My bodice far away. Still, the shore of the Yamuna has not come any closer. -author unknown
Text 275
payah-puraih purna sapadi gata-ghurna ca pavanair
gabhire kalindi-payasi tarir esha pravisati
aho me durdaivam parama-kutukakranta-hridayo
harir varam varam tad api kara talim racayati
payah-of water; puraih-with floods; purna-filled; sapadi-at once; gata-gone; ghurna-tossed; ca-also; pavanaih-by the winds; gabhire-into the deep; kalindi-of the Yamuna; payasi-in the water; tarih-boat; esah-this; pravisati-enters; aho-alas!; me-my; durdaivam-misfortune; parama-supreme; kutuka-by eagerness; akranta-overwhelmed; hridayah-whose heart; harih-Krishna; varam-again; varam-and again; tat-api-still; kara-of the hands; talim-the surface; racayati-does.
The boat is violently tossed by the wind. Filling with water, it is now sinking into the Yamuna. Alas! Destiny has become my enemy. Even in this calamity lusty-hearted Krishna again and again puts His hand on me! -Sri Manohara
Text 276
paniya-secana-vidhau mama naiva pani
visramyatas tad api te parihana-vani
jivami cet punar aham na tada kadapi
krishna tvadiya-taranau caranau dadami
paniya-of water; secana-vidhau-is splashing; mama-my; na-not; eva-certainly; pani-hands; visramyatah-exhausted; tat api-sitll; te-of You; parihasa-joking; vani-words; jivami-I live; cet-if; punah-again; aham-I; na-not; tada-then; kada api-at any time; krishna-O Krishna; tvadiya-in Your; taranau-boat; caranau-two feet; dadami-I will place.
My hands are exhausted. They can no longer push the water out. All You do is speak joking words. O Krishna, if I live through this, never again will I place my feet in Your boat. -Sri Manohara
Text 277
idam uddisya vayasyah
sva-samihita-daivatam namata
yamunaiva janu-daghni
bhavatu na va naviko 'stv aparah
idam-to this; uddishya-in relation; vayasyah-O gopi-friends; sva-own; samihita-desired; daivatam-to the deity; namata-everyone bow down; yamuna-the Yamuna River; janu-the knees; daghni-as deep as; bhavatu-may be; na-not; va-or; navikah-a boat-captain; astu-may be; aparah-someone else.
O gopi-friends, all of you please bow down before your chosen deity and pray that either the Yamuna River will not be deep as our knees, or we get a boat-captain other than Krishna. -Sri Mukunda Bhattacarya
Text 278
tarir uttarala sarid gabhira
taralo nanda-sutas ca karnadharah
abalaham upaiti bhanur astam
sakhi dure nagariha kim karomi
tarih-the boat; uttarala-rock to and fro; sarit-the river; gabhira-is deep; taralah-reckless; nanda-of Maharaja Nanda; sutah-the son; ca-also; karnadharah-is the boat-captain; abala-a helpless girl; aham-I am; upaiti-attains; bhanuh-the sun; astam-the western horizon; sakhi-O friend; kim-what?; karomi-will I do.
The boat rocks to and fro. The river is deep. The reckless son of Maharaja Nanda is the captain. I am a helpless girl. The sun is setting in the west, and the village of Vraja is still far away. O gopi-friend, what will I do now? -author unknown
Text 279
napekshate stuti-katham na srinoti kakum
sasvat-kritam na manute pranipata-jatam
ha kim vidheyam adhuna sakhi nanda-sunur
madhye tarangini tarim taralo dhunoti
na-does not; apekshate-pay attention; stuti-katham-to My prayers; na-does not; srnoti-hear; kakum-My begging with a broken voice; sasvat-repeatedly; kritam-done; na-does not; manuta-consider; pranipata-jatam-My bowing down before Him; ha-alas!; kim-what?; vidhayam-can I do; adhuna-now; sakti-O gopi-friend; nanda-of Maharaja Nanda; sunuh-the son; madhye-in the middle; tarangini-of the wave-filled river; tarim-the boat; taralah-reckless; dhunoti-shakes.
He pays no attention to My prayers. He does not hear My begging in a broken voice. He does not consider My repeatedly bowing down before Him. O gopi-friend, what will I do now? In the middle of this wave-filled river, the reckless son of Maharaja Nanda violently shakes the boat. -Sri Rupa Gosvami
Text 280
eshottunga-taranga-langhita-tatosanga patangatmaja
purneyam tarir ambubhir na hi hareh sanka kalankad api
kathinyam bhaja nadya sundari vayam radhe prasadena te
jivamah sphutam atari-kuru giri-droni-vinodotsavam
esa-this; uttanga-with tall; taranga-waves; langhita-crossec; tata-utsanga-the surface and shore; patanga-atmaja-the Yamuna River, the daughter of the sun-god; purna-filled; iyam-this; tarih-boat; ambubhih-with water; na-not; hi-indeed; hareh-of Krishna; sanka-fear; kalankat-from the calamity; api-even; kathiyam-harshness; bhaja-do; na-not; adya-now; sundari-O beautiful girl; vayam-we; radhe-O Radha; prasadena-by the mercy; ta-of You; jivanah-will live; sphutam-clearly; atari-kuru-pay the fare; giri-of Govardhana Hill; droni-in the cave; vinoda-of pastimes; utsavam-a festival.
"The Yamuna is filled with huge waves, and the boat is filling with water. Still, Krishna is not afraid."
"O beautiful Radha, don't be so harsh. By Your mercy We will live through this. All You need do is pay the boat-fare of a promise to enjoy with Me a festival of amorous pastimes in the cave of Govardhana Hill." -Sri Rupa Gosvami
Text 281
kakum karosi griha-kona-karisha-punja-
gudhanga kim nanu vritha kitava prayahi
kutradya jirna-tarani-bhramanati-bhiti-
gopangana-gana-vidambana-caturi te
kakum-an emotional appeal; karosi-You do; griha-of the house; kona-in a corner; karosi-You do; griha-of the house; kona-in a corner; karisa-of dried cow-dung; punja-in a heap; gudha-hidden; anga- whose body; kim-why?; nanu-is it not?; vritha-useless; kitava- O cheater; prayahi-go away; kutra-where?; adya-now; jirna- old; tarani-in a boat; bhramana-by the rocking motion; ati- great; bhiti-because of fear; gopa-angana-of gopis; gana-the multitude; vidambana-at tricking caturi-expertize; te-of You.
O Krishna, O cheater hiding behind this heap of dried cow-dung, why do you uselessly beg me in this way? Go away! (This is a foolish trick.) You used to be very expert at tricking the gopis. You expertly tricked them when You frightened them in an old boat. Where is that expertise now? -Sri Rupa Gosvami
Note: One time Lord Krishna took the gopis for a ride in an old boat. When the boat began to rock dangerously in a storm, Krishna extorted various amorous favors from the frightened gopis in return for their rescue.

The Sun News Editorials Features Sun Blogs Classifieds Events Recipes PodCasts
Copyright 2005, 2014, HareKrsna.com. All rights reserved.