Lord Jagannath as Viewed in English Literature
BY: SUN STAFF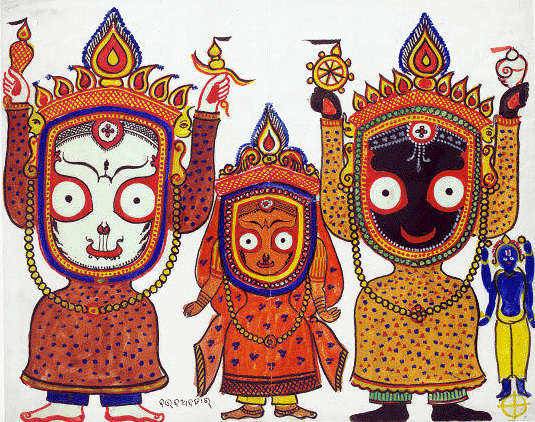 Triad Sibling Deities
19th c. Orissan, V&A Collection
Aug 26, 2013 — CANADA (SUN) — Adapted from a study on western misconceptions of Lord Jagannath, by Guruprasad Mohapatra, Nabinabag, Khordha, 'Orissa Review'.
Sri Jagannath in English literature provides an interesting study to analyse the viewpoints of several travelers, tourists, administrators, scholars, missionaries and Indo-Anglican writers. Most of the travelers have delineated Sri Jagannath in a befitting manner. Yet, some have become cynical. Interestingly, foreigners and scholars from the west have dwelt upon Jagannath in varied ways.
Friar Odoric (1321 AD), Nicolo Conte (1430), Sir Thomas Roe (1616), W. Bruton (1633) Bernier (1667), Capt. Hamilton (1727), Major W. Thorn (1803), Robert Southey (1810) and scholars like Stevens, Prof. Wilson, James Fergusson, Gen. Cunningham, W.W. Hunter etc. have lavished profusely, though obviously not eulogistically always, on the Deities, or the car-festival or even on the theories of Buddhist origin of Jagannath.
The Britishers have oscillating attitudes ranging from awe and admiration to sequential disillusionment, viewing the Lored initially as an amorphous idol. Christian missionaries have tried to supersede the spiritualism of Jagannath by using a despicable metaphor – Juggernaut. However, in Indo-Anglican writings, Sri Jagannath has been the symbol of Henotheism. It is curious to make an account of differences and echoes in observation of these so-called intelligentsia.
The holy shrine of Puri and Lord Jagannath has not only drawn pilgrims from across the country for centuries, but also foreigners who took considerable interest about the place and the Lord. Among the foreigners, two Europeans, William Bruton and Fray Sebastian Manrique are remarkable. Their description about the Deity, ritual practices and places are the earliest available account on the theme.
Though a great deal of work about the culture has been found in the accounts of A. Stirling, W.W. Hunter and John Beams, some significant research has been done by a group of German idealists like Hermann Kulke, Anncharlott Eichmann and H. Von Stieterncron. Bulloram Mullic's account of his journey to Puri is a good package of philosophical evaluation of Jagannath Consciousness. However till today, its had its origin in the emergence of the "Oriya School" in the early 1970s. It gathered momentum in the late seventies with the publication of Nityananda Patanaik's 'Cultural Tradition in Puri'. This development enforced the theory oriented scholars to prove into the culture in full steam.
K.C. Panigrahi's "Seminal historiographical studies on the medieval Oriya literature and traditional accounts and their relevance for the Jagannath cult" is a monumental study. Scholars like K.B. Tripathy, P. Acharya, K.C. Mishra, G.N. Dash, G.C. Tripathy, Sabita Acharya, B. Ray, Subhakanta Behera, Nibedita Mohanty, Bishnu Mohapatra etc. have their remarkable contributions to the study on Jagannath.
In order to understand what Jagannath Consciousness is, it is necessary to learn what He has, for ages, been. The study proposes, therefore, to examine stage by stage that complex growth of enchaining beliefs and of yearnings after truth, which, nourished by the pilgrim bones of centuries and watered by the tears of millions of disciples, now spreads itself out in full grown luxuriance upon the Puri sands.
Besides certain perpetual appeal to the popular instinct, Jagannath Consciousness aims at a catholicism, which embraces every form of universal belief. The fetishism and bloody rites of the aboriginal races, the mild-flower worship of the Vedas and every compromise between the two along with lofty spiritualities of the great Indian reformers, have found refuge. The rigid monotheism of Ramanuja in the 12th century, the monastic system of Ramananda in the 15th, the mystic quietism of Lord Chaitanya at the beginning of the 16th, and luxurious worship of Vallavacharya towards its close, mingle within the walls of Jagannath at this present day.
Sri Jagannath Consciousness is not only a manifestation and fusion of eclectic essence of all religious currents but also a reflection of humanitarian appeal, proclamation of universal brotherhood and renunciations, beyond pride and prejudice. Since antiquity Lord Jagannath has been a pollinating agent, sucking nectar from various petals of spiritual spheres and transmitting the grains of universal consciousness. He has been a forum for free exchange of philosophical, secular and intellectual curiosities and consequences of synthetic values.
The Europeans, particularly the British attitude to Jagannath offers an interesting study. Viewing the Deity initially as an amorphous idol, they made it into an abusive metaphor – Juggernaut -- but soon got boomeranged by it in their evangelical endeavours. Vilifying the immense importance of the car-festival of the Lord and ascribing to the festival a genocidal contour, they wrote from time to time about the pilgrims throwing "themselves under the chariot so that its wheels may go over them….. and the car passes over them and crushes them and cuts them asunder and so they perish on the spot". Conti even supplements by adding that to be "crushed to death" in such a manner was "a mode of death which they say is very acceptable to their God". Gasparo Balbi also repeats this preposterous nonsense.
In Bruton's aspersions the same insularity of vision is reflected. Berrier is also cynical in his view. Hamilton, Wood House, Robert-Southey, David Smith, Reverend Ward, W.W. Hunter etc. had also done the same. Some of them even described Jagannath as "a figure that resembled nothing in the heavens above or the earth beneath or in the waters under the earth. This had impelled Maj. Thorn to visit the place and see the amiable object of veneration by millions of pilgrims, though he found the Deity disgusting.
Christian missionaries, came to give a sadistic sense of "hellish triumph". Stirling, the Collector of Puri, wrote in 1818 to say that such so-called "excess of fanaticism" reflected in and through instance of immolation were too few far between and that invariably these were results of accident or euthanasia. Chevers would endorse such a view. This naturally would give credence to the view about "that ecstatic mockery of martyrdom" as figments of the alien flights of fancy. If that be the case then the barbarity of commercializing the temple and its traditions in the name of seeking insulation from pollutions of superstitions is as preposterous as it is mock rhetoric.
Perhaps a pseudo-reformatory zeal for missionary purposes lay at root, which raised a hullabaloo about frivolous accidents but found soon, to its dismay, that the Jagannath-culture is not so fragile as to succumb to such susceptibilities and insinuations.
Lord Jagannath in Indo-Anglican literature can be analysed in two aspects, as the impact of Jagannath consciousness on literary works and literary creations based on Lord Jagannath. The ancient writings have accepted Lord Jagannath as the symbol of henotheism: He is every from in one form. In the writings of Gandhiji, Nehru, Dayananda Saraswati, etc. the scarcity of cosmopolitan outlook is discovered in the practice of temple culture. But the description of His glory is so mountainous that the reformistic views have lost their vigor.
The synthetic cult and consciousness of Jagannath is an epitome of divergent religious creeds and schools of philosophy that prevailed in India at different periods of her long cultural history. In the historic process of adjustments, Jagannath has assimilated strange contradictions in a manner that is most amazing in the history of religious thought. There is no discarding any in this religion of man", wrote Pandit Nilakantha Das, " and all the gods and goddesses attacking and appealing have found a place in the compound of the temple. Jagannath has welcomed and embraced all, but been overwhelmed by none and has lost Himself in none".
References :
1. Anncharlott Eschmann Herman Kulke, The cult of Jagannath and the regional Tradition of Odisha Gyan Charan Tripathi, South Asia Interdisciplinary Religion Research Programme-Orissa Research Project.
2) Dr. S. Radhakrishna, Indian Religions Orient Paperback 1983 Religion and culture Orient Paperback-1968
3) Harmann Kulke– (ed). Burkhard Schnepel Jagannath Revised Manohar-2001
4) Himansu S. Pattanaik– Lord Jagannath His Temple, Cult and Festivals. Aryan Books International, New Delhi.
5) Pravat Mukherjee, History of Jagannath Temple in the 19th Century Ferima Klm Pvt. Limited, Calcutta 1977.
6. K.C. Mishra, The Cult of Jagannath, Calcutta, 1971.
7. Cultural Heritage of Odisha, Vol- III, Sri Jagannath Special (Ed) State level Vyasakabi Fakirmohan Smrutisansad, BBSR.
8. Niladri Mohadaya.
9. Bamadev Sahimta.
10. Odisha Review, Jagannath Specials from 1980-2012.

The Sun News Editorials Features Sun Blogs Classifieds Events Recipes PodCasts
Copyright 2005, 2013, HareKrsna.com. All rights reserved.