Sibi Narasimhaswamy Temple
BY: SUN STAFF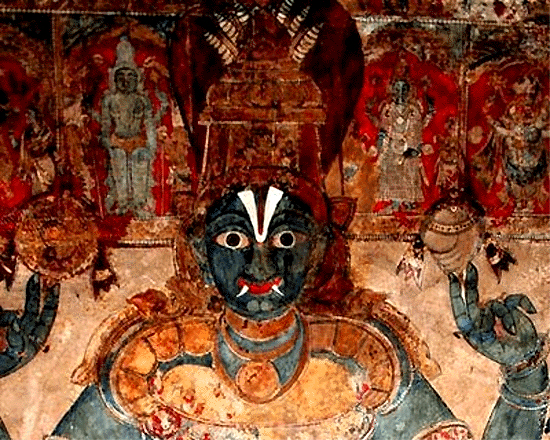 Sri Sibi Narasimhaswamy
Wall painting, Sibi Narasimhaswamy Temple
Aug 24, 2013 — CANADA (SUN) — Sibi (Seebi) is a small village located 20 kilometres north of the Tumkur district in Karnataka. Known in ancient times as Sibburu, this village is home to the Sibi Narasimhaswamy Temple, built in the 18th Century. According to temple legend, Lord Narasimha appeared in Nallappa's dream and asked him to build a temple. But there was already an old temple at the place, built by a merchant. The merchant is said to have set a pot of rice boiling on a small rock. The water turned to blood, causing the merchant to faint. While he was unconscious, the Lord appeared in his dream and asked him to build a temple.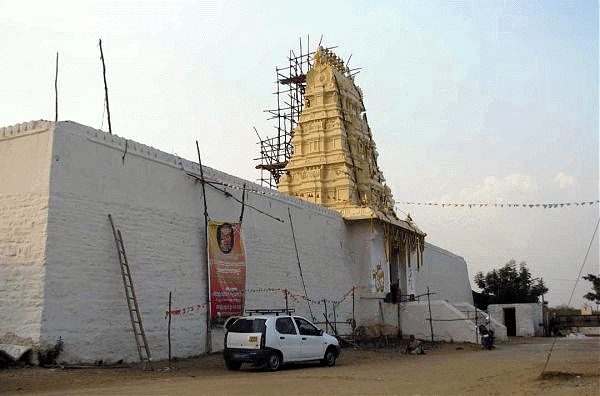 Sibi Narasimhaswamy Temple
The construction of the temple was begun by brothers Nalappa Fauzdar Karnik, Lakshminarasimhaiya and Puttanaiya in 1795 A.D., and was completed in 1798. Nalappa, the son of diwan Kacheri Krishnappa, was an officer under Haider Ali, who was a Sultan of the Mysore Dynasty. The current temple priest is the eighth generation descendant of Nalappa.
The village of Sibi, or Sibikshetra was once known as a jungle populated by meditating ascetics. There is an temple ancient tank in Sibi, and a Parijat tree throwing beautiful blossoms to the ground. There is a copper plate inscribed in the 15th Century that mentions the village of Sibur, and a handramouleshwara temple residing there. It says the village was renamed Harihara, after the Vijaynagar king who had given the plate.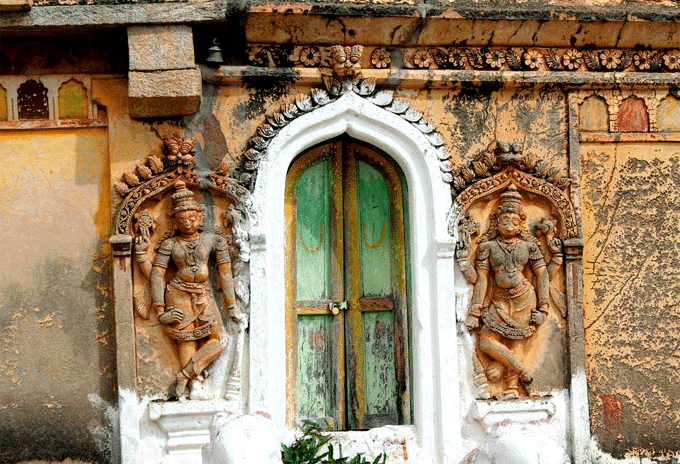 Sibi Narasimhaswamy Temple
[ Photo: Rang-thecoloursoflife @ Blogspot ]
The temple itself is known for the beautiful murals and friezes that decorate it, with scenes from the Mahabharata and Ramayana. The walls and ceilings are covered in these beautiful paintings, which are similar to the Daria Daulat Bagh paintings at Srirangapatna. Inside the gateway entrance there is a ceiling frieze depicting past rulers of Mysore, and there are other historic scenes, along with the devotional images.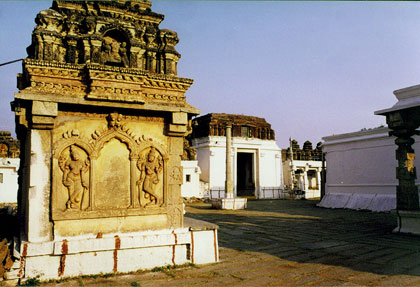 Sibi Narasimhaswamy Temple
[ Photo© Robin Walsh 1999 ]
The style of art at Sibi is not done in the strict classical style found at Hampi or Shravanabelagola, but is a more relaxed and done in with a folk-style mood. Some of the paintings have been damaged by time and the elements, and some have undergone repair and renovation. Those on the ceiling are in the best state of repair, for obvious reasons. There is one long temple inscription that's now half obliterated.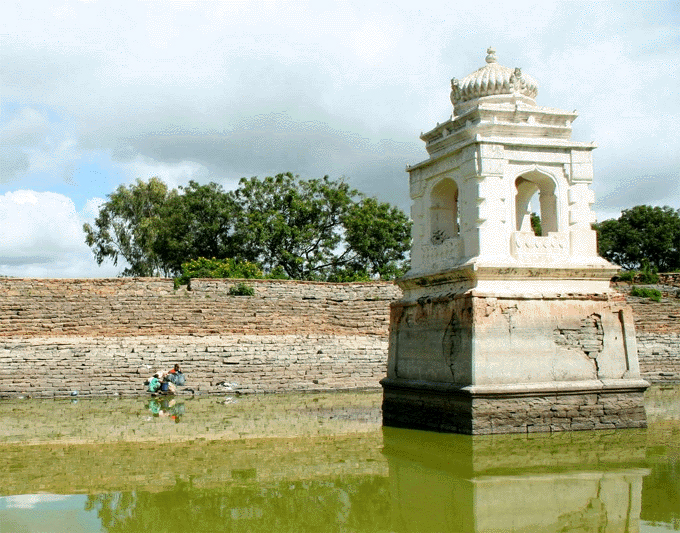 Temple Tank
[ Photo: Rang-thecoloursoflife @ Blogspot ]
The paintings in this temple are thought to have done at an important point in Karnataka's history. Rule of the region had shifted from Hindu to Muslim control. Islamic intruders like Haidar Ali and Tipu Sultan were storming across South India, and many temples were falling in their wake. In that environment, it's quite unusual that a temple like Sibi Narasimhaswamy was constructed and adored with such a rich collection of Vaisnava imagery.
The temple construction is done in Vijaynagar style, with kalyana mantapas and vaikunta mandapas. Beautiful stucco sculptures on the parapet wall depict more than 100 divine personalities.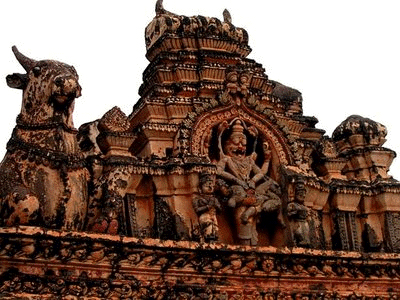 Sibi Temple Gopuram


The Sun News Editorials Features Sun Blogs Classifieds Events Recipes PodCasts
Copyright 2005, 2013, HareKrsna.com. All rights reserved.