Artists of Nathadwara
BY: SUN STAFF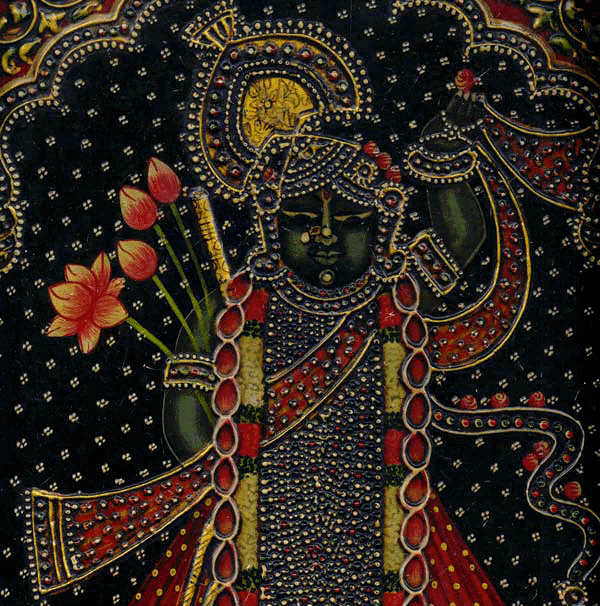 Sri Nathji
Aug 22, 2012 — CANADA (SUN) —
The small town of Nathadwara lies in Rajasthan's Aravalli hills, on the banks of the Banas River. While the river dries to a mere trickle in the summer, during the monsoon season the countryside grows green and lush, and the Banas overflows with water.
Nathadwara is typical of towns in north India. Houses and temples are constructed of thick stone or brick with whitewashed walls that keep the interior cool at the height of summer heat. During the winter months, the rooftops are full of people seeking the warmth of the sun.
While Nathadwara appears to be like the many other Rajasthani towns, it is a very special place due to the presence of Lord Krsna in his Form of Sri Nathaji. By His mercy, Natahdwara is a great pilgrimage centre, and has become home of a large community of traditional artists.
Shri Nathji resides in an opulent temple at the centre of the town. He is the Deity of Lord Krsna in his child-like seven-year old Form. He is seen standing, holding up Govardhana Hill to protect the devotees from the wrath of the Lord Indra, who sent lightning and torrents of rain to destroy the Cowherd Boy's companions.
Shri Nathji is always shown with his left hand holding up Sri Govardhan. In many of the traditional Nathadwara paintings, the Lord is attended by a priest offering a deepa, while father Nanda, the cowherds and the gopis stand nearby.
Prior to 1672, Shri Nathji resided in a small temple near Mt. Govardhan, in the region of Braja. Due to political uncertainties at that time, the family of priests caring for Shri Nathji decided to move Him to a safer place. After wandering for many months, they were invited by Maharana Raj Singh of Mewar to settle in his kingdom. Land was donated in the village of Sinhar, and a large temple complex was built there for Shri Nathji and his devotees. The village was appropriately renamed Nathadwara, and soon attracted new residents and pilgrims.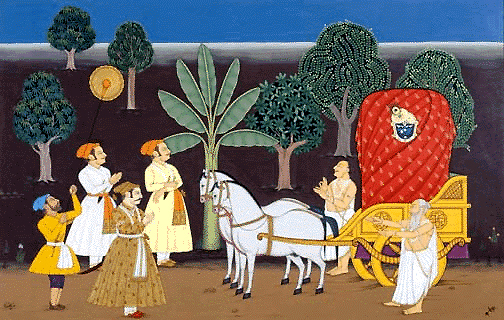 Maharana Raj Singh formally receiving Shrinathji Deity
Wherever Lord Krsna goes, devotional artists find their way also. They depict the Lord's pastimes in paintings, sculpture and endless other creative forms. The artists of Nathadwara have developed a style that remains very steady, capturing the Pastimes, Attire and Paraphernalia of Sri Nathaji in their beautiful array.
Over the next few segments, we will explore the vast treasure house of Nathadwara art that makes Lord Sri Nathaji available for darshan to devotees around the world.


The Sun News Editorials Features Sun Blogs Classifieds Events Recipes PodCasts
Copyright 2005, 2012, HareKrsna.com. All rights reserved.