Sankirtana in Portland

BY: SUN STAFF

Aug 16, USA (SUN) — Sunday rose bright and sunny in Portland, Oregon, where thousands of people thronged to the 11th Annual India Festival. Sponsored by the India Cultural Association, the event draw more than 7,000 visitors. Visitors braved the 95 degree heat in Pioneer Square to see and enjoy end-to-end entertainment, educational and cultural booths, and foods from across India.

The all-day entertainment got off to a transcendental start, as the kirtan party organized by Rocana dasa was one of the first to take the stage. A lively and happy group of ten devotees led the crowd in ecstatic kirtan, chanting and dancing across the roomy stage, while other devotees joined in to sing Krsna kirtan from the seats.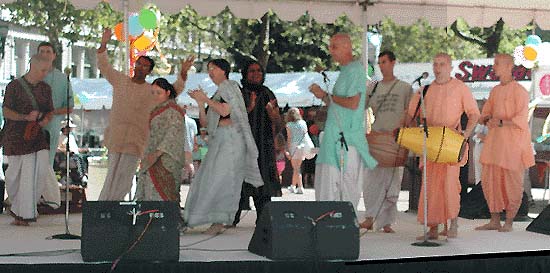 Left to right: Nityananda Rama dasa, Bhakta Eric, Hillsboro temple devotee, Krishna-mayi devi, Jahnava devi, Bhaktin Anita, Rocana dasa, Bhakta Brad, Trikalajna dasa, Bhakta Joe
This kirtan was especially sweet for the participants. In organizing the kirtan group, Rocana invited the devotees from the local temple, many of whom are leaving ISKCON Portland this month to take up service in Dallas, Seattle and Los Angeles. Following the recently strained relationships with the temple Board there, the event was a great reunion and a chance for the devotees to enjoy one last kirtan together.
The HareKrsna.com devotees and ISKCON Portland devotees were joined by a devotee from the ISKCON Hillsboro temple, who had an excellent booth set-up for festival goers. They distributed Srila Prabhupada's books, music and instruction to many people.
HareKrsna.com also had a booth, promoting the website, Srila Prabhupada's legacy and temples. With the help of Bhakta Eric and Bhaktin Anita, Jahnava distributed prasadam to more than 500 people, who took great pleasure in the "Kuruksetra Sweetballs".
Portland Mayor Tom Potter gave an address in which he thanked the Indian community for sharing their Vedic culture, which he acknowledged as one of the most unique and oldest on the planet today. He pledged Portland's assurance that cultural diversity and the safety of community members would be kept foremost. Oregon Congressman Earl Blumenauer also visited the HareKrsna.com booth, and greatly enjoyed meeting the devotees.
Rocana and Jahnava would like to thank all those who helped make the India Festival a success. In particular, thanks to Nrsimhananda dasa of ITV, and Lynne and Arlen Anderson for their donations to the booth and prasadam fund.

| The Sun | News | Editorials | Features | Sun Blogs | Classifieds | Events | Recipes | PodCasts |

| About | Submit an Article | Contact Us | Advertise | HareKrsna.com |
Copyright 2005, HareKrsna.com. All rights reserved.