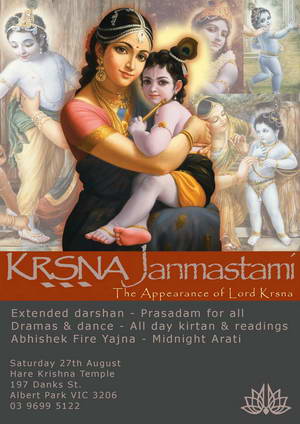 Aug 8, USA (SUN) — Like temples around the world, the ISKCON Melbourne community is working hard to organize, execute and promote a series of nectarian festivals for the month of August. While planning for these transcendental events is underway, we can get a glimpse of the tremendous effort and enthusiastic service required to put on major festivals by staying tuned to various blog feeds. We enjoy reading the Melbourne temple site's blog, managed by Temple President Aniruddha dasa, and blogs from community members like Sita-pati dasa, who streams daily reports on the activities underway down-under.
Of note are the super-excellent festival posters being designed by Bhakta Leon of Auckland, who has created a series of beautiful and eye-catching designs to promote the ISKCON Melbourne festivals.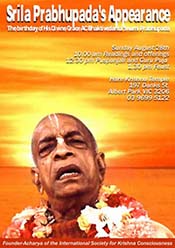 The Jhulana Yatra begins on the 16th of August, and finishes on Baladeva Purnima, Friday the 19th. Janmastami is being celebrated there on Saturday, the 27th of August, followed by Vyasa-puja on Sunday the 28th.
ISKCON Melbourne expects this year's Janmastami to be the largest crowd yet served at the temple. Efforts are underway to raise funds for bhoga and festival goods, and to recruit volunteers to assist. Please contact the temple to offer your support:
ISKCON Melbourne
197 Danks St, Albert Park VIC 3206, Australia
Ph. +613 (03) 9699 5122
Email: iskconmelb@in.com.au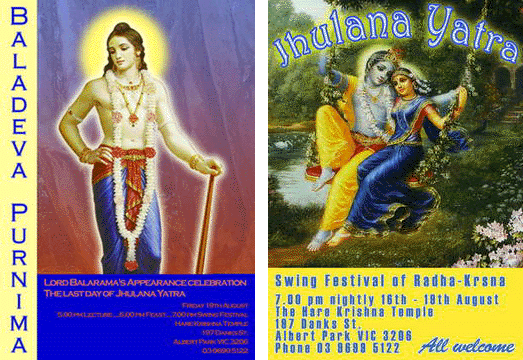 | The Sun | News | Editorials | Features | Sun Blogs | Classifieds | Events | Recipes | PodCasts |

| About | Submit an Article | Contact Us | Advertise | HareKrsna.com |
Copyright 2005, HareKrsna.com. All rights reserved.