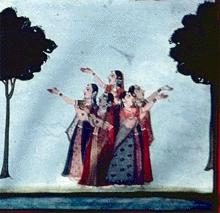 Aug 7, USA (SUN) — While we recognize the infinitesimal nature of the jivatma's presence in the midst of material nature, the digital world still seems like a big, big place. As devotees, we are always searching for Krsna, and the Supreme Personality's all-attractiveness continues on into the digital milieu.
By now, we're all familiar - if not downright expert - at using search engines to seek out Krsna conscious nectar. Lost devotee friends, quotes from Srila Prabhupada, and prasadam recipes are just a Google away. Searching MP3 titles for your favorite bhajan is simple. In fact, keyword searching the title of any digital object is easy.
What has not been available to us in the past is keyword search within digitally recorded media. Wouldn't it be nice if you could keyword search in an audio lecture file? Well guess what? Now you can.
A whole new generation of search tools is becoming available, and they're giving us access to digital content at a granular level never before accessible. While the technology is still on the low end of a long upwards curve, we can now search live television broadcasts, radio, podcasts, and other audio and video broadcasts by keyword and key phrase.
It's fascinating to hit these new engines, searching for available audio/video references to 'Krishna, 'Prabhupada', 'ISKCON', or other keywords of interest. This search capability lets us locate the news outlets and content producers who are either inclined towards, or away from, Krsna Consciousness or spirituality. Devotees who are looking for preaching opportunities can now scan the digital horizon looking for conversations that recently happened, or content that was recently aired, which might easily be followed-up with additional information, a new viewpoint, or just an invitation to the Sunday feast.
Like any search engine, some of the search returns don't apply. When it comes to searching audio tracks, poorly pronounced or slurred words might sound like "Krishna", when that's not what was actually said. Still, a surprising array of references can be found, and the sources are sometimes startling.
While much of the video content aired by television broadcasters is secular, digital video engines will soon have access to spiritually rich content like Aastha, the 'faith channel' network out of Bombay, which broadcasts worldwide on DirectTV. Aastha airs thousands of hours of all-India, all-spiritual content, and this will eventually be picked-up by media search engines.
Give this technology a try by going to Blinkx, and searching content for the word "Krishna". You'll find numerous Podcast returns where the term "Krishna" is contained within the audio content.
For now, Google, Yahoo and AOL are out in front of the race with their beta programs. Google Video indexes a limited number of commercial broadcast channels as well as video clips from qualified participants in their video upload program, and makes the content keyword searchable. Just type in a phrase, and Google will search the closed captioning and text descriptions of all the videos in the archive for relevant results.
America Online recently launched a new video-on-demand search service to view music videos, news segments and other content from parent company Time Warner. The service now in beta, offers free access to search and playback for more than 15,000 licensed and originally produced video assets from Time Warner, including television programs and music videos, movie trailers from Warner Bros. and news clips from CNN, MSNBC and others.
PBS not only provides generous resources to air its standard programming content but it also provides its audience with multiple online archives of specific video programs. All such video archives can be searched for any spoken word pronounced in them. The system provides direct access to the specific segment of the video program where the searched terms are spoken and it makes searching for specific spoken words a breeze. The PBS video archives have been created using voice recognition technology. This technology, which did not require any human intervention, allows any video publisher to automatically offer a full transcript of the video program made available.
The devotees should be encouraged by the opportunities presented here. We can upload our audio and video content, make digital media search engines aware of our presence, and let countless numbers of people come into contact with Lord Krsna and his pure devotee, Srila Prabhupada. Local content instantly becomes national and international, and diverse programming content the devotees might never have had an interest in consuming can now be filtered and streamed, bundled according to keywords in our lexicon.

Additional Resources:
America Online video-on-demand search