Sampradaya Sun's 10th Anniversary
BY: SUN EDITORS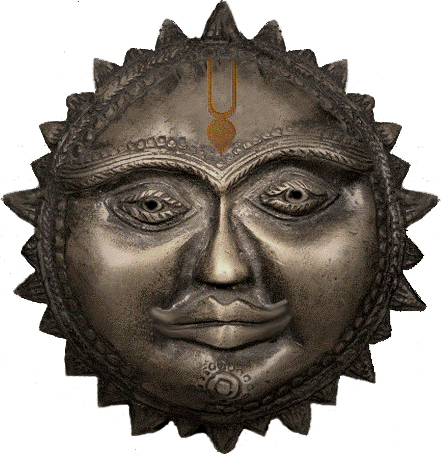 Jul 29, 2015 — CANADA (SUN) — Today, we are very pleased to announce the Tenth Anniversary of the Sampradaya Sun, and the 20th Anniversary of HareKrsna.com. In July 2005, the Sun ran its first Feature story, entitled "HareKrsna.com Celebrates 10th Anniversary". In July 2010, another Feature story, "Happy Anniversary, Sampradaya Sun!" marked the Sun's 5th, and HareKrsna.com's 15th Anniversaries. Today, we are happy to still be here, publishing the Sun's 10th Anniversary edition and heralding another decade of HareKrsna.com.
While some of the important milestones were mentioned in these past articles, there have been too many to list here. One day, perhaps on our 25th Anniversary, we'll publish the first year 'journal' we kept, detailing what we then thought to be the most significant events and stories of the Sun's inaugural year.
Over the last five years there have been several accomplishments here in the Sun, including the many articles from 2010 to 2012 glorifying Srila Prabhupada's exalted status -- Rocana dasa's primary writing theme. In 2012 we published "Defeat of Ritvik-vada"; in early 2014, many of our primary papers were translated to Spanish and published under La Edición en Español; and in May 2015, the Constitution for ISKCON As It Is was published, after 17 years as a work-in-progress. We should also mention the excellent work of our Staff Correspondent in Jagannatha Puri, who provides the Sun with world-class coverage of events happening in Puri Dham.
Most certainly, your Sun Editors feel the passing years… in more ways than one. Despite the steady declines we experience (well warned by sastra), we somehow continue in this service. This is only due to the mercy of His Divine Grace, A.C. Bhaktivedanta Swami Prabhupada, in whose service all efforts are carried out. It is also due to the mercy of the Vaisnavas who allow us to continue on, trying to offer something of value to the community of devotees.
Over the years, there have been many devotees who have supported the Sun, contributing their time and energy, writing, researching, translating and proofreading. We cannot name them all, nor would we: there is still a measure of fear of reprisal for speaking freely in ISKCON on certain philosophical and managerial issues. Of course, many devotees brave the often subtle, and sometimes overt threats, and stand up to speak their minds regardless. It is our good fortune to be able to serve them.
One of the byproducts of Kala, the passing of time, is the pendulum that keeps swinging. Certain ideas, philosophical positions and trends that were once considered extreme, if not outrageous, are now commonly accepted by the majority of devotees. Generally, the last twenty years have seen a significant shift in how power and authority are perceived amongst the ISKCON grassroots devotees. We see this trend as being an entirely positive one.
And, we see a softening of the defensive wall that stands between the leaders and those who challenge them. There is greater understanding on both sides, and an increasing inclination towards cooperation and tolerance. Painfully slow, yes, but measurable and practically positive. For this, we are grateful.
With respect to the range of content published in the Sun now, in its 10th year, there has clearly been a narrowing of focus… boiling the milk. Some issues, like guru-tattva and Srila Prabhupada's status as one of the topmost members of the guru-parampara -- one of our exalted Sampradaya Acaryas -- have come down to a finer point after years of discussion, and the range of contradictory opinions is narrowing. The days of pro-Ritvik arguments appearing on the pages of the Sun for the purpose of focusing the debate… gone. That issue is well concluded now and we were glad to be a contributor to the absolute defeat of Ritvik-vada.
The Sun has also seen a shift with the advent of Social Media, particularly Facebook. We have purposefully avoided having a presence there, preferring to be a source of content rather than an agent for its propagation. That work, we are glad to leave to others, who pick-up Sun content on a daily basis and stream it across the SM platforms.
In this our 10th year, Dandavats.com continues to publish, and ISKCON News has become one of the society's media sites, although the latter offers only 'news', and no real philosophical editorial content. Both Chakra.org and VNN.org faded out in 2013. In this environment, we are very grateful to watch the Sun, still coming up each morning.
Despite being slowed down a bit by physical injury this winter, we see clear sailing ahead. The day is coming close when Rocana prabhu will be able to return full-time to writing, and we expect that will mark a real revival of the Sampradaya Sun. Meanwhile, as time permits, Jahnava hopes to clean up a few technical muddles that have plagued us for years (particularly the broken code in the Editorials Index). We'll also hope to announce later this year a renovation of the main HareKrsna.com website, with some of the best Sun content being ported over to that domain.
Please enjoy the video posted today, "Ten Years of Sun", featuring homepage snaps of the Sampradaya Sun over the decade. Please give us your blessings so that the Sun can continue in its publishing efforts, for the pleasure of Srila Prabhupada.
Hare Krsna
your servants,
Rocana dasa
Jahnava dasi
Sun Editors

The Sun News Editorials Features Sun Blogs Classifieds Events Recipes PodCasts
Copyright 2005, 2015, HareKrsna.com. All rights reserved.