Middle Kingdoms of India, Part 64
BY: SUN STAFF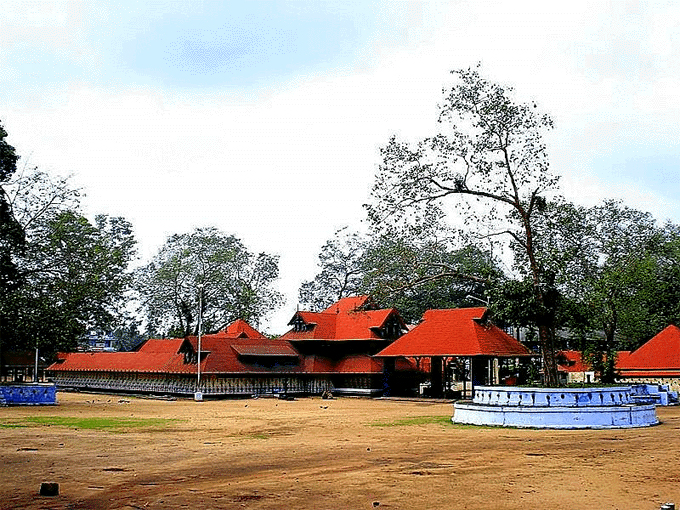 Kodungallur Bhagavathi Temple
Jul 27, 2015 — CANADA (SUN) — A serial presentation of India's great history, religious movements and temple architecture.
The Cheras
'The location of one of the greatest seaports of the ancient eastern world, Muziris (c. 100 B.C. – 1341 A.D.), was long identified as being at Kodungallur. The settlement was an integral part of Mahodayapuram, the capital city of the Second Cheras empire. Kodungallur (also known as Cranganore, not to be confused with Kadungallur) is now the municipality of Thrissur district, Kerala, 9 km. northwest of Kochi.
It is believed that the city was devastated by natural calamities—a flood or an earthquake—in 1341 A.D. Some historians posit that it was destroyed by the Periyar River's massive flooding. This would have been just over 200 years after the time of King Kulashekhara. It consequently lost its commercial importance thereafter. [60gg] Further, it came under military attacks on various occasions: in 1504 by the Portuguese-Kochi allied forces during their movement against Calicut ; in 1524, by the Mappilas during their attack against the Portuguese, and again in 1565 by the Portuguese.
The name Kodungallur is derived from kodi-linga-puram, 'the land of 10 million Siva lingas'. During the era of Chera dynasty rule, Kodungallur was thought to be their revenue collection center, Kuda-kons for goods coming to the nearby port, hence the name Kudakonallur, which later shortened to Kodungallur.
Historically, Kodungallur has also been identified as Jangli, Gingaleh, Cyngilin, Shinkali, Chinkli, Jinkali, Shenkala and Cynkali, which are all derived from the name of the River Changala (or the Chain river, i.e., shrinkhala in Sanskrit), a tributary of Periyar. [60hh] Columguria, Kotilingapuram, Kudalingapuram, Kodunkaliyur, Thiruvallur, Ravivisvapuram and Balakreetapuram are a few other names identified as Kodungallur in various related records or literary works.
Kodungallur, an integral part of Mahodayapuram, the Chera capital city, was an important trade link in ancient Indian. The Roman empire had a continuous trading connection with the region. Along with pepper, commodities such as pearls, muslin, ivory, diamond, silk and perfumes were exported via the maritime facilities at Kodungallur.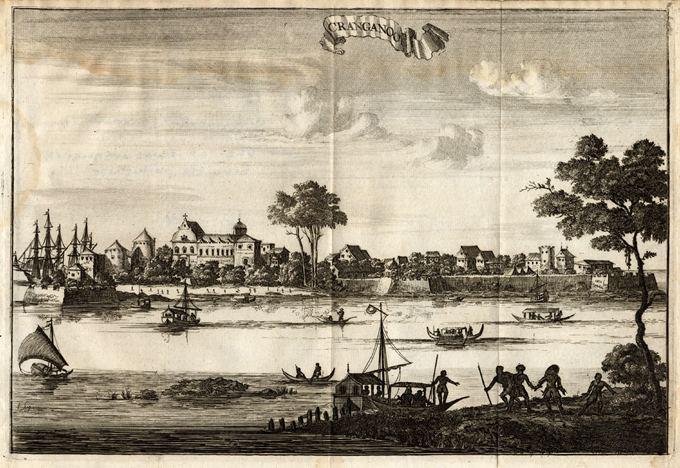 Dutch East India Company ships in Kodungallur (1708)
Sulaiman, an Arab visitor to Mahodayapuram during this period, recorded the economic prosperity of the region and also testified to the high morals kept by its people. He describes the Chinese traders in the city, who were purchasing pepper, cinnamon, ivory, pearls, cotton fabrics and teak wood, while selling their own silk, porcelain goods, etc.
In the 11th century, Mahodayapuram was captured by Rajendra Chola I of the Chola dynasty. For the next few centuries, Kodungallur was a principality known as Padinjattedathu Swaroopam, under the control of a royal family, Kodungallur Kovilakam, allied either to the kingdom of Cochin or to Calicut.
Among the ancient temples of the Chera dynasty is the Kodungallur Bhagavathy Temple, believed to have been constructed during the reign of King Cheran Senkuttuvan. It is famous for its Bharani and Thalappoli festival. Temple ritual requires that pilgrims carry pepper and turmeric powder as offerings to the Deity.
FOOTNOTES:
[60gg] Ashis Nandy (1 January 2002). Time Warps: Silent and Evasive Pasts in Indian Politics and Religion. Hurst. pp. 172–. ISBN 978-1-85065-479-7. Retrieved 28 August 2012
[60hh] For a large number of such names for Kodungallir down the centuries arranged more or less chronologically cf. K. P. Padbhanabha Menon, History of Kerala Vol. I, quoted by George Menachery in 'Kodungallur",1987, reprinted 2000
[60ii] A Sreedhara Menon (1 January 2007). A Survey Of Kerala History. DC Books. p. 126. ISBN 978-81-264-1578-6. Retrieved 22 August 2012
[60jj] Mukund Kanakalatha (1 January 2012). Merchants of Tamilakam Pioneers of Inter. Penguin Books India. p. 11. ISBN 978-0-670-08521-7. Retrieved 21 August 2012

The Sun News Editorials Features Sun Blogs Classifieds Events Recipes PodCasts
Copyright 2005, 2015, HareKrsna.com. All rights reserved.