The Holy Places of Jaiva Dharma: Srivasa-angana
BY: SUN STAFF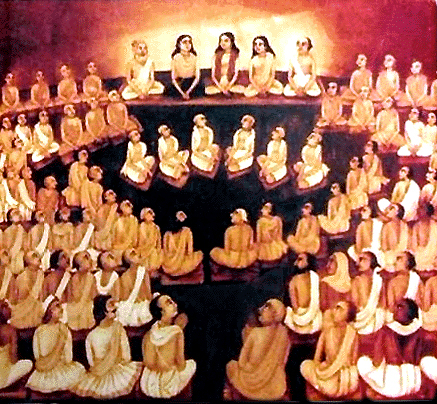 Jul 14, 2014 — CANADA (SUN) — A serial presentation of the holy places mentioned in the Jaiva Dharma of Srila Bhaktivinoda Thakur - Part 147.
Today we will continue to highlight the many references to Srivasa-angana in Jaiva Dharma. In chapter eighteen, the drama between Vrajanatha pandit and his envious cousing, Vani-Madhava continues:
"Vani-Madhava was a vicious person. Reproached by Vrajanatha, in his mind he plotted how to harm both Vrajanatha and the babajis. He met with some thugs and together they decided that when he returned from Srivasa's courtyard, Vrajanatha would be attacked at a secluded place near Laksmana-tila. Hearing of this plot, Vrajanatha decided to visit the saintly elderly babaji only during the daytime. Also, he would not visit Srivasa's courtyard every day, and when he did it would be only in the daytime and accompanied by a bodyguard. Vrajanatha had some tenants. Among them was an expert fighter named Harisa Doma. Vrajanatha said to Harisa, "Today a great calamity has fallen upon me. If you help, I may be protected from it." Harisa replied, "Sir, I will do whatever you ask. Give the word, and I will kill your enemy." Vrajanatha said, "Vani-Madhava wants to harm me. I am no longer able to visit the Vaisnavas in Srivasa's courtyard. Vani-Madhava plans to have me attacked on the road." Harisa replied, "Sir how can he attack you when Harisa is there? Know that this bamboo club will fall on Vani-Madhava Thakura's head. Sir, take me with you whenever you go to Srivasa's courtyard. Who can harm you? I can defeat a hundred fighters."

Accompanied by Harisa Doma, Vrajanatha would visit Srivasa's courtyard only once every two or four days. He could not stay for long. He could not hear discussions of the spiritual truth. In his heart he became sad. Ten or twenty days passed in this way, and then Vani-Madhava died of snakebite. Hearing the news of Vani-Madhava's death, the Vaisnava Vrajanatha thought, "Is this fate of a person who hates Vaisnavas?'"
Later in the story, after Vrajanatha has departed from the Babaji's company, his uncle plans a trip to Mayapur-dham and Vrajanath asks to accompany him. His uncle states that:
"Vrndavana dasa Thakura has ordered me to visit the holy abode of Sri Mayapura. In my mind I have decided to bathe in the Ganges at Sri Mayapura-ghata, see and circumambulate the yoga-pitha, and once roll about in the dust from the Vaisnavas' feet at Srivasa's courtyard."
Upon arriving there…
"Finally some devotees helped them go to Srivasa's courtyard. When they entered it, streams of tears flowed from their eyes. Rolling on the ground in Srivasa's courtyard, the both called out, "O Srivasa! O Advaita! O Nityananda! O Gadadhara-Gauranga! Please give Your mercy to us. Please take away our false pride. Please give us shelter of Your feet.'"
As Jaiva Dharma continues, Vrajanatha and his uncle Vijaya-kumara repeatedly take shelter of Srivasa's courtyard and the Vaisnavas populating that sacred place. Coming and going from Srivasa-angana, their guru, Prema-dasa Babaji feels the pangs of separation at their absence. Chapter twenty-two sees the three reunited:
"Today is ekadasi. Under the bakula tree in Srivasa's courtyard the Vaisnavas are chanting the holy names of the Lord. Some call out, "O Gauranga! O Nityananda!" and sigh. Our saintly babaji was motionless, plunged in ecstatic love. Who knows what he was thinking? After a few moments he said, "Alas!" and began to weep. "Ah! Where is rupa? Where is Sanatana! Where is Raghunatha dasa Gosvami! Where is my life's brother, Krsnadasa Kaviraja? I cannot be with them. Today I am all alone. I cannot be happy. The memory of Radha-kunda brings me pain. O my life, now you are leaving me. I pray that Rupa and Raghunatha show themselves to me and save my life. Even though I am separated from you, still I remain alive. How pathetic is my life." Again and again speaking in this way, he began to roll about in the dust under the bakula tree in Srivasa's courtyard. The assembled Vaisnavas said to him, "Babaji, be peaceful. Rupa and Raghunatha are in your heart. Lord Caitanya and Lord Nityananda are dancing before you. Saying, "Where? Where?" the babaji jumped up. As he gazed at the Panca-tattva Deities before him, his grief went far away. He said, "O glorious Mayapura! Only Mayapura makes the sadness of Vraja go far away.'"
In chapter twenty-three, our Vaisnava heroes come once again to Srivasa's courtyard:
"When the evening arati ended, the Vaisnavas assembled under the bakula tree in Srivasa's courtyard. Chanting the holy names on his tulasi beads, saintly elderly Raghunatha dasa Babaji sat among them. Vrajanatha and Vijaya-kumara came and offered dandavat obeisances to him. The saintly babaji embraced them and said, "Are you happy in your devotional service?" Vijaya-kumara replied, "O master, by your mercy everything is auspicious for us."
And finally in chapter twenty-four, the last mention of Srivasa-angana, the quality of devotional life of these great Vaisnavas is summarized:
"That evening Vrajanatha and Vijaya-kumara purely chanted 50,000 holy names (29 rounds) on their tulasi beads. Late at night they finally fell asleep. As they purely chanted the holy name, they both felt the presence of Lord Krsna's mercy. The next morning they told each other all they had felt. They were blissful. They bathed in the Ganges, worshipped Lord Krsna, chanted the holy name of Lord Hari, recited the Dasa-mula, studied Srimad Bhagavatam, served the Vaisnavas, honoured the Lord's prasadam, and performed other devotional activities. In this way they passed the day. At dusk they visited the cottage of the elderly saintly babaji at Srivasa's courtyard. "

The Sun News Editorials Features Sun Blogs Classifieds Events Recipes PodCasts
Copyright 2005, 2014, HareKrsna.com. All rights reserved.