The International Society for Krishna Consciousness
As It Is
BY: SUN EDITORS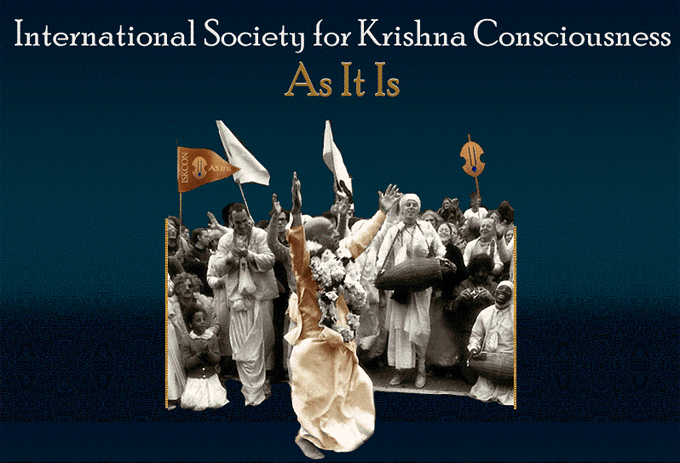 Bhaktivedanta Book Trust, artistically modified
Jul 29, 2013 — CANADA (SUN) —
Over the last nearly 20 years, the date July 30th has held special significance for my wife Jahnava and I. On July 30th, 1995, we launched our first website under the name "The Hare Krsnas". At that time, even the concept of 'owning' a domain was unfamiliar territory. The site began, as so many did back then, using a web address appended to the ISP's address: http://www.islandnet.com /~harekrsna.com.
We slowly learned the ropes, and developed a rudimentary collection of content over the year. Readership was small, the regular audience populated only by friends and close associates. By July of 1996, a variety of content related to sadhana and philosophy was online, and the first public launch of the site took place. Announcements were distributed to all the devotees online that we could find (less than 100), and invitations were handed out at various west coast Ratha Yatras. The site continued to grow, with the majority of content being focused on philosophical debates over ISKCON management and the initiation issue.
We recall very clearly the mood in 1995 among the 'pioneer' devotees getting connected to the Internet. It was considered somewhat shocking back then that we would dare to publish GBC Meeting Minutes, or other papers or correspondence written by the leaders. These secretive documents were not readily available, and many devotees felt it must be some sort of offense to publish such things. We've come a long way since then…
"Time is called kala -- past, present and future. What is now present, tomorrow will be past, and what is now future, tomorrow will be present." (Easy Journey, 2)
Two years from our initial launch, on July 30th, 1997 we widely distributed announcements advertising the re-launch of our website, which was moving to its permanent domain: www.harekrsna.com. Three interactive venues were added to the site: the Garuda Express listserv, the Dharma Mela threaded forum, and the Sadhu-Sanga chat room. All three quickly became popular venues, and helped to establish HareKrsna.com as an presence in the Vaisnava community.
Over the next six years, HareKrsna.com saw relatively little increase in content on the sadhana side, but a growing collection of philosophical articles was archived in the Vada section. In late 2002, we began a massive overhaul of the website, developing an extensive collection of content related to the Krsna conscious philosophy, sadhana and Vedic culture.
Three years later, July 30th, 2005 marked the tenth anniversary of the online presence of HareKrsna.com. To mark the day we launched the Sampradaya Sun, which has been the focus of our preaching service for the last eight years.
Today, on July 30th, 2013, we mark another important milestone. We are pleased to announce the completion of a draft Constitution for the International Society of Krishna Consciousness -- As It Is. This document represents our best effort to develop a written framework for the Society we believe His Divine Grace A.C. Bhaktivedanta Swami
Prabhupada wanted his spiritual mission to become. Our aim was to address the fundamental philosophical issues that have shaped, and in many cases divided the community of devotees over the nearly 40 years since His Divine Grace accepted maha-samadhi, and to present them in the context of a statement of Constitutional principles representing Srila Prabhupada's own stated principles.
In a spirit not of further dividing ISKCON, but of reviving Srila Prabhupada's vision, mood, standards and instructions for his Society, we are now inviting other concerned devotees to get directly involved in the process. Our work is simply a starting point. It will take many minds, and much cooperative effort to shape and refine a Constitution that can be ratified by all those of like mind who are anxious for a revival of Srila Prabhupada's ISKCON As It Is. It will also take leadership, enthusiasm and hard work, and we welcome all devotees who wish to work cooperatively under a Constitution that is based upon His Divine Grace's own principles, aims and objectives for the Society.
Several days ago we sent a letter of invitation out to a number of devotees, inviting them to join a Constitution work group. The replies have been gratifying, and the level of interest from many quarters is strong.
As we are envisioning the process, this initial group will work together for a six-month period in a private online forum, studying, discussing, revising and refining the draft Constitution. At the end of that period, the final draft Constitution will be published publicly, with an invitation for all who read and generally approve of it to join the Society as Provisional Members. The discussion forum will then be opened up to facilitate broad public discussion of the Constitution. At the end of that six-month period, a vote of the Founding and Provisional Members will be conducted, and a 2/3 majority vote will ratify the Constitution.
In the meantime, many plans are already underway to build cooperative relationships to support preaching, harinama sankirtan, and the distribution of Srila Prabhupada's authorized books. We will regularly report news of our progress here in the Sampradaya Sun, as we focus our energy and efforts on this long desired revival of Srila Prabhupada's ISKCON, As It Is.
We invite you to visit the new website: www.IskconAsItIs.com, and to please consider getting involved. You will find information there on various ways you can join this revival movement. The Forum (which won't be completed for a few more days) is intended primarily for private discussions of the Constitution work group, although we will consider opening a section to the public, to discuss the development of the Society.
In the meantime, thanks to all who have made the last 18 years of our HareKrsna.com online seva possible, and who have given us the opportunity to try and serve the Vaisnavas. We are indebted to you all.
Rocana dasa and Jahnava dasi
Sun Editors

The Sun News Editorials Features Sun Blogs Classifieds Events Recipes PodCasts
Copyright 2005, 2013, HareKrsna.com. All rights reserved.