Krsna's Cradle at Amriteshwara
BY: SUN STAFF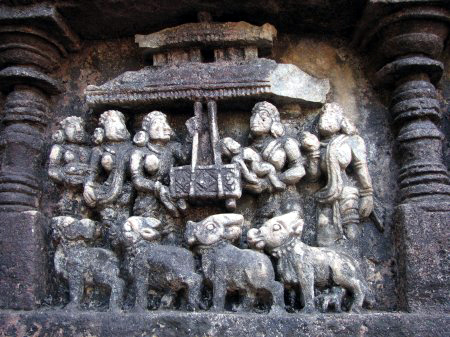 Jul 19, 2012 — CANADA (SUN) —
In the small village of Amritapura at Tarikere, Karnataka is a beautiful example of Hoysala period architecture, the Amriteshwara Temple. The temple was built by Amiteya Dandanayaka in 1196 A.D. He was a General (Dandanayaka) in the service of the Hoysala King, Veera Ballala II (1173-1220 A.D.). An inscription in the temple indicates that he was the King's trusted servitor.
Amiteya Dandanayaka belonged to the Chaturtha Kula caste. Although a sudra, he was wealthy enough to be able to build this beautiful temple, which features many excellent sculptured panels of Krishna lila and other devotional scenes.
Like many other Hoysala temples, the Amriteshwara Temple is star-shaped. The concave wall surfaces were designed to make maximum space available for the sculptures, and to take advantage of as much sunlight as possible.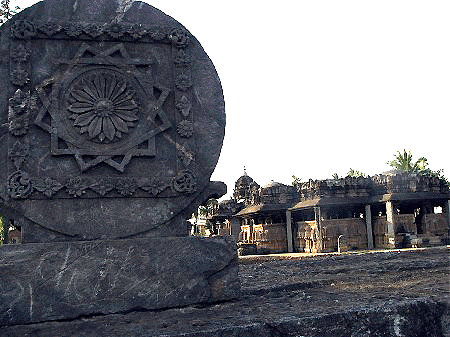 Temple Complex at Amritapura
Three panels surround the temple. The lowest of these consists of decorative elephants; the second is a border of horsemen; and the third is carved with ornate floral and bird motifs. The windows are fitted out with lattice work and rich ornamentation, and the interior walls are beautifully decorated with floral canopies, in which pastimes from the Bhagavata, Ramayana and Mahabharata are presented.
Among the most magnificent art works in the temple compound is a panel (above) depicting Mother Yasoda and associates rocking baby Krsna in a cradle. A group of very endearing cows stand at the forefront of the scene.
Another beautiful panel depicts Sri Vasudeva carrying the infant Krsna across the Yamuna River.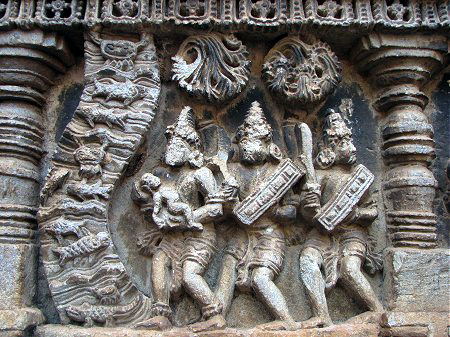 Scene from Bhagawata: Vasudeva Carries Krishna across the Yamuna
The famous Kannada poet, Janna, scripted one of the inscriptions, Mallitamma, and one of the most famous sculptors of medieval times carved some of the temple figures.
In line with the Vedic history preserved in the various sastric references found in Amriteshwara Temple art, devotees who visit the temple compound will find numerous examples of chariots, weaponry, and typical social and cultural iconography of the day.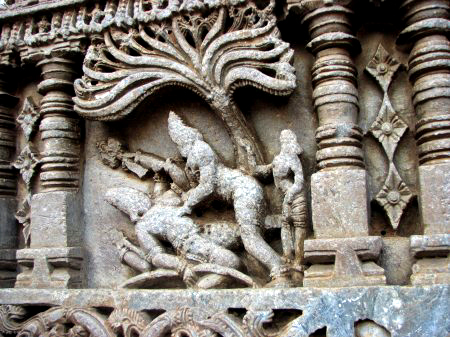 Lord Shiva and Arjuna in Battle, as Uma beckons Shiva
Images © Dr. Jyotsna Kamat, Kamat.com


The Sun News Editorials Features Sun Blogs Classifieds Events Recipes PodCasts
Copyright 2005, 2012, HareKrsna.com. All rights reserved.