Prasadam - Squash, Part Three
BY: SUN STAFF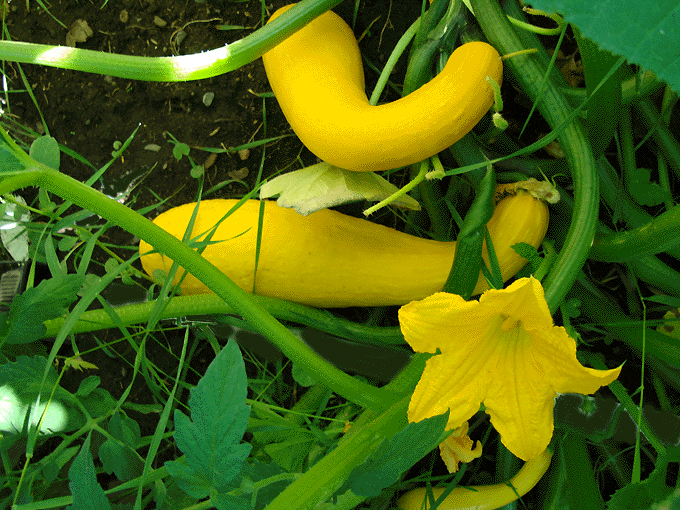 Jul 20, 2010 — CANADA (SUN) — A journey through India: border to border, bhoga to prasadam.
As a general rule, squash leaves are edible, with some being very palatable as a vegetable and others being better used as a potherb. Srila Prabhupada considered squash leaves to be very healthful, and once recommended them to Sudama das Goswami when he was suffering ill health in Hawaii. In a letter to Sudama dated December 10, 1973, Srila Prabhupada wrote:
"So far your health is concerned, Hawaii is very good climate. You can take bath in the sea, and that will keep your health. Take dhal, especially urd, arhad, and tour, a little cheese, peanuts, green vegetables, especially squash leaf."
We offered a basic primer on cooking with leaves in an earlier segment of the Prasadam series. In the case of squash, the younger and more tender the leaf, the better. Choose leaves that have the least amount of prickly hair, and the most tender stems. Older leaves can be chopped up like fresh herbs, and thrown into dal, sabji or raita. Tender leaves can be cooked like any leafy green, simply cooked until tender and buttered.
With the older leaves, the stems can be peeled and cooked, being a bit like a cross between asparagus and beans. Peeled stems are excellent when boiled lightly in coconut milk as a sabji, or quick-steamed and eaten with butter. The leaves can also be used to roll-up stuffings, or they can be ghee-fried, plain or batter-dipped. When you consider the mass of leaves on a typical squash plant, there is a great deal of nutritional value available, and it's nice to use it for Krsna's pleasure, rather than let it go to waste.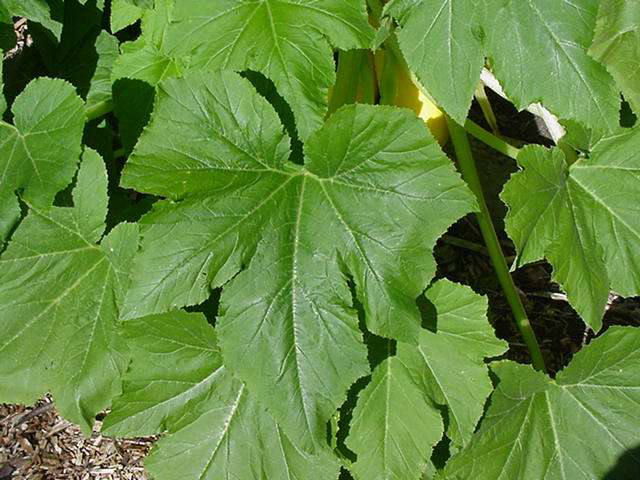 Squash Leaves
Squash, pumpkin, and gourds are produced worldwide, and many different varieties have been cultivated in local climes. Many of the favored varieties of squash in India are available on a limited basis in the West, at Indian and Asian groceries. Some, like the Chayote, have become a regular in the organic vegetable section.
Depending on the climate -- temperate, subtropical, or tropical – the shape, texture and flavor of squash vary dramatically. In wetter climates they may have milder flavor, because the fruits have a high percentage of water. The winter squash, like Acorns, for example, have a strong, distinctively nutty flavor compared to summer squash, which are often mild and a little fruity, like cucumber.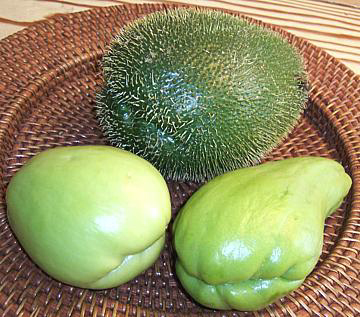 Chayote



Chayote Morkuzhambu

Ingredients:


2-3 medium Chayote Squash
1 cup Water
½ tsp. Turmeric
2 Tblsp. Coconut flakes
Red Chilis to taste
1 tsp Cumin powder
2 tsp Coriander seeds
¼ tsp Asofoetida
4 tsp Chana Dal, roasted
a handful Curry Leaves, fresh
a medium-size block Tofu

Cut the vegetable into small pieces, peeling the fruit (unless it's very young and tender). Add the pieces to boiling water with a pinch of turmeric and cook until soft. Meanwhile, make a paste with the coconut, chilis, cumin, coriander and asofoetida, toasted dal, and curry leaves, adding scant water as needed. Once you have a fine paste add the tofu, and blend it into the paste thoroughly. Add the paste to the cooked chayote, add salt, and bring back to a boil. You can season it further with mustard seeds if you like, but the taste of Chayote is mild, so you won't want to overwhelm it with spicing.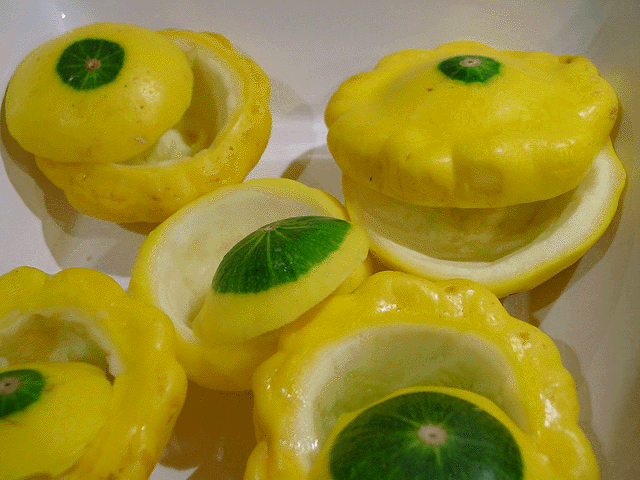 Patty Pan Squash
Patty pan squash are a favorite in many countries around the world for their nice flavor, tender fruit, and because they're the perfect shape to hold stuffing. And you can stuff them with practically anything! Breadcrumbs, rice or mashed vegetables make a good stuffing base, and you can mix in cheese, chopped vegetables, tofu or cooked grains. Small, tender patty pans can be stuffed then dipped in a thick batter and deep-fried. You can do this with somewhat larger squash, too, by partially cooking them before stuffing and frying.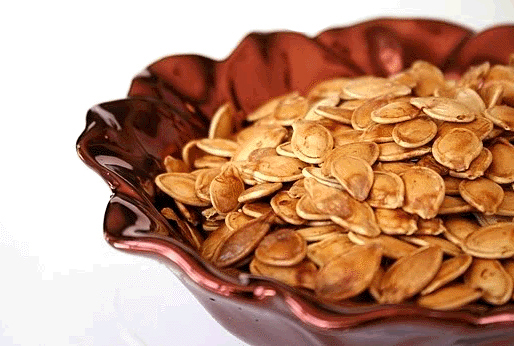 Toasted Seeds
We previously mentioned using squash seeds, but they're so good, they deserve another mention. Once the seeds have been cleaned, dried and toasted, baked or fried, they're good in or on almost any dish. Dry roasted seeds can be ground to a fine flour that has excellent flavor and nutritional value. Fresh and roasted seeds can be ground to a nut butter, which is also a wonderful stuffing for patty pans.
Clean the seeds well before toasting, because the little bits of fiber tend to burn when you roast them, and will detract from the taste of the seeds themselves. Before seasoning and roasting the seeds, you can soak them for an hour, or boil them for 10 minutes. Dry them thoroughly, sprinkle with spices, then toast for a very nice texture. You can bake them at low heat (275 F) for 30 to 40 minutes, until golden brown.
Another method is to clean, dry and spice the seeds, then pan-fry them in a little ghee, until they darken and crackle. Almost any spice combination will work with squash seeds. Try salt, turmeric, masalas or chili powder, or spritz them with a little lime juice. You can also go sweet, using jaggery, cinnamon or other aromatic spices. A little salt added to the sweet sweets is nice, too.
We'll close our Prasadam feature on squash with two traditional Bengali recipes, both an excellent way to use winter squashes:
Sweet & Sour Panchporan Squash
Ingredients:

1 lb Hubbard Squash, peeled and cubed
2 Tomatoes, chopped
2-3 Tblsp. Ghee
1 Red Chili, deseeded and minced
1 inch fresh Ginger, minced
1 tsp Panchporan spice
1 tsp sweet Paprika
2 tsp ground Coriander
1 tsp ground Cumin
½ tsp Asofoetida
1/2 tsp hot Chili powder
2 Tblsp. Jaggery
1 tsp Lime or Lemon juice
In a little ghee fry the fresh red chili, ginger and panchporan until the chilis crisp and darken. Add the remaining spices and fry a few seconds more. Add the squash and tomatoes and mix thoroughly with the spices. Transfer the mixture to a baking dish, and roast at 375 degrees for 35 to 40 minutes, until the squash is tender and golden brown.
To make your own panchporan, combine an equal amount of mustard, kalonji, cumin, fenugreek and methi seeds. Keep whole for tempering, and powder fresh as needed.
Blooms and Fruit



Achar Diye Kumror Chhakka
(Squash with Pickle)

Ingredients:


1 Winter Squash (Acorn or Hubbard)
Potatoes, 3/4 the amount of the squash
1 tsp Panchphoron
1-1/2 tsp Turmeric
1-1/2 tsp Chaat Masala
Ghee for frying
1 to 2 tsp Jaggery
10 Green Chilies
3 Tblsp. Mango Pickle (sweet or hot)
Salt to taste

Peel and cut the squash into 1-inch cubes, and cut the potatoes into ¾-inch cubes. In a little ghee, fry the panchphoron and split green chilies until they darken a few shades. Add the squash and potatoes and fry on high heat for several minutes. Add turmeric and salt, mix well, cover and cook on medium low heat for about 10 minutes, stirring occasionally to keep from sticking. Don't overcook – the vegetables should be soft and firm, not breaking apart. Add a little hot water as needed if the mixture sticks, but try to keep the sabji dry. Once cooked, sprinkle the masala, stir in the mango pickle, and let it sit, covered, for several minutes more so the flavors will mix.

The Sun News Editorials Features Sun Blogs Classifieds Events Recipes PodCasts
Copyright 2005, 2010, HareKrsna.com. All rights reserved.