Prasadam - Bataka
BY: SUN STAFF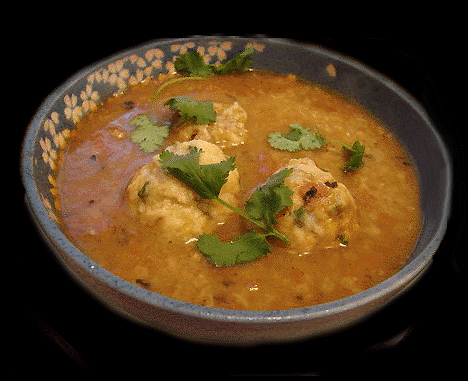 Dahl with Dumplings
Jun 26, 2016 — CANADA (SUN) — A journey through India: border to border, bhoga to prasadam.
Today we begin a new segment in the Prasadam series, featuring a favorite foodstuff known all around the world: dumplings! Known by many names and prepared in an endless variety of ways, dumplings are found in most every category of foods – from sweets to savouries, in soups and stews, as a garnish for salads, and even in beverages.
In sastra, one of the terms used for dumplings is bataka, which describes a great array of different items. Most common in India today is the ubiquitous fried potato dumpling called batata. In fact, almost any dish involving fried or stuffed potatoes is likely to get called batata these days in Hindi.
The term batata is thought to have come to India with members of the ancient seafaring Taino, a group of Arawakan Indians from North and South American who inhabited islands in the Atlantic Ocean. What they called batata was sweet potatoes, which in Spanish became known as patata. This term became used synonymously with bataka.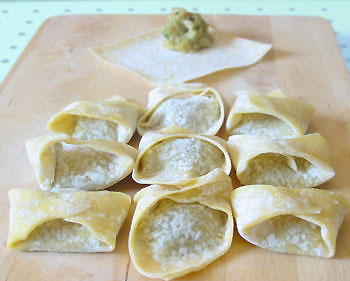 Stuffed Dumplings
By whatever name we call them, describing all the sub-categories of dumplings is no small feat. Generally, dumplings are balls of dough that can be fried, steamed, or poached in liquid. They can be stuffed with a filling, wrapped around another foodstuff, or simply be a solid ball of flavored dough.
In Indian cuisine, so many preparations are referred to as dumplings. In the category of sweets, they might be balls of sweetened dough that are steamed or deep fried; balls made of ground nuts, grains, beans, or pulses; or balls made from various types of milk products that are fried, boiled or steamed, like Gulab Jamun or Ras Malai.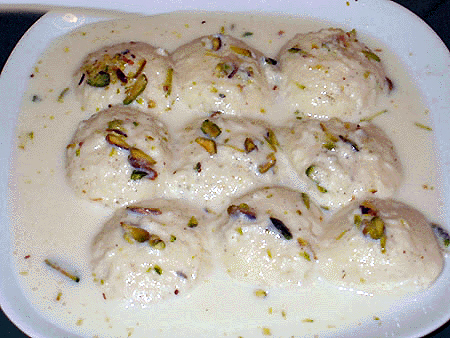 Ras Malai
Perhaps the widest range of bataka are in the category of savouries, which broadly includes many kabobs, kachoris, samosas, kofta, pakora, vada, and idli. As the devotees know, this list represents a tremendous diversity of prasadam preparations, and we generally call them by their specific name, like kofta or samosas, rather than calling them dumplings. But throughout Indian recipes, all these foodstuffs are described as dumplings more often than not.
In past segments of the Prasadam series, we've quoted excerpts from the Govinda-lilamrta, a wonderful jewel of Vaisnava literature that describes, among the many pastimes of Sri Sri Radha Krsna, the nectarian foodstuffs Srimati Radharani and the gopis cooked for Krsna. In verses 48 and 88, we find Mother Yasoda calling out happily to the gopis, asking them to prepare many special dishes for Krsna:
"Hey Shashimukhi! You can carefully make sweet dadhi-bataka. Hey Sumukhi! You prepare sharkarapatti. Oh Manimati! You prepare a variety of pishtaka. (Text 48)
In the accompanying Rasa-tarangini Tika, Sri Yadunandana Thakur's comments on Srila Krishna Das Kaviraj's illustrious Govinda-lilamrta, we get further description of these sweets:
"Dadhi-bataka are sweet balls floating in yogurt. Sharkarapatti is sweet-rice made with date molasses. Pishtaka are rice-cakes cooked in ghee adding various kinds of flour and sweeteners in different sizes and shapes. Sumukhi is a priya sakhi who serves under Lalita."
Mother Yasoda also exclaims:
"And look! Here are many varieties of shashkuli (rice cake) made from bananas, coconut and cream. You may see! Here are the tasty sweet known as piyushgranti, karpura keli and amrita keli all prepared by Radha; no one can make such sweets as these!

Look! By churning moistened mung dahl and masa-dahl, four kinds of bataka (dumplings) were made; two types are salty, and two are sweet. Over here are twelve kinds of amla (chutney) made from tamarind, hog-plums, amarula and mangos. By using these four ingredients, three varieties of each were made—adding mung dahl dumplings, adding a little sugar, and adding a lot of sugar. (Text 88-109)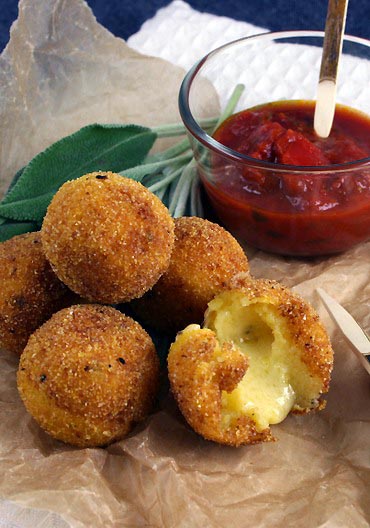 Fried Bataka
This really is quite an extraordinary narrative! Using two kinds of dahl, four different bataka are produced. Next, using four different fruits, a variety of chutneys are made. Then, combining the chutneys and dumplings with various amounts of sugar, a dozen different preparations are made. Reading this passage, we get a glimpse into the reality of the statement, that Radharani never cooks the same preparation for Krsna twice!
Among the many excellent recipes we'll share for Bataka, here are a few of our personal favorites:
Dahi Bhalle (Fried Lentil
Dumplings With Sweet Curd)
For the bhallas:

1 cup (200 g) lentils (dhuli urad dal)
3 cups water
1/2 tsp salt
1 tsp cumin seeds
2 tsp ginger, chopped
3 green chillies, chopped
Ghee for frying
For the curd mixture:

2 cups thick curd, beaten
1 tsp sugar
1/2 tsp salt
3/4 tsp cumin powder
1/2 tsp black rock salt
1/2 tsp white pepper
For the garnish:

1 tsp ginger, julienned
1 tsp green chilies, julienned
handful coriander leaves, chopped
1 tsp chili powder
1 tsp cumin powder
4 sprigs mint leaves
3 Tblsp tamarind chutney
Clean the urad dal and soak in water for two hours. Drain and grind to a fine paste, adding a little water if required. Remove from the mixer. Add salt, cumin seeds, ginger and green chillies. Mix well. Shape into even sized balls. Heat ghee in a kadai and add the balls, a few at a time, using wet hands. Make a hole in the centre of the ball with the thumb just before frying. Deep fry till golden brown. Remove and drain on paper towels.
To prepare the curd mixture: Soak the prepared balls in sufficient lukewarm water till they are soft. Add sugar, salt, cumin powder, black rock salt and white pepper powder to the beaten curd. Mix well. Remove the bhallas from water, squeeze out excess water and add to the curd mixture. Set aside for 10 to 15 minutes. Serve chilled, garnished with ginger, green chillies, coriander leaves, chilli powder, cumin powder, mint leaves and tamarind chutney.
Maharshtrian Batata Vada
Ingredients:
3 large Potatoes
2 cups Bengal gram flour (besan)
3-4 green chilies small piece ginger
Sugar according to taste
Juice of one lime
1 tsp. coriander leaves, chopped
Salt according to taste
Ghee for deep frying
1 tsp. mustard seeds
1 tsp. asofoetida
1 tsp. turmeric powder
1/2 tsp. red chili powder
1 tsp. cumin seeds
A pinch of baking soda
Pressure cook the potatoes till soft. Peel, mash and keep them aside. Blend together the green chilies and ginger to a fine paste. Mix together the potato, ginger/chili paste, coriander leaves, sugar, lime juice and salt. Heat a little ghee and add the mustard seeds and curry leaves. When the mustard crackles, remove from heat and add to the potato mixture. Mix well. Make a smooth batter with the Bengal gram flour, salt, cumin seeds, red chili powder and turmeric powder. Add a teaspoon of hot ghee when making the batter. Let the batter remain thick. Divide the potato mixture into equal sized portions, the size of a lemon. Dip each ball in the batter and deep fry till golden brown in color.



Nepali Vegetable Momos

Dough for Wrappers:


3 cup All-purpose flour
1 Tblsp ghee
1 cup water
Pinch of salt

For Filling:


3 cups assorted vegetables (spinach, cauliflower, carrot, green peas, daikon, red pepper, green pepper), finely chopped
1/2 cup cilantro, chopped
1 tsp fresh ginger, minced
1/2 tsp turmeric
1 tsp freshly ground black pepper
3 fresh red chilies, minced
1-1/2 cup paneer, roughly crushed
2 Tblsp ghee
1/2 tsp fenugreek
1 Tblsp water-flour mixture (thickening agent)
Salt to taste

For Dough: In a large bowl combine flour, ghee, salt and water. Mix well, knead until the dough becomes homogeneous in texture, about 8-10 min. Cover and let stand for at least 30 min. Knead well again before staging the wrappers.

For Filling: In a little hot ghee splutter fenugreek until it darkens just a shade (don't overcook). Add turmeric, ginger and chilies. Fry for 30 seconds. Add vegetables and stir-fry until slightly soft, and don't overcook. Season the vegetable mixture with salt and pepper. Add cheese and cilantro, mix well. To solidify the vegetable mixture, add one tablespoon of flour-water mixture. Mix the mass well until thickened. Transfer the vegetable filling into a bowl. Cover and refrigerate for at least 1 hour to allow cooling.

Assembly: Give the dough a final knead. Prepare 1 inch dough balls. Take a ball, roll between your palms to spherical shape. Dust working board with dry flour. On the board gently flatten the ball with your palm to about 2-in circle. Make a few semi-flattened circles, cover with a slightly damp cloth. Use a rolling pin to roll out each flattened circle into a wrapper. For well executed momos, it is essential that the middle portion of the wrapper be slightly thicker than the edges to ensure the structural integrity of dumplings during packing and steaming. Hold the edges of the semi-flattened dough with one hand and with the other hand begin rolling the edges of the dough out, swirling a bit at a time. Continue until the wrapper attains a 3 inch diameter circular shape. Repeat with the remaining few semi-flattened dough. Cover to prevent from drying. To assemble, hold wrapper on one palm, put one tablespoon of the filling mixture and with the other hand bring all edges together to the center, making the pleats. Pinch and twist the pleats to ensure the absolute closure of the stuffed dumpling. Heat up a steamer and oil the steamer rack or basket well. This is critical because it will prevent dumplings from sticking. Arrange uncooked momos in the steamer. Close the lid, and allow steaming until the dumplings are cooked through, about 8-10 min. Take the dumplings off the steamer, and offer immediately.

The Sun News Editorials Features Sun Blogs Classifieds Events Recipes PodCasts
Copyright 2005, 2016, HareKrsna.com. All rights reserved.