Sri Krsna's Vrindavan Associates – Sridama,
Part Three
BY: SUN STAFF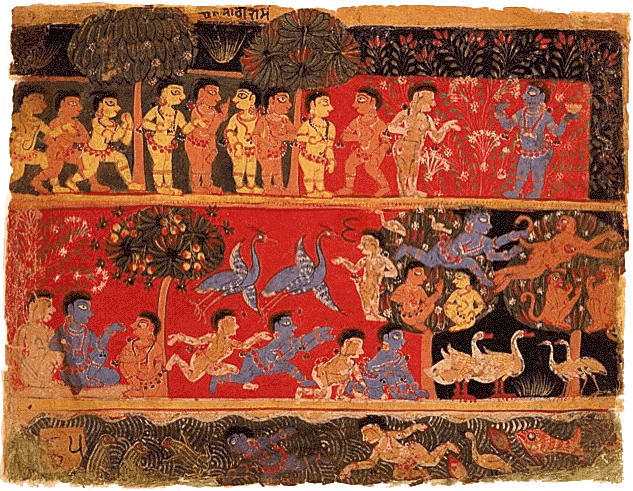 Krsna and the Cowherds
Bhagavata Purana, Uttar Pradesh, c. 1550
Jun 20, 2016 — CANADA (SUN) — A serial presentation of Sri Krsna's transcendental Vrindavan associates.
Today we continue our study of Sridama sakha, Sri Krsna's topmost confidential friend amongst the twelve most important gopas. Having discussed Sridama's classification as a sakha associate, and some of his personal qualities and characteristics, we now offer some of the many references to Sridama made in the context of describing the identity of Krsna Himself.
Given the fact that there is relatively little information available in Vaisnava sastra about many of the Lord's transcendental Vrindavan-lila friends, it is all the more enjoyable to learn about these personalities by seeing the ways in which Krsna Himself is described in relationship to them. It is, after all, their relationship with Krsna that truly defines them.
In the Garga Samhita there is a description of Sri Goloka-dhama, where Krsna is found in the close company of His transcendental companions:
Sri Krsna is often described in the company of His dearmost friends in Vraja:
In one of his early unpublished poems, Srila Prabhupada also mentions the prominent personality, Sridama:
There are various pastimes Sridama took part in with Krsna that will be described in the segments to come. In some of these pastimes, Sridama's particular qualities and personality are disclosed to the reader. One kind of service Sridama is known for offering to Krsna is that of rubbing his friend's back. This is described by Srila Bhaktivinoda Thakur in his Sri Sri Gita-mala:
Until next time, when we begin to consider the many pastimes Sridama sakha has with Krsna and the gopas in Vraja:

The Sun News Editorials Features Sun Blogs Classifieds Events Recipes PodCasts
Copyright 2005, 2016, HareKrsna.com. All rights reserved.