Prasadam - Sharbat, Part Two
BY: SUN STAFF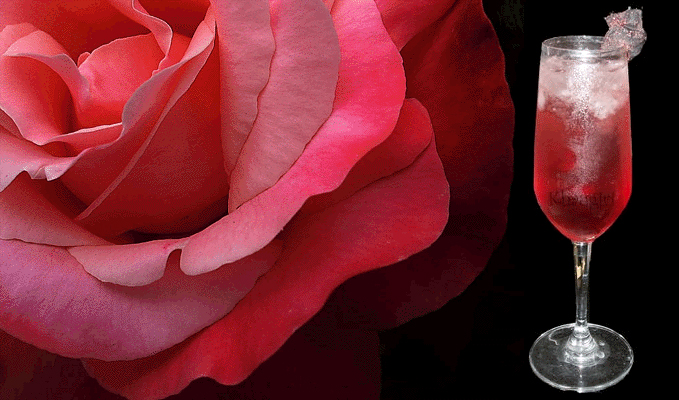 Jun 16, 2016 — CANADA (SUN) — A journey through India: border to border, bhoga to prasadam.
On a hot summer day, what could be more delightful than offering Sri Krsna a tall icy sharbat, tasting of fruits with a petalled perfume, and a cool color that is natural, healthy, and instantly relaxing. Whether the sharbat syrup is made from fruits, flower petals, herbs, or a combination, the variety is further increased by the numerous bases the syrups can be mixed into: water, sparkling soda, milk, buttermilk or rabri (sweet condensed milk).
Once you get down the basic process for making sharbats, they can be very quickly prepared with whatever is on hand at the moment. To make fruit sharbat, simply extract the juice, boil a sugar syrup, and mix the two together, adding spices if desired. The syrups can be thick or thin, and the pulp can be cooked down into the syrup, or set aside to be mixed in later – or not.
You can use almost any sweetener, and this also increases the range of variety of sharbats. Wonderful flavor combinations can be had by mixing certain fruits, floral extracts and herbs with sugar, jaggery, or honey. You can also use coconut, molasses, rice syrup, or other fruits for added sweetness. The best of ripe melons or berries often need no extra sweetener at all.
Of course, there are many other methods for making sharbat, from fruit infusions or extractions to drying and powdering the fruit, flower or herbal ingredients. Spices can be mixed in directly, or tie cinnamon, cardamom, cloves, etc. into a cheesecloth bag and infuse the hot or cooled syrup with the added flavors. Fresh herbs are usually added after the boiled syrup has cooled, so their medicinal qualities remain potent.
Since ancient days in India, sugar cane juice has been boiled and reduced to make cane syrup. (See our feature on Jaggery.) An extraction or infusion of flower petals was produced, called arak, and this essence was added as flavouring to the syrup. Lemon or lime juice was often added to the drink, both to enhance the color and flavor of the fruit and flower essences, and also because the citrus helps keep the sugars from crystallizing.
Saffron (Crocus stamens), Gurhal (Hibiscus), Khus (Vetiver Grass), and Kewra (Screwpine) were some of the most popular ancient flavorings. But the most famous of all was Rose, which is said to be one of Krsna's favorites. Called satapatri in Sanskrit and gulab-ka-phool in Hindi, the essence derived from rose petals has been highly prized through the ages, in many cultures. Ayurveda places high value on rose essence, and not surprisingly, it lends its name to one of the most popular beverages – Gulab Sharbat.
In her great cookbook, "Lord Krishna's Cusine", Yamuna devi gives instructions on how to make Ruh Gulab Sharbat, a most wonderful concoction to offer Sri Krsna. Begin with freshly picked rose petals, preferably gathered while the morning dew is still on them. These are crushed with a mortar and pestle, then immersed in boiling water. It is recommended that the mixture be infused in a metal container, which helps draw out the rose's deep perfumes. Crushed cardamom seeds are added, the mixture is left overnight to infuse.
In fact, nearly all parts of the rose can be used for getting oil: the flowers, buds, petals and stems. Even the rose hips can be used to make a healthful sharbat syrup.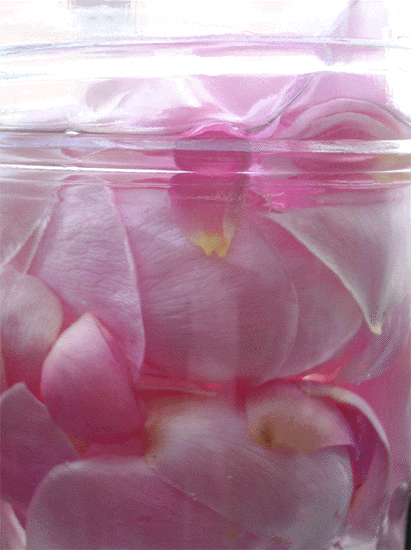 During Krsna's Vrindavan lila, some 5,000 years ago, a special concoction was made, called Rose Attar. It is still produced today, but only rarely, as the process requires a great opulence of roses. In order to produce a single ounce of Attar, also called Rose Absolute, 250,000 fresh roses must be processed. A few drops of Rose Absolute produces the most nectarian sharbat syrup, as well as the base for the world's finest and most expensive perfumes.
Rose Attar is made by putting the flowers in a large metal tub, covering with water, and crushing the petals. The mixture sits overnight, until a thin film of rose oil appears on the surface of the water. This is carefully drawn off, as Rose Absolute.
Another ancient preparation is made by cooking the rose petals with granulated sugar, without using any water, but only the heat of a very hot sun. This produces a thick paste known as Gulkand. Like a drop of Rose Attar, Gulkand can be used as the base of a most opulent sharbat to offer the Lord.
Gulab Sharbat is not only an amazingly flavorful refreshment, it is also rich in healthful properties. Rose essence is a blood purifier, improves the emotions, cools the body, and improves the mind. In Ayurveda, it's used to treat a wide range of imbalances.
Used in a syrup for sharbat, rose essence or Gulkhand can be mixed with many beverage bases. Gulab Lassi is a mixture of rose water or essence in yoghurt, mixed with honey, sugar, cardamom and saffron. The same mixture can be added to chilled water, milk, or kheer for a wonderful sharbat.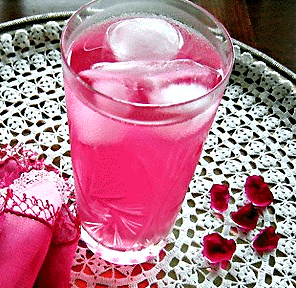 Gulab Sharbat

Ingredients:


1-1/2 cups fresh Rose Petals
3/4 cup boiling Water
5 cups cold Water
1/4th tsp Cardamom seeds
1/4th cup strained fresh Lemon juice
2/3rd cup Pomegranate juice
3/4th cup Sugar

Crush the rose petals with pestle and mortar and place in a metal pitcher. Add the boiling water and cardamom seeds, and let the mixture sit overnight. Next day, strain the rose-cardamom water through a fine sieve or cheesecloth. Mix the sugar with water and boil, stirring, until the sugar is dissolved, then let it cool. Once cool, mix it into the sharbat syrup. Stir thoroughly and offer, filling the glass half full of crushed ice.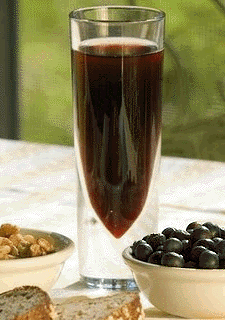 Aloo Bukhara Sharbat

Ingredients:


For the extract:
4 cups Fresh Plums
1½ cup Water
2 Tblsp fresh Lime Juice

For the syrup:
3 cups Water
4 cups Sugar

Make the Plum Extract by putting the washed plums in a pot, add the water, and bring to a boil. Cook for about 10 minutes, stirring often, and mash the plums to split open the skins. Add the lime juice, then let the mixture simmer for 10 to 15 minutes. Once cool enough to handle, strain through cheesecloth and reserve the liquids. (Save the solids for another use.)

Make the Syrup by putting water and sugar in a pan and boil on medium heat until sugar is dissolved and thickened. Let it cool, then mix in the plum extract. To serve, mix one part syrup to three parts chilled water. Add ice, fresh strips of ginger or mint leaves, and offer.




Jaljeera Sharbat

Ingredients:


½ cup fresh Mint leaves
½ cup fresh Coriander leaves
Tamarind water (sieved)
Sugar candy or honey (to taste)
1 Tblsp Cumin seeds, roasted and ground
Kala namak (black salt), to taste
Chilled water

Crush the fresh mint and coriander leaves. Add chilled water and all the other ingredients and mix thoroughly to dissolve. Serve on ice, garnished with fresh mint leaves or a wedge of fresh fruit.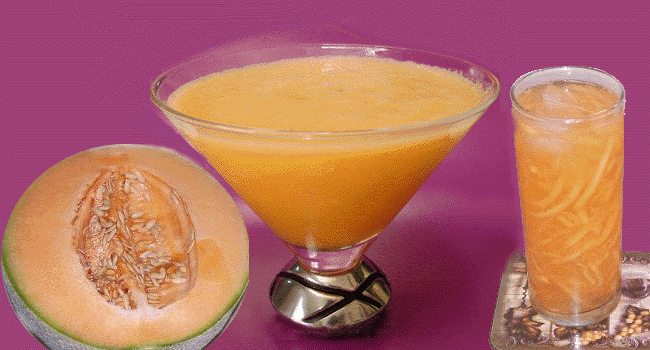 Cantaloupe Sharbat

Ingredients:


1 Cantaloupe, cubed
½ cup Orange juice
3/4 inch fresh Ginger root, peeled and sliced
2 Tblsp Lemon juice
¼ tsp. Cinnamon

A fast and simple melon sharbat is made by simply mixing the ingredients together in a blender, and processing until smooth. Almost any kind of melon can be used: cantaloupe, honeydew, muskmelon, or watermelon. Serve in chilled glasses but don't add ice, since the water content in melon is already high.

For a nice variation, add some julienned strips or small balls of melon to the glass after pouring in the mixture.

The Sun News Editorials Features Sun Blogs Classifieds Events Recipes PodCasts
Copyright 2005, 2016, HareKrsna.com. All rights reserved.