Middle Kingdoms of India, Part 45
BY: SUN STAFF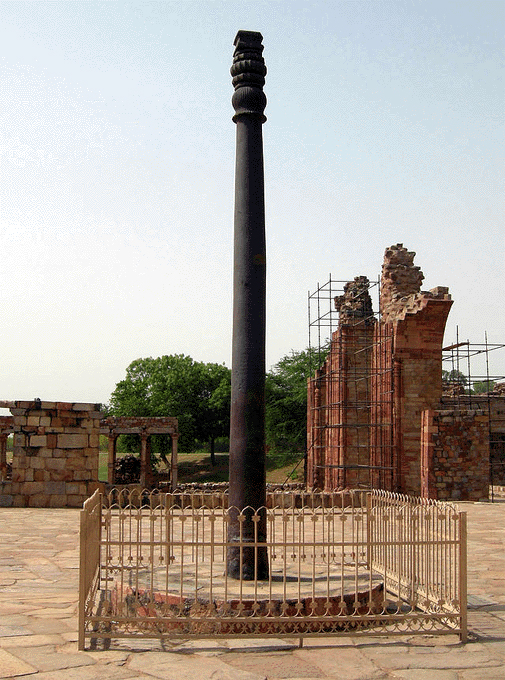 Iron Pillar at Vishnupada Hill, Delhi
Jun 19, 2015 — CANADA (SUN) — A serial presentation of India's great history, religious movements and temple architecture.
The Tanwars (Tomaras)
The Tanwar dynasty flourished from the 8th to the 12th Century A.D. It ruled from Delhi under its first leader, Anangpal Tuar I, during the 10th Century and was justly titled 'Paramount Sovereign of India'.[60]
This dynasty claimed to be genealogical descendants of the Chandra Vanshi Pandava line, a lineage that is widely contested. They ruled small principalities and villages until the empire expanded and established Tanwar rule at Indraprastha (Delhi), the abode of Anangpal Tuar's ancestors.
The Tomaras (Tanwars) were defeated by Gahadavala's at Kannauj, and later by the Chauhan's of Ajmer. The last Tomar king married his daughter to the Chauhan ruling family and his maternal grandson, Prithviraj Chauhan, was proclaimed his heir apparent.
Members of the Tomara also ruled an area north of Gwalior known as the Tonwarghar tract. The most notable of these rulers was Man Singh Tomar (1486-1517 A.D.). A total of 19 Tomar rulers ruled in Thanesar (modern-day Haryana/Delhi). Jaipal Tuar was ruling at the time of the Gaznavid invasion in the 10th Century. The Chauhan dynasty of Ajmer established control over the Tanwars by the mid-12th Century.
Among the few ruins of the Tomaras is the well known Iron Pillar, shown above. It was cast in iron that famously has not rusted over the centuries, baffling scientists. According to an inscription on the pillar, it was brought to Delhi by Anangpal Tomar and erected on Vishnupada Hill.
FOOTNOTES:
[60] Col. Todd, Annals and Antiquities of Rajasthan, Vol. 1

The Sun News Editorials Features Sun Blogs Classifieds Events Recipes PodCasts
Copyright 2005, 2015, HareKrsna.com. All rights reserved.