Caitanya Mahaprabhu's Tirtha-yatra, Part 56
BY: SUN STAFF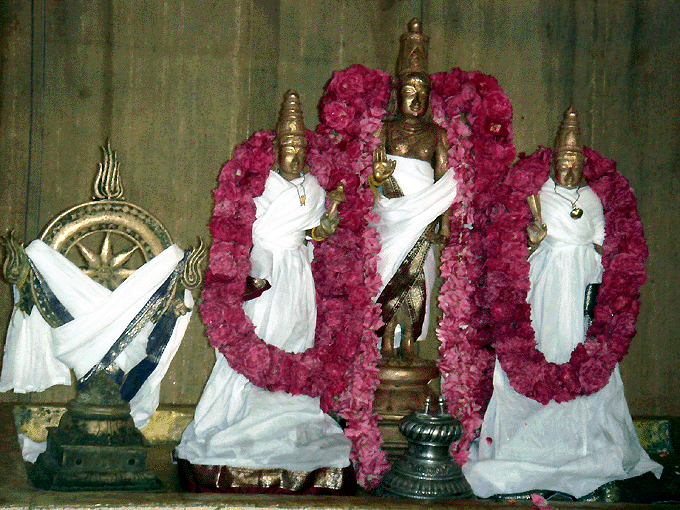 Sri Sthalasayana Perumal
Jun 30, 2013 — CANADA (SUN) — A serial exploration of the holy sites visited by Lord Caitanya.
Thirukadalmallai
In yesterday's segment we visited Paksi-tirtha, or Tirukadikundam, which is situated 17 kilometers to the west of Mahabalipuram in Tamil Nadu. Today we return to Mahabalipuram, where Lord Caitanya is said to have visited a temple in the village known as Sri Sthalasayana Perumal.
Although we find no reference in Sri Caitanya-caritamrta to the Lord's visit here (at least by these place names), numerous references are found elsewhere which state that Mahaprabhu came here in approximately 1510 A.D. We assume this pastime is recorded elsewhere in Vaisnava literature, perhaps in the diary of Govinda dasa.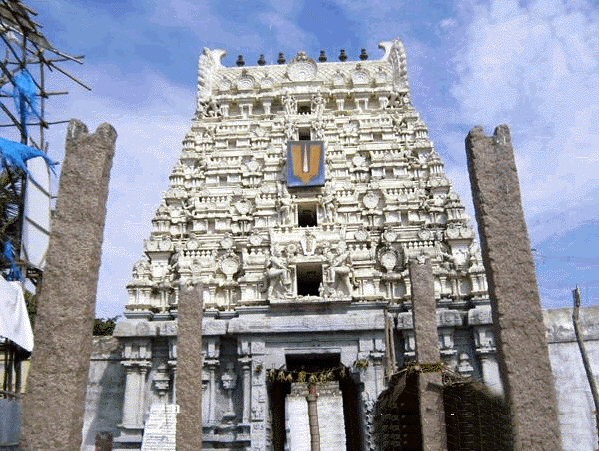 Sri Sthalasayana Perumal Temple gopuram
In a book published by scholar R. Nagaswamy entitled Mahabalipuram and Its Monuments (Oxford Univ. Press, 2008), the author refers to the temple at Tirukadikundam as Talashayana Perumal Temple, although it appears to be more commonly known as Sthalasayana Perumal Temple. Nagaswamy puts the date of Lord Caitanya's visit at somewhere between 1510 and 1512, and notes that He came to worship the Deity here.
The presiding Deity at Thirukadalmallai is Sri Sthalasayana Perumal, Who is Lord Visnu in reclining posture, Anantashayi. The temple is located in the Shore Temple complex, and it represents both the spiritual and physical center of Mahabalipuram tirtha.
In our series last year on the places of Lord Brahma's worship, we covered a number of the rock-cut temples at Mahabalipuram, including the Shore Temple complex. Lord Brahma resides there in several shrines. By comparing pictures of the Shore Temple complex's rock-cut temples and the Sthalasayana Perumal Temple, also built along the shore, the difference in age and construction is immediately evident. The rock-cut and similar stone monuments predate the Perumal temple, the former dating as far back as the 8th c. A.D., while the Sthalasayana Perumal structure was originally built in the 14th Century.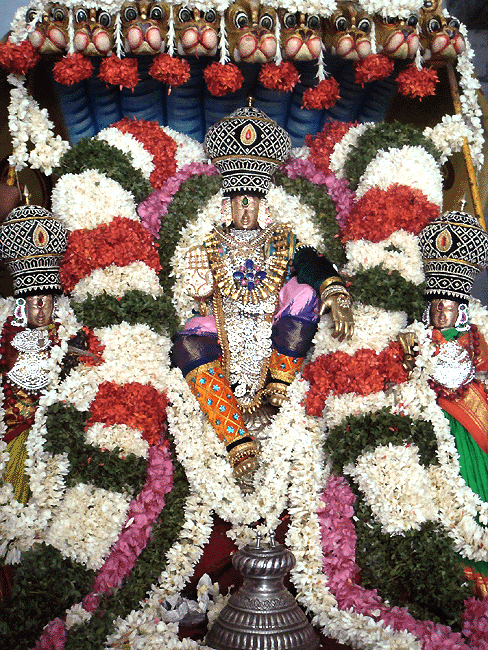 Sri Sthalasayana Perumal
Many of the monuments at Mahabalipuram were built by the Pallava kings, most notably Rajasimha (690-728 A.D.), who spent all his wealth constructing temples here. There are many different types of monuments at Mahabalipuram, including the rock-cut cave temples, the monoliths or rathas, bas-reliefs, and the structural temples.
In his book, Nagaswamy discusses the revival of Vaishnavism that took place here in the Sixteenth Century, which was certainly inaugurated by Lord Caitanya Mahaprabhu's transcendental pada-yatra throughout South India. Throughout the southern region, Saivite religious shrines such as the Shiva-Somaskanda deity panels at Mahabalipuram, which replaced Lord Brahma, were destroyed and again replaced with Vaisnava deities and symbols such as the namam, shankha, and chakra. Today, Mahabalipuram is revered as one of the 108 Divya Deshams, or holy places of the Sri Vaishnavas.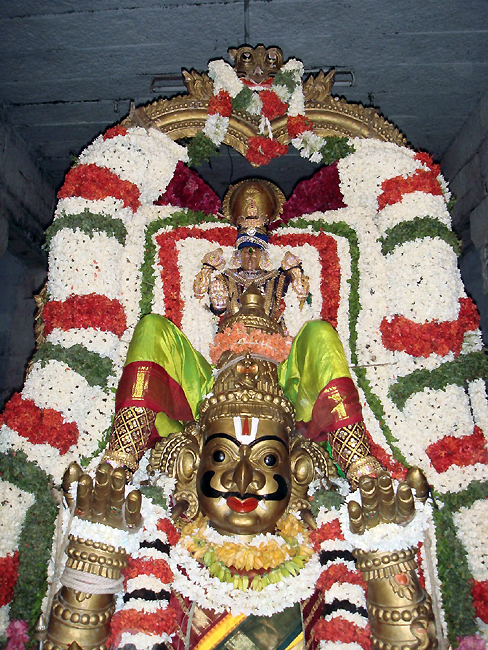 Sri Ulaguiyya Ninra Perumal on Garuda-vahana
This ancient abode of Lord Visnu at Tirukadikundam was built in the 14th Century by Vijayanagara Emperors, and the Telugu rulers of Chandragiri contributed to its construction. The temple underwent a major renovation in the 19th Century. This temple is also known as Mamallai and Kadalmallai.
Lord Perumal, in His reclining posture, is lying on the floor, facing east. His consort, Nilamangai Thayar (Laksmi Devi), resides in a separate shrine nearby. An image of Pundarika Muni is also housed in the sanctum.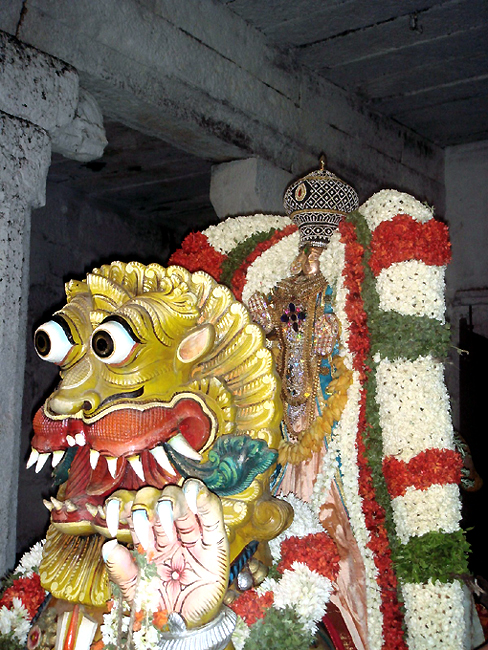 Sri Ulaguiyya Ninra Perumal on Simha-vahana
Utsavar, the processional Deity of Sthalasayana Perumal is Sthalasayanatturaivaar, also known as Ulagyuua ninraan, Who is portrayed bearing a lotus bud. There are also separate shrines for Lord Rama and Lord Nrsimhadeva, and a number of beautiful vahanas upon which the Lord goes on processional.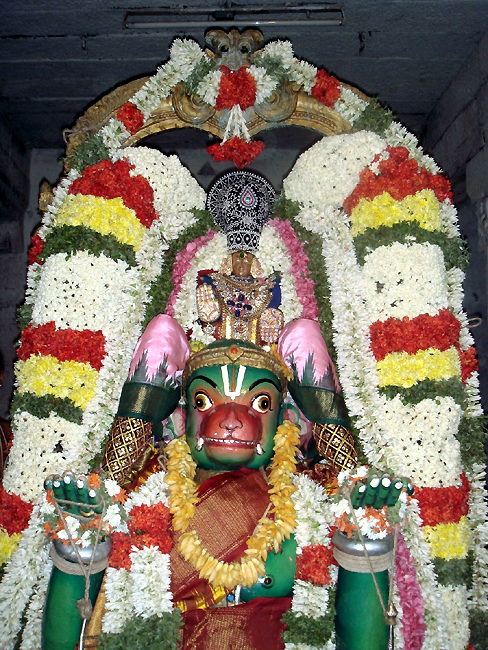 Lord Perumal on Hanuman-vahana
Deity photos courtesy of B. Senthil

The Sun News Editorials Features Sun Blogs Classifieds Events Recipes PodCasts
Copyright 2005, 2013, HareKrsna.com. All rights reserved.