Caitanya Mahaprabhu's Tirtha-yatra, Part 52
BY: SUN STAFF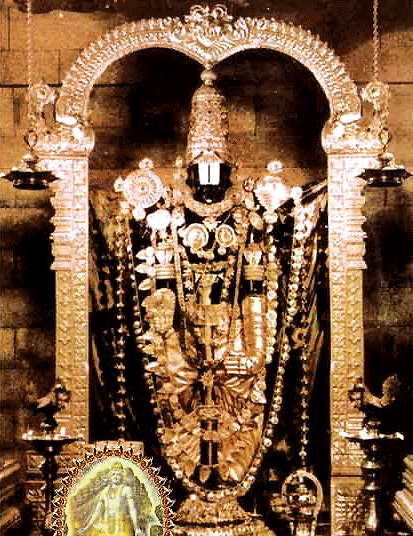 Sri Venkateswara, Tirumala-tirtha
Jun 26, 2013 — CANADA (SUN) — A serial exploration of the holy sites visited by Lord Caitanya.
Tirupati and Tirumala
Today we began the first of a two-part segment on the holy sites of Tirupati and Tirumala, which Lord Caitanya Mahaprabhu visited during His South India preaching tour. These tirthas are mentioned in Sri Caitanya-caritamrta Madhya lila 9, along with many sites the Lord visited throughout Andhra Pradesh, Kerala and Tamil Nadu:
Madhya lila 9

"A summary of the Ninth Chapter is given by Srila Bhaktivinoda Thakura. After leaving Vidyanagara, Sri Caitanya Mahaprabhu visited such places of pilgrimage as Gautami-ganga, Mallikarjuna, Ahovala-nrsimha, Siddhavata, Skanda-ksetra, Trimatha Vrddhakasi, Bauddha-sthana, Tirupati, Tirumala, Pana-nrsimha, Siva-kanci, Visnu-kanci, Trikala-hasti, Vrddhakola, Siyali-bhairavi, Kaveri-tira and Kumbhakarna-kapala."
In an earlier segment we covered Lord Caitanya's visit to Trimanda, where He defeated and converted the Buddhists (Madhya lila 9.14). That narrative is brought to a close in Madhya 9.62, as the Lord prepares to travel on to Tirupati and Tirumala:
Madhya 9.62-63:

"When the spiritual master of the Buddhists began to chant the holy name of Krsna and submitted to Lord Sri Caitanya Mahaprabhu, all the people who were gathered there were astonished.

Sri Caitanya Mahaprabhu, the son of Sacidevi, then suddenly and playfully disappeared from everyone's sight, and it was impossible for anyone to find Him."
In the next verse, we find many details on Mahaprabhu's next destination, Tirupati and Tirumala tirthas, and the Deities residing there: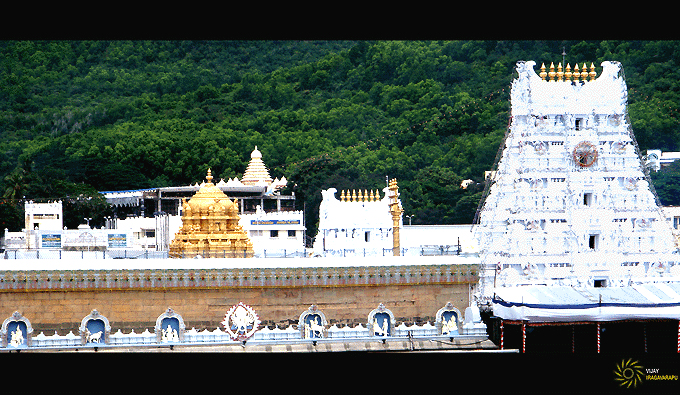 Sri Venkateswara Temple complex
Madhya 9.64

mahaprabhu cali' aila tripati-trimalle
catur-bhuja murti dekhi' vyenkatadrye cale

SYNONYMS
mahaprabhu -- Lord Sri Caitanya Mahaprabhu; cali' aila -- arrived by walking; tripati-trimalle -- at the holy places named Tirupati and Tirumala; catur-bhuja -- four-handed; murti -- Deity; dekhi' -- seeing; vyenkata-adrye -- to the holy place Venkata Hill; cale -- began to proceed.

TRANSLATION
"Sri Caitanya Mahaprabhu next arrived at Tirupati and Tirumala, where He saw a four-handed Deity. Then He proceeded toward Venkata Hill.

PURPORT
Srila Bhaktisiddhanta Sarasvati Thakura has actually described the chronological order of Lord Caitanya Mahaprabhu's visit. The Tirupati temple is sometimes called Tirupatura. It is situated on the northern side of Arcot in the district of Candragiri. It is a famous holy place of pilgrimage. In pursuance of His name, Venkatesvara, the four-handed Lord Visnu, the Deity of Balaji, with His potencies named Sri and Bhu, is located on Venkata Hill, about eight miles from Tirupati. This Venkatesvara Deity is in the form of Lord Visnu, and the place where He is situated is known as Venkata-ksetra. There are many temples in southern India, but this Balaji temple is especially opulent. A great fair is held there in the month of Asvina ( September-October). There is a railway station called Tirupati on the southern railway. Nimna-tirupati is located in the valley of Venkata Hill. There are several temples there also, among which are those of Govindaraja and Lord Ramacandra.

Madhya 9.65

tripati asiya kaila sri-rama darasana
raghunatha-age kaila pranama stavana

After arriving at Tirupati, Lord Sri Caitanya Mahaprabhu visited the temple of Lord Ramacandra. He offered His prayers and obeisances before Ramacandra, the descendant of King Raghu."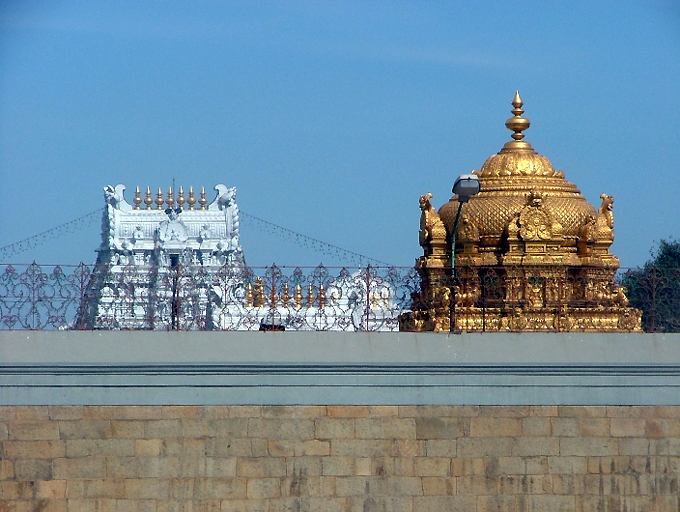 Temple Gopuram and Vimana
The abode of Lord Venkateshwar, the first Deity Lord Caitanya visited at Tirupati, resides in His temple on Venkatadri Hill, in the Chittoor district of Andhra Pradesh. Tirupati is approximately 140 kilometers northwest of Chennai and 250 km east of Bangalore.
The magnificent temple of Sri Venkateswara is situated on the seventh peak of the Tirupati Hills, known as Venkatachala (Venkata Hill). It sits on the southern bank of Sri Swami Pushkarini, the temple theertham.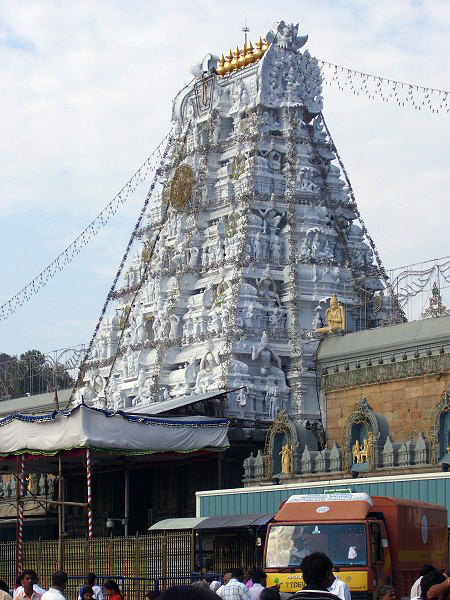 Temple entrance
The Tirumala Hills rise 3,200 feet above sea level, and its seven peaks represent the seven hoods of Adisesha. For this reason the hills are also known as Seshachalam. The seven individual peaks are called Seshadri, Neeladri, Garudadri, Anjanadri, Vrishabhadri, Narayanadri and Venkatadri. The great temple of Sri Venkateswara is, of course, located on the seventh peak, Venkatadri.
This ancient temple is mentioned in the Rig Veda and Asthadasa Puranas, most notably the Varaha Purana and Bhavishyottara Purana, which describe Sri Venkateswara as a great bestower of boons. He is considered the Kali-yuga varada, or boon-granting Lord of Kali yuga. The Puranas offer various legends of Sri Venkateswara's appearance at Tirupati. The temple's origins are in Vaishnava tradition, and temple worship here has remained steadily Vaisnava over the years.
Lord Venkateshwar resides in His sanctum sanctorum, which is situated in the main temple of an extensive complex at Tirupati. He is also known here as Balaji, Srinivasa, and Venkatachalapathy Although more properly, the name Tirupati should refer to the village on Venkata Hill (Tirupati meaning the Lord of Laksmi), instead the name was given to the town at the foot of the hill.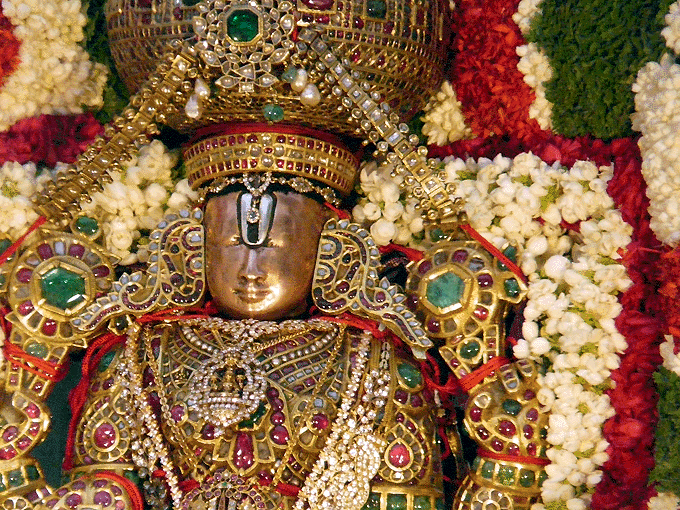 Malayappaswami (Sri Venkateshwar Utsavmoorthi)
A long history of dynasties and rulers have been part of Venkateshwar Temple's history. The Pallavas of Kancheepuram in the 9th Century A.D., the Cholas of Thanjavur in the 10th Century, the Pandyas of Madurai, and later the Vijayanagar kings in the 14th-15th Century were all devotees of the Lord. They competed with one another in endowing the temple with increasingly opulent offerings and contributions, making the Lord's temple at Tirupati the wealthiest temple in India.
After the fall of the Hindu kingdoms, the Muslim rulers of Karnataka and then the British took over, and many of the temples came under their control. When the Brits finally divested themselves of the role in 1843, the temple was given over to the management of the Mahants of Hatiramji Matha, until 1933. The Madras government then gave it over to the management of Tirumala Tirupati Devasthanams, which continues to oversee temple worship to this day.
There are many shrines with installed deities here at the Tirupati temple. Lord Venkateshwar resides in the main temple garbha gruhu, or sanctum, where He stands directly beneath a great gilt dome known as the Ananda Nilaya Divya Vimana. The Lord's Form here is svayambhu, or self-manifesting. It is known as Mulaberam, and no human is known to have been involved in installing it in the shrine.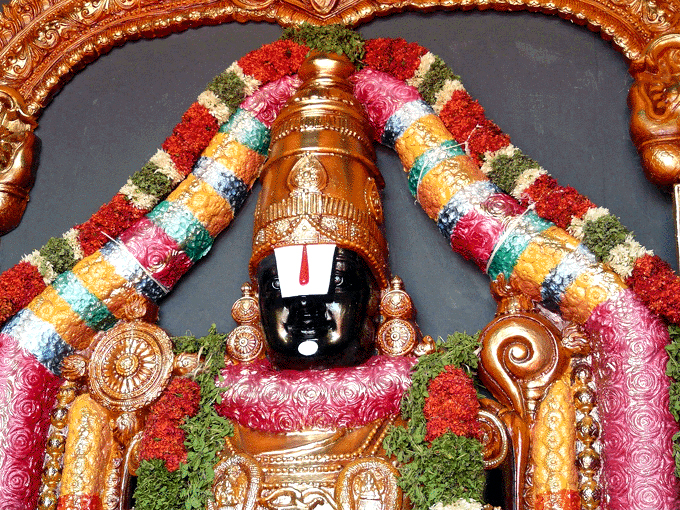 Lord Srinivas Govinda
The Lord is normally dressed in a gold kiritam, which has a large emerald embedded in front. On special occasions He is adorned with a diamond kiritam. On His forehead, the Lord wears a thick double patch of namam drawn with refined camphor, which screens his eyes. In between the two white patches is a kasturitilakam.
Lord Venkateshwar's ears are bedecked with shining golden makara kundalas. His right hand is raised in a fist, with a gem-studded chakra, while the left first holds the conch. His body is clothed with a pitambaram tied with gold string, and a gold belt with many small golden bells attached. He is richly adorned with precious ornaments. He bears Sri Laksmi Devi on His right chest, and Sri Padmavathi Devi on His left chest, and Nagabharanam ornaments on both shoulders. The Lord's lotus feet are covered with gold frames and anklets, a curved belt of gold wrapped around his legs.
Pilgrims are not allowed to enter the sanctum beyond Kurasekara path, and cannot take photographs of the presiding Deity, who is typically seen in artistic depictions.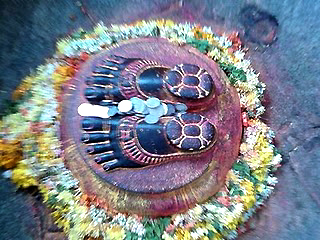 Lord Venkateshwar Pada-tirtha

Caitanya-caritamrta - Bhaktivedanta Book Trust


The Sun News Editorials Features Sun Blogs Classifieds Events Recipes PodCasts
Copyright 2005, 2013, HareKrsna.com. All rights reserved.