Caitanya Mahaprabhu's Tirtha-yatra, Part 43
BY: SUN STAFF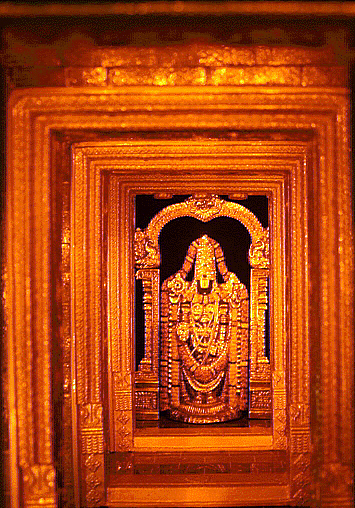 Sri Kalahastheeswara
Jun 17, 2013 — CANADA (SUN) — A serial exploration of the holy sites visited by Lord Caitanya.
Trikala-hasti
Today we return to Andhra Pradesh, and another of the Shiva temples visited by Lord Caitanya during His South India preaching tour. Trikala-hasti is mentioned in the Summary of Sri Caitanya-caritamrta Madhya Lila 9:
Madhya lila 9

"A summary of the Ninth Chapter is given by Srila Bhaktivinoda Thakura. After leaving Vidyanagara, Sri Caitanya Mahaprabhu visited such places of pilgrimage as Gautami-ganga, Mallikarjuna, Ahovala-nrsimha, Siddhavata, Skanda-ksetra, Trimatha, Vrddhakasi, Bauddha-sthana, Tirupati, Tirumala, Pana-nrsimha, Siva-kanci, Visnu-kanci, Trikala-hasti, Vrddhakola, Siyali-bhairavi, Kaveri-tira and Kumbhakarna-kapala."
Later in Madhya Lila 9 we get further details on this tirtha:
Madhya 9.71

trimalaya dekhi' gela trikala-hasti-sthane
mahadeva dekhi' tanre karila praname

"After visiting Trimalaya, Caitanya Mahaprabhu went to see Trikala-hasti. There He saw Lord Siva and offered him all respects and obeisances.

PURPORT
Trikala-hasti, or Sri Kala-hasti, is situated about twenty-two miles east of Tirupati. On its western side is a river known as Suvarna-mukhi. The temple of Trikala-hasti is located on the southern side of the river. The place is generally known as Sri Kalahasti or Kalahasti and is famous for its temple of Lord Siva. There he is called Vayu-linga Siva."
Sri Kalahastheeswara Temple Complex
Tirupati on the Suvarna-mukhi River is a very famous spiritual site, and Srila Prabhupada's purport above leaves no question as to the specific location of Trikala-hasti. This Shiva abode, however, is not the same as the Shiva temple at Kalahastipur mentioned in Madhya Lila 9.38:
Madhya 9.38

tanre krpa kari' prabhu calila ara dine
vrddhakasi asi' kaila siva-darasane

"After showing mercy to the brahmana, Lord Sri Caitanya Mahaprabhu left the next day and arrived at Vrddhakasi, where He visited the temple of Lord Siva.

PURPORT
Vrddhakasi's present name is Vrddhacalam. It is situated in the southern Arcot district on the bank of the river Manimukha. This place is also known as Kalahastipura. Lord Siva's temple there was worshiped for many years by Govinda, the cousin of Ramanujacarya."
As noted in our segment on Vrddhacalam (Vrddhakasi), the Kalahastipura mentioned in Madhya 9.38 is in the Cuddalore district of Tamil Nadu.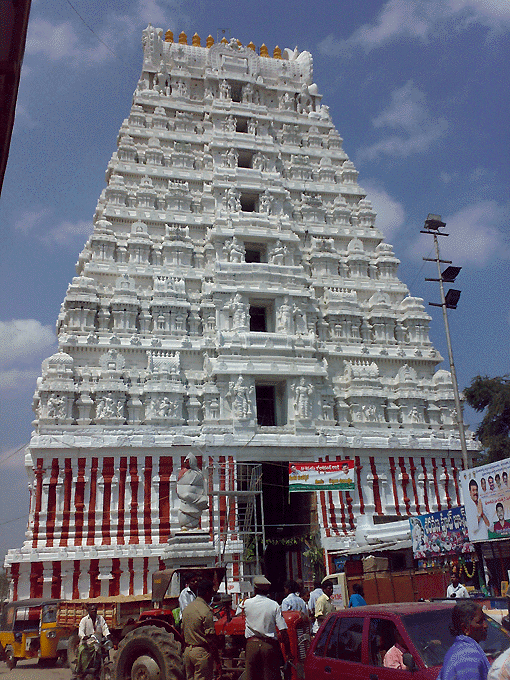 Sri Kalahasti Gopuram
Sri Kalahastheeswara Nathar Kovil
The temple visited by Lord Caitanya Mahaprabhu at Trikala-hasti is known as Sri Kalahastheeswara Nathar Temple. The presiding Deities are Sri Kalahastheeswara Nathar (Shiva) and his consort, Gnana Prasunambika Devi (Parvati).
This 12th Century temple is a great example of architecture in the Tirupati area of Andhra Pradesh. Sitting on the banks of the Swarna-mukhi River, a tributary of the Pennar River, the temple is also known as Dakshina Kailasam. It is fairly close to another of India's most famous temples, the abode of Lord Venkateshwar on Tirupati Hill.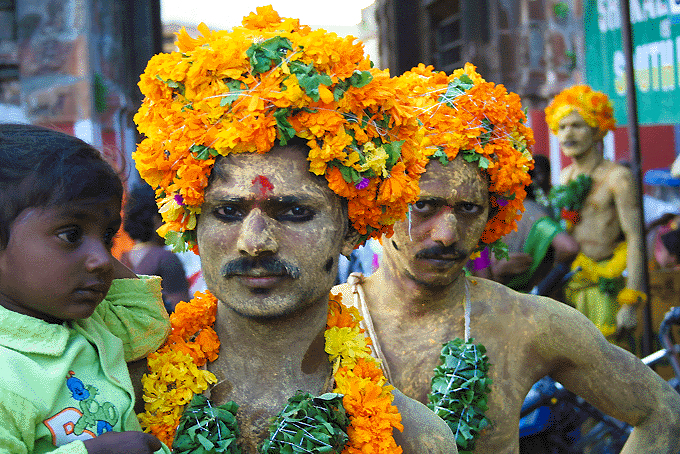 Shiva worshippers in flower crowns and sandal paste
[Photo: Balachandar@Flikr]
Sri Kalahastheeswara Temple has three beautiful gopurams, built during the reign of King Krishnadevaraya of Vijayanagar. A hundred-pillared mandapam is one of the many exceptional features of the mandir.
This temple is said to be the place where Saivite Nayanar Kannappa offered both his eyes to cover blood flowing from the Shiva-linga, but Lord Siva stopped him and granted him mukti.
This temple is also said to be the only abode of Vayu-linga Shiva. Vayu, the Wind God, incarnated as Lord Shiva and worshipped the Lord here as Kalahasteeswara. As such, this temple is one of the five Pancha Bhoota Sthalalu, or Shiva temples representing the elements – in this case, Wind. The other Pancha Bhootas are Chidambaram (ether), Thiruvanaikaval (water), Tiruvannamalai (fire) and Kanchipuram (earth).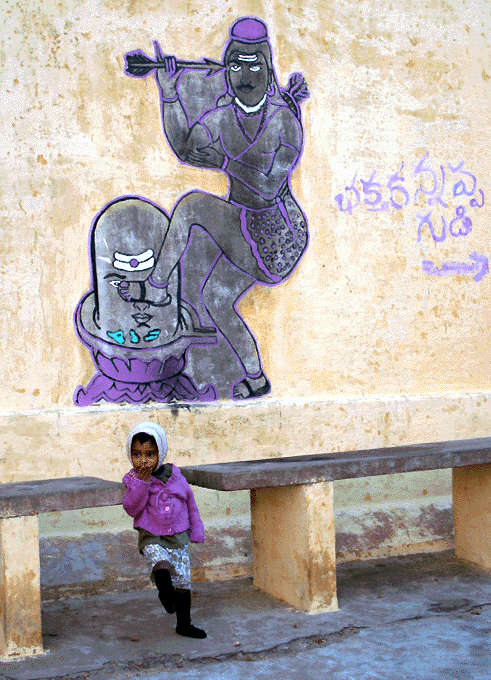 Temple Decoration
Like the other four Pancha Bhoota Sthalalu, there is a special manifestation of the designated element here at Sri Kalahastheeswara. A lamp inside the sanctum flickers constantly, from the movement of air. The air linga can be seen to move even when no one is present in the sanctum, which has no windows. The air linga is white and is considered swayambhu, or self-manifested.
The main Shiva-linga is untouched by human hands. Temple priests perform abhisheka with water, milk, camphor, and panchamrita, and sandal paste, flowers and sacred thread are offered to the utsava-murti rather than the main Linga.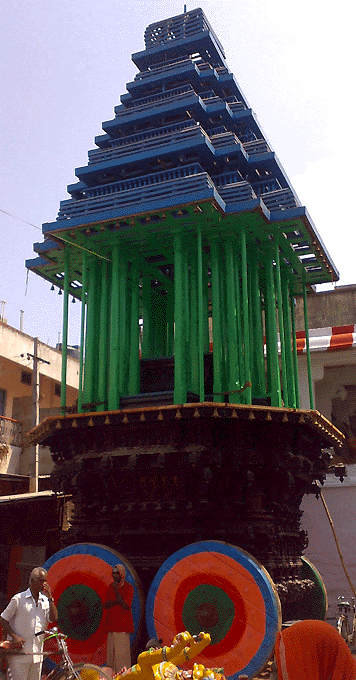 Sri Kalahasti Temple Car

Caitanya-caritamrta - Bhaktivedanta Book Trust


The Sun News Editorials Features Sun Blogs Classifieds Events Recipes PodCasts
Copyright 2005, 2013, HareKrsna.com. All rights reserved.