Caitanya Mahaprabhu's Tirtha-yatra, Part 41
BY: SUN STAFF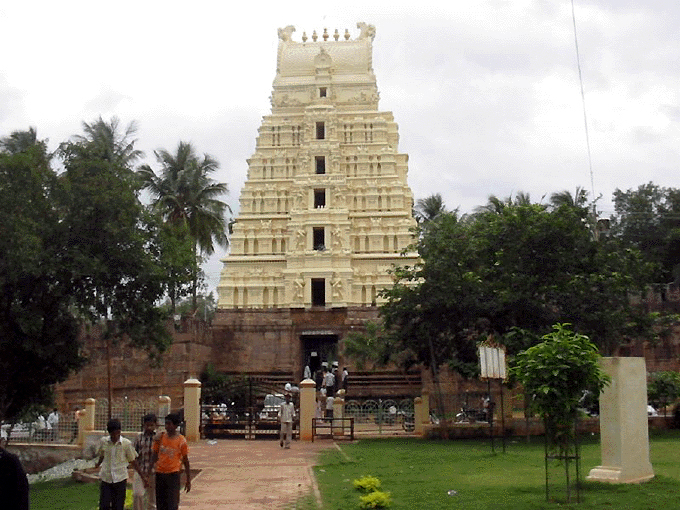 Mallikarjuna Temple at Sri Saila, Andhra Pradesh
Jun 15, 2013 — CANADA (SUN) — A serial exploration of the holy sites visited by Lord Caitanya.
Mallikarjuna
Today we go to the tirtha Lord Caitanya Mahaprabhu visited after His travels to Gautami-ganga, where He bathed at Gospada Ghat -- Mallikarjuna-tirtha at Srisailam, Andhra Pradesh, which is described in the Summary of Sri Caitanya-caritamrta, Madhya Lila 9:
Madhya lila 9 Summary

"A summary of the Ninth Chapter is given by Srila Bhaktivinoda Thakura. After leaving Vidyanagara, Sri Caitanya Mahaprabhu visited such places of pilgrimage as Gautami-ganga, Mallikarjuna, Ahovala-nrsimha, Siddhavata, Skanda-ksetra, Trimatha, Vrddhakasi, Bauddha-sthana, Tirupati, Tirumala, Pana-nrsimha, Siva-kanci, Visnu-kanci, Trikala-hasti, Vrddhakola, Siyali-bhairavi, Kaveri-tira and Kumbhakarna-kapala."
Later in Madhya Lila 9.14-15 we get further details on Mallikarjuna-tirtha:
Madhya 9.14, Purport

"According to Govinda dasa, Sri Caitanya Mahaprabhu went to Trimanda from the Gautami-ganga. From there He went to Dhundirama-tirtha, another place of pilgrimage. According to Sri Caitanya-caritamrta, after visiting the Gautami-ganga, Sri Caitanya Mahaprabhu went to Mallikarjuna-tirtha."

Madhya 9.15

mallikarjuna-tirthe yai' mahesa dekhila
tahan saba loke krsna-nama laoyaila

"Sri Caitanya Mahaprabhu then went to Mallikarjuna-tirtha and saw the deity of Lord Siva there. He also induced all the people to chant the Hare Krsna maha-mantra.

PURPORT
Mallikarjuna is also known as Sri Saila. It is situated about one hundred miles northeast of Karnula on the southern bank of the Krsna River. There are great walls all around the village, and within the walls resides the deity known as Mallikarjuna. It is a deity of Lord Siva and is one of the Jyotir-lingas."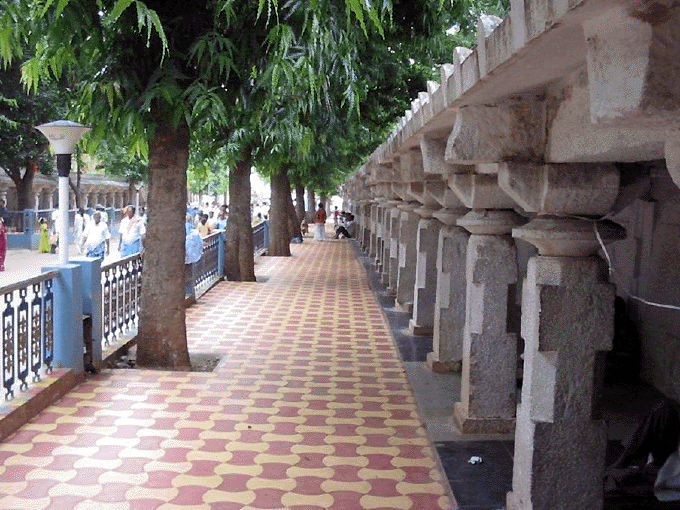 Mallikarjuna Temple compound
The Shiva deity that Lord Caitanya visited at Mallikarjuna-tirtha is also known as Ramadasa Mahadeva -- Shiva, the servant of Lord Rama. (Madhya 9.16)
The details Srila Prabhupada provided in his purport to Madhya 9.15 make it very clear where this Mallikarjuna-tirtha is located, because Sri Saila is one of only twelve Jyotir-lingas in India. If that were not the case, there might be considerable confusion on the matter, given the fact that in Karnataka alone, there are dozens of Mallikarjuna temples, one of which is located at another Sri Saila, near Belgaum, Karnataka.
To add further potential for confusion, the Mallikarjuna at Sri Saila, Andhra Pradesh which Lord Caitanya visited is located on the southern bank of the Krsna River. Likewise, the Mallikarjuna in Karnataka, at Sri Saila in the Dharwad district near Belgaum, is also on the southern side of the Krishna River. The Krishna River starts in Maharashtra, runs through Karnataka, and flows into the Bay of Bengal at Hamasaladeevi, Andhra Pradesh, so the Krishna flows right past both Mallikarjunas, at both Sri Sailas.
And to add one last opportunity for confusion, in Belgaum there is another ancient Shiva temple that is often mistakenly described as being one of the Jyotir-lingas – the famed Kapileshwara Temple.
The issue of all this potential confusion is addressed by Srila Prabhupada in his purport to Madhya Lila 9.174, in which he provides comments of clarification given by Srila Bhaktisiddhanta Saraswati Thakur:
Madhya 9.174

paramananda puri tabe calila nilacale
mahaprabhu cali cali aila sri-saile

"Thus Paramananda Puri started for Jagannatha Puri, and Sri Caitanya Mahaprabhu began walking toward Sri Saila.

PURPORT
Srila Bhaktisiddhanta Sarasvati Thakura remarks, "Which Sri Saila is being indicated by Krsnadasa Kaviraja Gosvami is not clearly understood. There is no temple of Mallikarjuna in this area because the Sri Saila located in the district of Dharwad cannot possibly be there. That Sri Saila is on the southern side of Belgaum, and the Siva temple of Mallikarjuna is located there. (Refer to text 15 of this chapter.) It is said that on that hill Lord Siva lived with Devi. Also, Lord Brahma lived there with all the demigods."
Mallikarjuna Jyotirlinga Temple
The abode of Lord Mallikarjuna at Sri Sailam, one of the Dwadasa Jyotirlinga shrines, is joined by the Shiva temples at Somnath, Ujjain, Omkareshwar, Kedernath, Bhimashankar, Tryambakeshwar, Rameswaram, Varanasi, Nageshwar, Grishneshwar, and Rameswaram:


Saurashtre Somanaatham Cha Sree Saile Mallikarjunam
Ujjayinyaam Mahaakaalam Omkaare Mamaleswaram
Himalaye to Kedaram Daakinyaam Bhimashankaram
Vaaranaasyaam cha Viswesam Trayambakam Gowtameethate
Paralyaam Vaidyanaatham cha Naagesam Daarukaavane
Setubandhe Ramesham Grushnesam cha Shivaalaye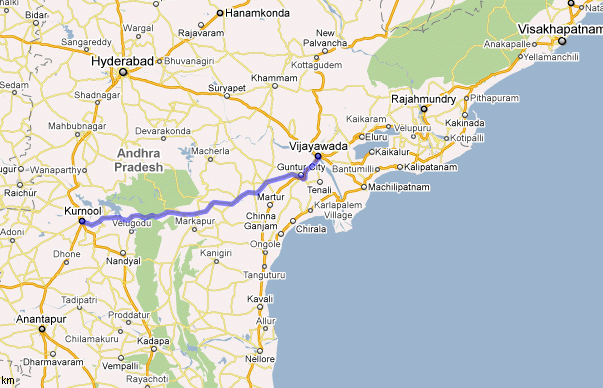 Srisaila at Kurnool, Andhra Pradesh
The Sri Sailam Jyotir-linga is typically identified as being located at Kurnool (Karnula), whereas the Srisaila in Karnataka, at Belgaum, is nearly 500 kilometers west of there. So the confusion that would have Kapileshwara Temple, Belgaum being the Jyotir-linga temple is literally 'off by miles'.
Mallikarjuna Jyotir-linga temple at Srisaila is located atop Nallamalai Hill, along the River Krishna.
This mountain is also known as Siridhan, Srigiri, Sirigiri, Sriparvatha and Srinagam Hill. The ancient Mallikarjuna Temple is rich in architecture and sculpture, and has been renovated and expanded over many years of patronage by various rulers.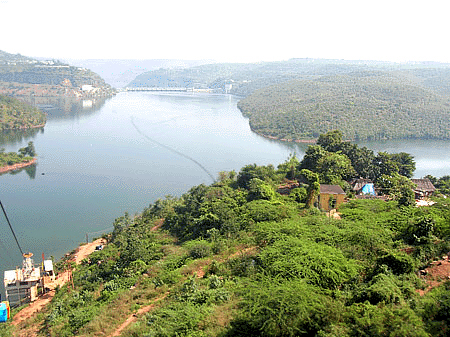 Krishna River below Mallikarjuna Temple
As stated in sastra and epigraphical evidence, Srisaila has four sacred gateways:
Tripuranthakam in Prakasam district, where Tripuranthakeswara Swamy and Goddess Tripurasundari Devi are the presiding deities

Siddhavatam on the bank of the River Penna in Kadapa district, where Jyothisideswara Swamy and Goddess Kamakshi Devi are the presiding deities

Alampur on the bank of the river Tungabhadra in Mahaboobnagar district, where Navabrahma Alayas (a group of nine temples of Chalukya period) are situated. This kshetram is the seat of Devi Jogulamba, one of the 18 Mahasakthis

Umamaheswaram of Mahaboobnagar district, where Umamaheswara Swamy and Umamaheswari Devi are the presiding deities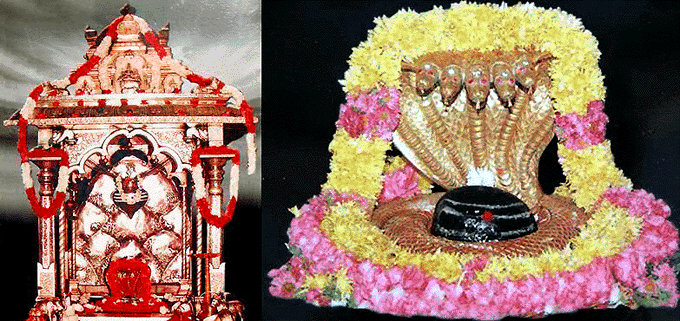 Lord Mallikarjunaswamy
The presiding deities of this kshetram are Lord Mallikarjuna Swamy, the Jyotir-linga, and his consort Bhramaramba Devi, who is one of the eighteen Mahasakthis. Both deities are svayambhu, or self-manifested. The Mallikarjuna Linga is accessible to all devotees, and anyone can go into the sanctum sanctorum, touch the deity and perform abhishekam and archana, regardless of caste or creed. This non-sectarian mood of worship is a fitting reflection of what was surely Lord Caitanya's mood in visiting Mallikarjuna-tirtha, where He undoubtedly distributed mercy to all the fallen conditioned souls unreservedly.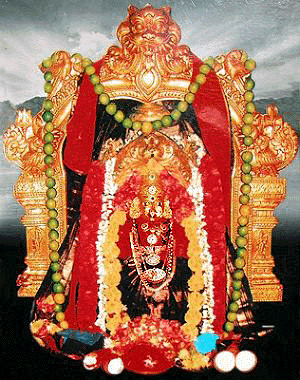 Bharambara Devi

Caitanya-caritamrta - Bhaktivedanta Book Trust


The Sun News Editorials Features Sun Blogs Classifieds Events Recipes PodCasts
Copyright 2005, 2013, HareKrsna.com. All rights reserved.