Prasadam - Bataka, Part 3
BY: SUN STAFF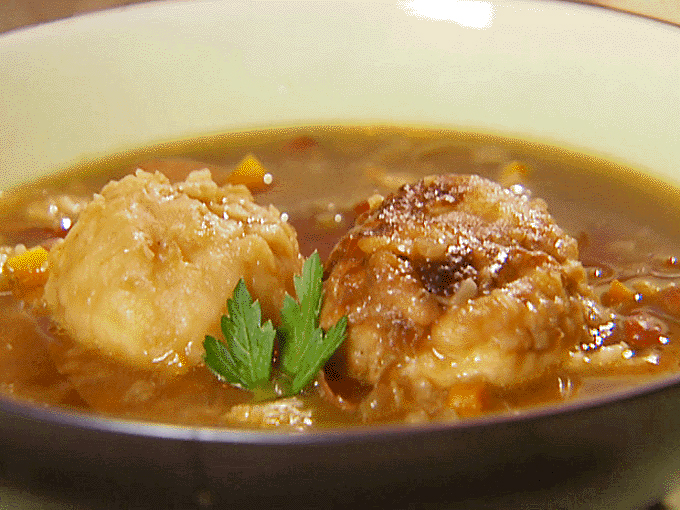 Savoury Dumplings
Jun 04, 2010 — CANADA (SUN) — A journey through India: border to border, bhoga to prasadam.
In the first two parts of our segment on Bataka, we have tried to emphasize the great variety to be found in the realm of dumplings. Actually, dumplings can be so diverse as to fit into the four main types of Krsna prasadam -- chatur-vidya:

chatur-vidha-sri-bhagavat-prasada-
swadv-anna-triptan hari-bhakta-sanghan
kritwaiva triptim bhajatah sadaiva
vande guroh sri-charanaravindam
"The spiritual master is always offering Krsna four kinds of delicious food [analyzed as that which is licked, chewed, drunk, and sucked]. When the spiritual master sees that the devotees are satisfied by eating bhagavat-prasada, he is satisfied. I offer my respectful obeisances unto the lotus feet of such a spiritual master."

(Sri Gurv-astaka)
Many kinds of sweet bataka fall into the category of foods that are licked and sucked, like Gulab Jamun and Rasgoolas. Other sweet dumplings are chewed, like Malpoori and Seedai. We also have Rasobora, which are tiny drops of fried batter, usually made from ground dal. They are sweetened in sugar syrup and can be floated in milk or sharbat, as one of the prasad dishes that are drunk.
Today, we'll focus primarily on the category of bataka that are chewed. These are the savoury dumplings that are not featured as sweets, but rather in dals, sabjis and the like.
Samosas were one of the first types of Indian dumpling to become widely known in the world. These savory pastries, stuffed with potato, peas, cauliflower and fragrant spices then fried in ghee, are like the crispy king of the Bataka family. Their fame traveled from ancient India throughout Southeast Asia, all the way to China and North Africa.
Some food historians have mistakenly concluded that in India, the concept of dumplings came from the British, who were known to dip bread stuffs into fat and other unbonafide drippings, then frying, steaming or baking them. This is a bit like suggesting that the Mughals invented Sharbats. More likely, Radharani is the original inventor of dumplings, and Her divine concoctions were no doubt replicated around the planet millennia ago.
It is true, of course, that dumplings from around the world fall into the category of savoury Bataka. They're usually made with something starchy, to hold the elements together while they are fried, steamed, baked or poached. The starchy element is typically flour from wheat, rice, millet or other grains, or flour from beans or legumes. Some of these have a rising agent, like baking powder, so they puff up when baked, steamed or poached. Bread is often used to bind dumplings, but so are fruits like banana and plantain, or vegetables like sweet potato and taro.
Savoury dumplings that are not bound together enough to hold their own are often wrapped in something that will later be peeled off, when the dumpling is eaten. Tree leaves like banana, lotus leaves, even corn husks are used, as in tamales. The bataka dough can also be enclosed in a bag of cheesecloth or muslin, and floated in a pot of dahl or stew to cook. This method has been used since ages past.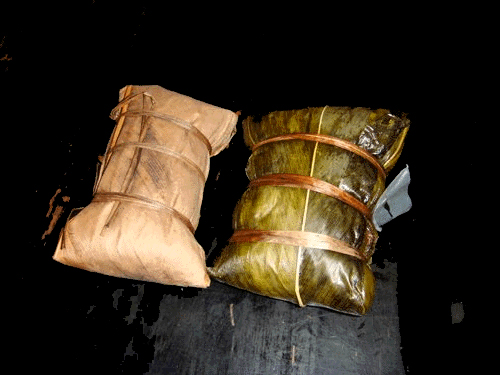 Dumplings in wrappers
In our first segment on Bataka, we featured a favorite recipe for Nepali Momos, which are a good place to start in the savoury dumpling category. 'Momo' is the Tibetan word for dumplings, and Buddhists believe that if you chant the syllables 'mo… mo… mo…", it's like the voidist equivalent of 'Om'.
Momos are enjoyed not only in the high Himalayas, but throughout North India. You'll find them in West Bengal (especially Darjeeling), Arunachal Pradesh, Assam and Meghalaya. They're often served with thukpa, a thin broth. Golden fried momos might be served as a side dish, or floated like small white pearls in thukpa or dahl.
Another popular bataka in North India is the Fara, a Hindi term for small dumplings made of wheat flour and stuffed with spiced lentils and minced vegetables. The skin for faras is as simple as the flour and water dough we described in yesterday's segment, but the fillings are an art form. Ingredients and spicing for the fillings are as varied as the many unique North Indian cuisines. But you can follow your intuition, letting the concept of cooked or mashed lentils be your guide.
Most practiced devotee cooks are familiar with the pastry-like dumplings such as samosas and katchories, the bread-like idlis, soft dumplings in stews like kofta and kadhi, and the South Indian steamed or fried vadas and baras, bathed in yoghurt. They may be less familiar with preps like Govind Gatta, Mangodi, Muthia, or the savoury line of Kozhukattais.
Govind Gatta is a fried gram flour dumpling in a khadi-like gravy. Mangodi, a Rajasthani favorite, are small, grape-sized dumplings made from moong or urad dal that's been soaked and ground. Muthia is a steamed vegetable dumpling that is fried in spices.
We hope that today's selection of recipes will inspire the reader to explore the tasty realm of Batakas, placing an array of wonderfully shaped dumplings before Sri Krsna, for the pleasure of He and Radharani.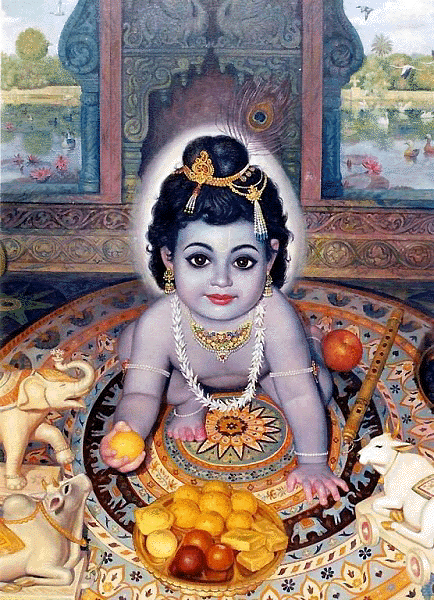 Bhaktivedanta Book Trust
The glories of Bataka are nicely summed up in Govinda-lilamrta, verses 110-111:
"As Yashomati glances over all of the fragrant, nicely-colored and mind-enchanting dishes, she becomes overjoyed! Thus she inquires: "Oh Rohini! How did you make such a marvelous feast?"

Rohini, being amazed herself, replies, "Although the ingredients are ordinary, the divine flavor and sumptuous quality of this cooking has reached the highest excellence simply by Radhika's unique skill!'"
May we all try to attain a taste of the bhakti Radharani displays when cooking such wonderful dishes for Krsna.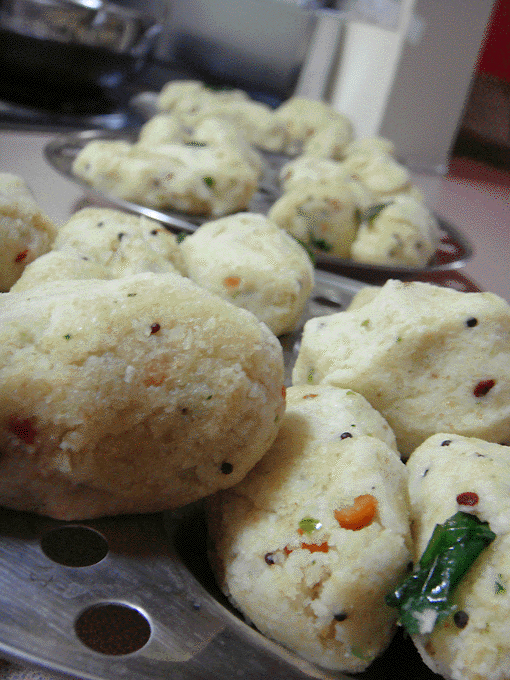 Savoury Kozhukattai



Ingredients:

Dough:

1 cup Rice Flour
2 cups of Water
A pinch of Salt
2 tsp of Coconut Oil


Seasoning:

2 Green chillies, minced
small handful Curry Leaves
¼ tsp. Asofoetida (hing)
½ tsp. Mustard seeds
2 Tblsp. broken Urad Dahl
Salt to taste
Ghee for tempering

To the make the dough, put the water, coconut oil and salt in a pot and bring to a boil. Turn down to simmer, and add the rice flour, whisking until smooth. Continue stirring as the mixture thickens. When the moisture is all absorbed and the dough pulls away from the sides of the pan, remove from heat and set aside. Coat the dough ball with a little coconut oil and knead for a minute, then set aside in a covered bowl to rest for 20 minutes. When ready, roll all the dough into small balls (cherry to walnut-sized), and place on greased idli plates. Steam for about 10 minutes on high.

In a pan heat the ghee, then add the urad dahl and mustard, chillies, hing and curry leaves. Fry until the mustard pops and the dahl is golden brown. Gently drop all the steamed kozhukattais into the pan and roll to coat them well with the spice. Offer hot or at room temperature.




Vada Curry



Ingredients:


1 cup : Channa Daal (gram lentils)
2 tbsp : Hara Dhania (green coriander), chopped
2 : Hari Mirch (green chillies), finely chopped
Ghee for frying
1 tsp : Sarson (black mustard seeds)
10 - 15 Kari Patta (curry leaves)
1 tsp : Ginger Paste
2 : Tomatoes, finely chopped
2 tbsp : Besan (gramflour), mixed in 1 cup water
1 tsp : Dhania (coriander) Powder
1-1/2 tsp : Asofoetida
1tsp : Chilli Powder
½ tsp : Garam Masala

Wash the channa daal and soak for 15 minutes. Drain water and grind coarsely, add salt, hara dhania and hari mirch. Heat oil in a pan and fry spoons full of the channa daal paste to make small vaadey (dumplings). Fry until golden, drain excess oil and keep aside. Reheat 3-tbsp ghee in another pan, add urad daal, asofoetida, sarson and kari patta. Fry for 2-3 minutes. Mix-in ginger and fry further for 2-3 minutes. Add tomatoes, salt, dhania powder, chilli powder and garam masala and fry until the oil separates. Stir-in besan and water and bring to a boil. Add the vadey, mix well, cover the pan and leave to simmer for 5 minutes. Serve hot.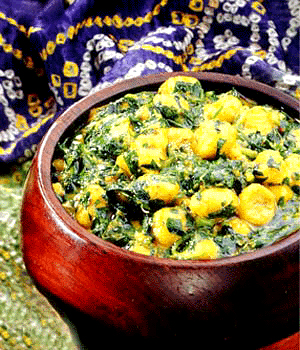 Methi Mangodi



Methi Mangodi



Ingredients:


1 bunch Methi (Fenugreek) leaves, chopped
1/2 cup Moong dal (Mangodi), crushed
1 teaspoon Turmeric powder
1/2 teaspoon Cumin seeds
2 tsp Ginger
2 tsp Green Chilli
1 tsp Coriander powder
1/2 cup Milk
1/2 cup Curds, beaten
1 tsp sugar
4 Tblsp ghee
Salt to taste

Wash the methi leaves, pat dry, then sprinkle with salt and ½ tsp. turmeric powder. Set aside for a few minutes, then rinse the leaves and gently squeeze all the liquid out of them. Set aside.

Make a paste out of the fresh ginger and green chili. In a little hot ghee, fry the cumin seeds till toasted, then add the ginger-chilli paste and fry. Add the mangodi and fry until darkened a few shades (2 to 3 minutes). Add the methi leaves and sauté for 5 to 7 minutes on low heat.

Add the coriander, milk, curds, sugar, ½ teaspoon of turmeric, salt and ½ cup of water and bring to a boil, stirring continuously. When cool enough to handle, form the mixture into small balls or other shapes, then steam until soft and cooked through. Garnish with a few leaves and offer hot.




Doodhi Muthia



Ingredients:

For the muthias:


2 cups White Pumpkin (lauki), grated
1 cup Whole Wheat Flour
3/4 cup Semolina (rawa)
1/2 cup Bengal gram flour (besan)
1 Green Chilli
1 inch fresh Ginger
1/2 tsp Turmeric powder
1/2 tsp Garam Masala
1/2 tsp Cumin seeds
1/2 tsp Fennel seeds
juice of 1-1/2 Lemons
2 Tblsp Sugar
¾ tsp Asofoetida
2 Tblsp Coriander, fine chopped
4 Tblsp Ghee
1/2 tsp Baking Soda (soda-bi-carb)
Salt to taste

For the tempering:


2 tsp Mustard seeds
1 Tblsp Sesame seeds
¼ tsp Asofoetida
4 Tblsp Ghee

For the garnish:


2 Tblsp Coriander, rough chopped
2 Tblsp Coconut, grated

Grate the pumpkin and squeeze out the liquid, saving the liquid. Make a paste of the green chilli and ginger. Combine all ingredients for the muthia in a bowl and knead into a soft dough, adding the pumpkin liquid as needed.

Oil your palms, and divide the mixture in three parts, then roll into a cylinder about 8 inches long. Steam the log for 25 to 30 minutes, until done. You can gently bend the log into a rounded shape to fit it into your steamer, or just cut the log into halves. Check to be sure the muthia logs are done by inserting a toothpick, which should come out clean. When done, remove the log and let it cool. Once cooled, slice into ¾" wide dumplings.

In a little ghee, fry the mustard seeds till they pop, then add the sesame seeds and asofoetida. Add the muthia dumplings and gently stir until cooked, sautéing for 5 to 10 minutes till they're golden brown. Garnish with coriander and coconut, and offer hot or warm.

The Sun News Editorials Features Sun Blogs Classifieds Events Recipes PodCasts
Copyright 2005, 2010, HareKrsna.com. All rights reserved.