Prasadam - Camphor, Part 2
BY: SUN STAFF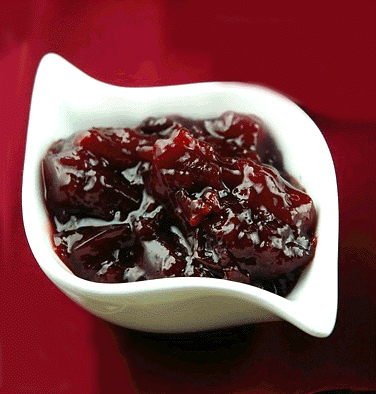 Radha Red Plum Chutney
May 23, 2016 — CANADA (SUN) — A journey through India: border to border, bhoga to prasadam.
The historical use of camphor is well documented. In ancient and medieval Europe, it was used as an ingredient in sweets. During the Tang dynasty (AD 618–907) in China, it was a flavoring used in confections similar to ice cream. Both 10th century Arabic and 13th century Andalusian cookbooks include it as an ingredient in both sweet and savory dishes. In India, camphor is used in a host of grain and milk sweets, in rice preparations, and in various breads, chutneys, savouries, and sabjis.
In the ancient Asian trade, camphor was described as being of three different types. The first was called Prune Blossoms, being the larger pieces. The second was called Rice Camphor, because the particles are about the size of rice kernels. The last was called Golden Dregs, being camphor in a powdered form. These names are still used today by Chinese traders on the west coast of Sumatra.
There is mention of camphor found in ancient Tamil literature, including the Nedunalvadai and Perum Kurinchi, which describe the trade goods plyed at the port of Tondi during the Chola empire's reign. Among the many commodities carried on ships was the sought after aromatic, camphor. Two varieties of camphor are mentioned in these texts, the two varieties being named respectively varusan and varosu, both coming from the Tamil name Barus, which is also the Barusai of Ptolemy. Another variety was referred to as China camphor.
Some of the most interesting historical notes about camphor come from the Chinese traders, who worked trade routes along the Malay Archipelago and Malacca. In their records, camphor is referred to as Dragon's Brain Perfume or Icicles. The names were no doubt invented by traders to impress their customers with the great value and rarity of the commodity. Both names are reminiscent of the sizzling tingle one gets from inhaling camphor.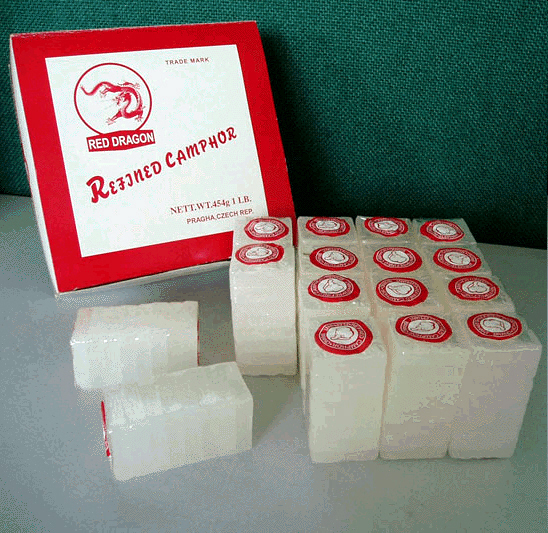 Red Dragon Camphor
In a wonderful Hare Krsna cookbook circa 1972, compiled by Revatinandana Swami, he writes the following:
"Plenty of camphor should be used (the first lugdoo I tasted was made under Srila Prabhupada's personal supervision. When I bit into it the small of camphor shot up my nose very distinctly. The experience was vivid and ecstatic….. When properly made this (along with kachories) is one of Srila Prabhupada's top favourites."
Here is Revatinandana's recipe:
Srila Prabhupada's Lugdoo
Ingredients:

Chickpea flour (Besan), 1 Pound
Sugar, 2 Pounds
Raisins, 1 Pound
Figs, dried, chopped, 1/2 Pound
Walnuts, chopped, 1/2 Pound
Dried cherries or cranberries, 1/4 Pound
Camphor, 2 Pinches
Ghee, For frying
Stir water into the flour to make a thick but liquid batter. Heat a few inches of ghee in a wok or deep pan. Put the batter in a colander or utensil with holes, and force through so it drips into the ghee in 'noodles'. Fry until golden brown, then set aside. Make a heavy sugar syrup by boiling the sugar in the water until it's fully dissolved. Add the dried fruit and nuts to the sugar mixture, stir well, then add the camphor.
Next, put the noodles in a colander, and set it above another pan to catch the liquid (for later use). Pour the sugar/fruit mixture over the noodles. The noodles should become soft and sticky on the outside, but should remain a bit crisp in the middle. Now squeeze the sticky noodle mixture in big balls, making 2inch lugdoos.
In Sri Caitanya-caritamrta, Antya lila, we find several verses describing the amazing foodstuffs prepared for the Lord by Damayanti, who packed them into her brother Raghava's bag. There are descriptions of four different sweets made from rice or legumes, and flavored with camphor. The mudki is also known in Bengal as chhanar mudki, similar to a rasagolla.
Antya Lila 10.28: She made some of the flat rice into puffed rice, fried it in ghee, cooked it in sugar juice, mixed in some camphor and rolled it into balls.

Antya 10.29-30: She powdered fried grains of fine rice, moistened the powder with ghee and cooked it in a solution of sugar. Then she added camphor, black pepper, cloves, cardamom and other spices and rolled the mixture into balls that were very palatable and aromatic.

Antya 10.31: She took parched rice from fine paddy, fried it in ghee, cooked it in a sugar solution, mixed in some camphor and thus made a preparation called ukhda or mudki.

Antya 10.32: Another variety of sweet was made with fused peas that were powdered, fried in ghee and then cooked in sugar juice. Camphor was added, and then the mixture was rolled into balls.
Another very popular Hare Krsna prasadam dish is the famous Radha Red Plum Chutney. How does one ever forget their first taste of this amazing camphor-laced condiment? At its finest offered as part of the Radhastami feast, the deep red fruit and aromatic spices are a fit offering to Sri Sri Radha-Krsna.
Radha Red Plum Chutney
Ingredients:

Red Plums, ripe, 3 Pounds
Butter, 4 Tablespoons
Coconut, shredded, 3 Tablespoons
Sugar, 1-1/2 Cups
Coriander, 1-1/2 Teaspoons
Cardamom, powdered, 1/4 Teaspoon
Camphor crystals, a Pinch
Melt the butter in a heavy bottom pot. Add the coriander and cardamom and coconut and sauté for a minute or two. Remove the stems and pits from the plums and cut into quarters. Add to the butter/spice mixture and heat to a boil, then reduce the heat to medium low and simmer covered for 20 to 30 minutes, until the plums lose their shape. (The riper the plums, the less you'll need to cook them down.) Stir often to keep from sticking. Once cooked down, add the sugar, and continue to simmer uncovered for another 45 minutes, until the chutney gets a nice, thick glaze. Remove from heat and stir in the camphor crystals. Mix well, and offer at room temperature or chilled.
Yet another excellent Krsna prasadam preparation is Amrita Madhura, a type of Shrikhand with opulent quantities of sweet fruits and aromatics.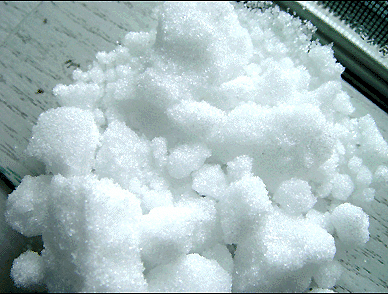 Sweet Yoghurt Ambrosia (Amrita Madhura)

Ingredients:


Yoghurt, whole milk, 2 Quarts
Black peppercorns, 8
Cardamom seeds, 1/4 Teaspoon
Cloves, 5 Whole
Fennel seeds, 1/4 Teaspoon
Rose Water, 1 Teaspoon
Butter, 4 Tablespoons
Camphor, A few crystals
Rock or Raw sugar, powdered, 1/4 Cup
Berries, fresh, 1/2 Cup

Line a colander with three thicknesses of cheesecloth, pour in the yoghurt, and tie the corners up into a bundle. Hang the bungle in the refrigerator with a piece of twine, letting the liquid whey drip out into a container. Let it hang for 24 to 36 hours, until the cheese is firm, similar to cream cheese (as for Shrikhand).

Powder all the spices, add rose water, butter and camphor and beat until mixed and fluffy. Thoroughly blend in with the yoghurt cheese and sugar. Line a mold or shaped container with a few layers of cheesecloth and pour in the Ambrosia. Let sit in the refrigerator for 12 to 24 hours. Toss fresh berries or other items on top and offer.
In the category of sweet breads, here are two wonderful recipes that take full advantage of the zing of camphor. One is a steamed sweet dumping, the other
Sweet Kolakattai Dumplings (Kadabu)
Ingredients:

Rice flour 1 cup
Jaggery (Crushed) 1/2 cup
Grated coconut 1 cup
Gasagasa (Poppy Seeds) 1 tablespoon
Raisins 1 tablespoon
Cashews 1 tablespoon
½ tsp cardamom
scant grains of pachakarpooram (edible camphor)
few scrapes of fresh Nutmeg
1/8 tsp Mace (Jaypathre)
Preparing the dough: (Called the Kali/Kazhi). Boil 1-1/2 cups of water in a thick-bottomed pan. Add one tablespoon of ghee and a pinch of salt. Add the rice flour slowly, all the while stirring the mix, for about three to four minutes, and prevent lumps from forming. The whole mix should come out into a non-sticky lump, which is now the famous Kali. The quantity of water required in preparation of Kali depends on the type of rice flour. In the case where the Kali is not fully cooked add a little more boiling water and stir it. Let it cool. Stuffing: Mix grated coconut with filtered and clean jaggery syrup and other seasonings and stir it well in a thick bottomed pan on low heat, till it is non sticky. Add raisins and roasted cashew nuts. When cool enough to handle, make it into small balls. Kneed the Kali well and make small balls. Form a small cup shape of the Kali balls with a thin wall, (flour your fingers) and insert the stuffing and form into a Kolakattai shape (like a dumpling). This is the trickiest part of the whole job. Steam the dumplings for five minutes in a preheated, Idly cooker or steamer without the weight added.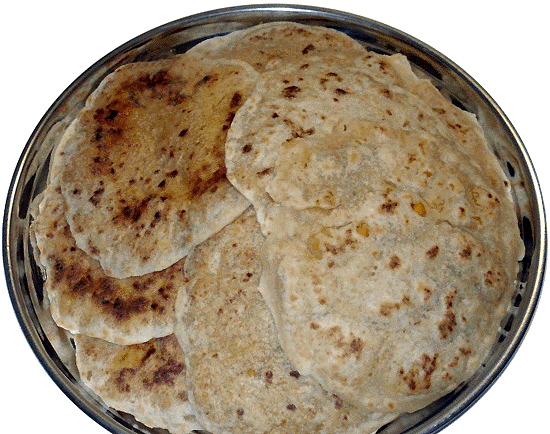 Puran Poli (Bobbatlu)



Puran Poli Sweet Bread (Bobbatlu)

Ingredients:


Chana dal, 1 cup
Jaggery, 1 cup (powdered)
Cardamom, 2 pods powdered fine
Saffron, a pinch
Camphor, a tiny pinch
Maida/sooji, fine (flour), 1 cup
Ghee, 1/2 cup

Pressure cook the chana dal and drain off the excess water. (Save the liquid for use in dal or another prep.) Spread the dal on paper towels to remove the excess water. Once it's dried a bit, grind it into a fine paste without adding water. Set aside.

In a bowl mix the flour with enough water to make a smooth dough, like chapati dough. Smear the ball with a little ghee and cover, and let the dough rest for 30 minutes.

To make the stuffing, put the jaggery in a pan with no liquid, and heat, stirring, until it dissolves. Add the chana dal paste and mix until smooth. Add the cardamom, camphor and saffron, and cook until the mixture darkens a few shades. Set aside and once cool, make small balls of the mixture, and set aside.

Finally, make small chapati from the flour dough, using flour, fingers and plastic wrap or parchment to get manageable rounds. Put one of the sweet balls in the center of the rolled chapatti and fold the four sides in to cover it completely. Using your fingers or roll back into a flat chapatti shape. Heat ghee in a tava or griddle, and fry until both sides are crisped and golden brown. Add ghee as needed to keep from sticking.

The Sun News Editorials Features Sun Blogs Classifieds Events Recipes PodCasts
Copyright 2005, 2016, HareKrsna.com. All rights reserved.