Prasadam – Karela, Part 3
BY: SUN STAFF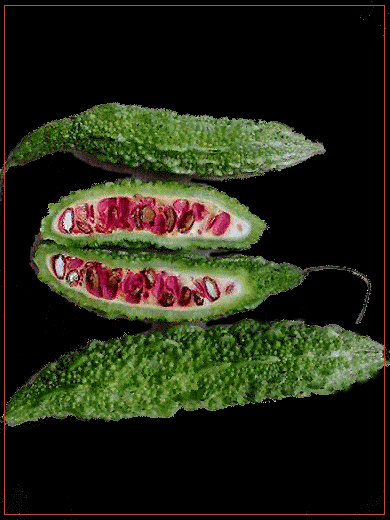 May 13, 2016 — CANADA (SUN) — A journey through India: border to border, bhoga to prasadam.
Our first segment on karela began with the passage in Caitanya-caritamrta Antya lila 10, which described how Damayanti put a powder of dried bitter vegetables into Raghava's bag, for Lord Caitanya to eat while traveling. We don't know if Damayanti used karela, neem, or other bitters, or if she powdered the fruit, seeds or leaves. Perhaps she prepared a combination of several of these things. Powdered bitter melon is commonly found on the market today. It is generally made from the dried fruit, which is processed down to a fine yellow-brown powder.
In fact, three are three constituent parts of karela that are beneficial to health, including three types of oil in the seeds, and various substances in the fruit and leaves. All are reported to help reduce blood-sugar levels. Bitters are excellent digestive aids and appetite stimulants, much like ginger. Ayurveda also employs karela for curing eye and cardiovascular diseases, stomach disorders, and mild inflammation.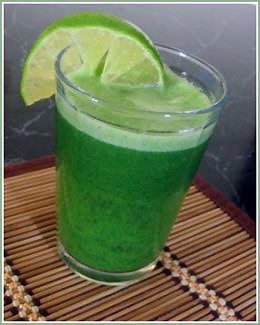 Fresh bitter melon juice (from fruit)
Bitter melon is used to prepare teas and in Southeast Asia, various drinks are commercially available. In the West they can be found in some Asian and Indian groceries. You can also make your own teas using a decoction of either the fruit or leaves. The seeds and pith are said to contain the most beneficial substances for tea, and the riper the fruit used, the more bitter the tea.
Whether bitter melon tea is made from the leaves, seeds, or fruit, it is an excellent, healthy caffeine free tea. It also combines nicely with other brewed herbal teas to improve the taste. Mint and Valerian work well, because they have their own strong flavors. You can also add slices of fresh ginger while brewing the melon tea.
As with all things, bitter melon should be taken in moderation. It's recommended that you take no more than two ounces of bitter melon juice (or two melons) a day, as excessive consumption may cause mild abdominal pain or diarrhea. Diabetics should consult their doctor to adjust meds before starting a bitter melon regime.
The seeds can be added to food in a powdered form, made by simply drying the seeds completely, then pulverizing them. The fruit can also be dried in sunlight or in a dehydrator, and powdered.
While bitter melon is consumed throughout Asia, Africa, Europe and North America, nowhere is it elevated to culinary heights greater than in Bengal. The traditional preparation called shukto, or sukuta, is perhaps the finest of all ways to prepare karela. Bengalis always take the bitter foods at the start of a meal, usually with plain rice, to stimulate the digestive system and appetite. It can be fried, added to dal, boiled and mashed with potato, or cooked into a more complex vegetable stew, shukto. There are endless ways to curry bitter melon, either pan fried, simmered or baked. It's often paired with eggplant, curd, lentils or greens in a mustard sauce.
When choosing your karela at the grocery, pick fruits according to the preparation you're making. If frying chips, you can use very large, older melons. Stuffed preps should use medium-sized melons, so there's room for the stuffing, but chose the most tender ones. For shuktos, we like to use the baby melons, which can be kept in whole pieces (halved).
While it's true that there's some toxicity in the white pith, it's usually eaten, as are the seeds. Some say you shouldn't eat the melon if the interior has gone reddish, but this simply indicates a ripe fruit. Even the very ripest karela can be eaten, although it's quite bitter, and for that reason it's considered top choice in some preps. The seeds are best either fried to crispy, or cooked into sabjis so they become soft. Otherwise, you can separate them out and fry up later as a snack.
Following are just a few of the many delicious dishes you can make for Sri Krsna with karela. You'll find a collection of nearly 20 more traditional karela recipes in our HareKrsna.com recipe section.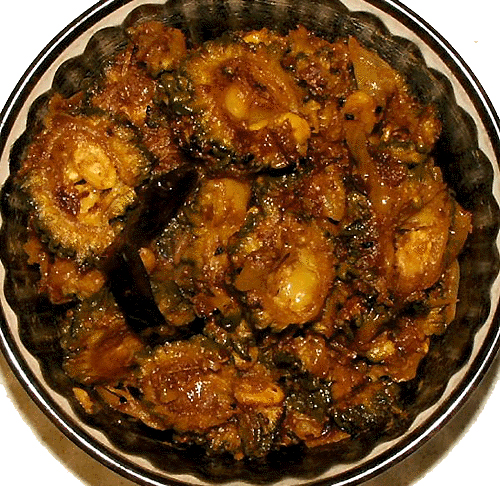 Karela Bhaji



Karela Bhaji with Tamarind

This is a nice dry curry that pairs bitter melon with the tartness of tamarind. Surprisingly enough, many recipes for karela include other souring agents, which actually help to remove the bitterness from the melon. In North India raw mangoes are used, fresh or dried (amchoor), and in South India, tamarind. You can also use anardana (powdered pomegranate seed).

Ingredients:

4 medium karela, tender
1 Tblsp. tamarind paste
2 inch knob fresh ginger, minced
4-5 green chillies, minced
ghee for frying
2 tsp. fennel seeds, coarsely ground
red chilli powder to taste
1 tsp. turmeric powder
2 tsp. coriander powder
1 tsp. cumin powder
Salt to taste

Halve and de-seed the karela, then cut into thin slices (1/2"). Salt for 30 minutes, then rinse and pat dry. In a little ghee, fry the ginger and green chilis until crispy, then add the karela and cook for 10 minutes. Add all the spices and tamarind, mix well, and cook with lid on until most of the liquid is gone and the karela is soft. Can be offered hot or cold.




Dry Karela Chutney

Ingredients:

3 large Karela, de-seeded
Mustard seeds - 1/4 tsp
Fenugreek seeds - 1/8 tsp
Peanuts - 1/2 cup, coarse ground
Sesame seeds - 2 tbsp
Turmeric powder - 1/4 tsp
Red Chili powder - to taste
Coriander powder - 1 tsp
Cumin powder - 1/2 tsp
Lime or lemon Juice - 1 tbsp
Salt to taste
Ghee for frying

In a little ghee, fry the peanuts until they darken a few shades, then set aside. Fry all the spices except fenugreek, until the mustard pops, then add fenugreek and fry for another minute. Add karela pieces and fry until well done. Add all the remaining ingredients and cook on medium low for 20 to 30 minutes. Add scant water if necessary to keep from sticking.




Pavakka Theeyal (Bitter Melon and Fried Coconut)

Ingredients:

Bitter melon, 2 medium size
Turmeric powder – 1/2 tsp
Green chilies, slit and de-seeded – 2
Coconut, grated – 1 cup
Coriander powder – 1 tbsp
Chilly powder - 2 tsp
Fenugreek seeds – 1/4 tsp
Dry red chilies, deseeded – 4
Mustard seeds – 1/2 tsp
Curry leaves – a sprig
Tamarind paste – 1 Tblsp
Salt to taste
Water, 1 cup
Ghee for frying

Salt the bitter melon in the usual way. In a little ghee fry the karela pieces with the green chilis and turmeric. (This is a spicy chutney, so cut down on the chilis if you like.) Cover and cook until done, and cook on low heat so little or no water is needed.

Meanwhile, dry roast the coconut until brown. Fry the red chili powder, mustard and curry leaves in a little ghee, adding the fenugreek and coriander last, then add the bitter melon and mix well. Mix the coconut with tamarind, salt and water and stir well, then pour this gravy over the karela. Cook on low heat with lid on until nicely done. You can include other vegetables in this dish too, like potatoes, carrots or beans.




Pavakka Kichadi




Pavakka (Bitter Melon) Kichadi

Ingredients:

Bitter Melon – 1 medium size
Green chilies – 3-4
Grated coconut – 1/2 cup
Mustard seeds – 1/4 tsp
Yogurt – 1/2 to 1 cup
Mustard seeds – 1/2 tsp
Dried red chilis
Curry leaves, a sprig
Salt to taste
Ghee or Coconut oil

Crush 1/4 tsp mustard seeds. Grind the coconut to a smooth paste with a little water, and add the crushed mustard. Set aside. De-seed and salt the bitter melon, then rinse and pat dry. Cut into thin slices, then fry in a little ghee until golden brown. Set aside.

Using the same ghee, add curry leaves and green chilies and fry until crisped. Combine well with the karela pieces and add salt, coconut paste, and yoghurt, and mix well. Temper the remaining spices and add to the mixture, blending well, then offer.

The Sun News Editorials Features Sun Blogs Classifieds Events Recipes PodCasts
Copyright 2005, 2016, HareKrsna.com. All rights reserved.