Prasadam - Poha, Part 3
BY: SUN STAFF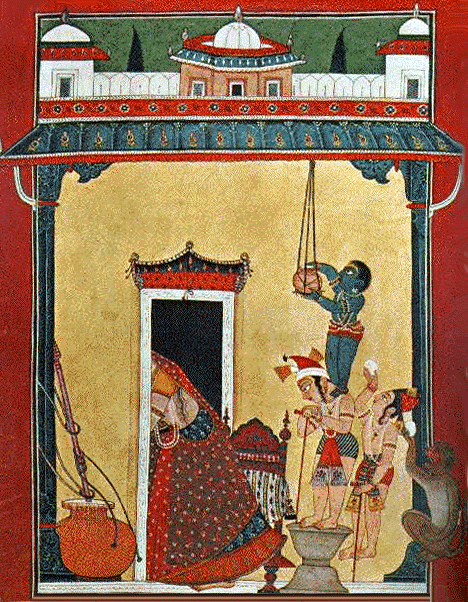 The Butter Thieves
May 01, 2016 — CANADA (SUN) — A journey through India: border to border, bhoga to prasadam.
Another of the wonderful pastimes found in Krsna culture that is associated with poha, flattened rice, is the festival of Dahi Handi. Dahi Handi is observed on the day after Janmastami, and today these celebrations go on around the world. In Maharashtra and Goa, it is an extremely popular event. Memorializing Sri Krsna's pastimes of stealing butter from the kitchens of Vrindavan with His friends, the Dahi Handi pots are hung high, and devotees compete to see which group can lift one of the their members high enough to grab the pot and disperse its content.
Dahi Handi pots are traditionally filled with a mixture of poha, curd (dahi) and jaggery, and the pot (handi) is decorated with cloth and flowers. The devotees form a human pyramid, telescoping upwards, with the bravest, nimblest (and lightest) member at the top, trying to grab the pot.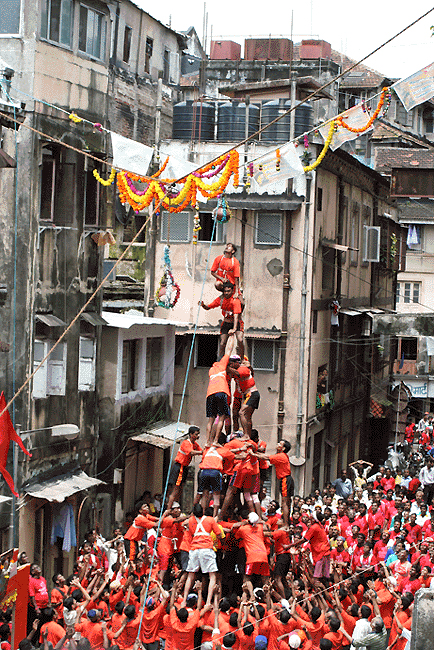 Dahi Handi festival
The festival is also known as Gopal-kala, and as the boys ascend the pyramid towards the pot, the crowd chants Govinda ala re, accompanied by drums and kartals. The girls in the crowd take the role of the women of Vrindavan, and try to interfere so the rascal boys can't get at the Dahi Handi pot so easily. They splash the boys with water and push them, trying to break the pyramid.
A detailed narrative of Sri Krsna's pastimes stealing butter is found in Srimad Bhagavatam 10.8.29-30. In fact, we read that Krsna and His friends were engaged in stealing not just butter, but also milk and curd:
Srimad Bhagavatam 10.8.29

"Our dear friend Yasoda, your son sometimes comes to our houses before the milking of the cows and releases the calves, and when the master of the house becomes angry, your son merely smiles. Sometimes He devises some process by which He steals palatable curd, butter and milk, which He then eats and drinks. When the monkeys assemble, He divides it with them, and when the monkeys have their bellies so full that they won't take more, He breaks the pots. Sometimes, if He gets no opportunity to steal butter or milk from a house, He will be angry at the householders, and for His revenge He will agitate the small children by pinching them. Then, when the children begin crying, Krsna will go away.

PURPORT
The narration of Krsna's naughty childhood activities would be presented to mother Yasoda in the form of complaints. Sometimes Krsna would enter the house of a neighbor, and if He found no one there, He would release the calves before the time for the cows to be milked. The calves are actually supposed to be released when their mothers are milked, but Krsna would release them before that time, and naturally the calves would drink all the milk from their mothers. When the cowherd men saw this, they would chase Krsna and try to catch Him, saying, "Here is Krsna doing mischief," but He would flee and enter another house, where He would again devise some means to steal butter and curd. Then the cowherd men would again try to capture Him, saying, "Here is the butter thief. Better capture Him!" And they would be angry. But Krsna would simply smile, and they would forget everything. Sometimes, in their presence, He would begin eating the curd and butter. There was no need for Krsna to eat butter, since His belly was always full, but He would try to eat it, or else He would break the pots and distribute the contents to the monkeys. In this way, Krsna was always engaged in mischief-making. If in any house He could not find any butter or curd to steal, He would go into a room and agitate the small children sleeping there by pinching them, and when they cried He would go away.

Srimad Bhagavatam 10.8.30

"When the milk and curd are kept high on a swing hanging from the ceiling and Krsna and Balarama cannot reach it, They arrange to reach it by piling up various planks and turning upside down the mortar for grinding spices. Being quite aware of the contents of a pot, They pick holes in it. While the elderly gopis go about their household affairs, Krsna and Balarama sometimes go into a dark room, brightening the place with the valuable jewels and ornaments on Their bodies and taking advantage of this light by stealing.

PURPORT
Formerly, in every household, yogurt and butter were kept for use in emergencies. But Krsna and Balarama would pile up planks so that They could reach the pots and would then pick holes in the pots with Their hands so that the contents would leak out and They could drink it. This was another means for stealing butter and milk. When the butter and milk were kept in a dark room, Krsna and Balarama would go there and make the place bright with the valuable jewels on Their bodies. On the whole, Krsna and Balarama engaged in stealing butter and milk from the neighborhood houses in many ways."
While the sastric description of Krsna's pastimes mention His theft of butter, curd, and milk, we don't read about poha, chipped rice, being part of this thievery. There are, however, other references to the Lord eating mixtures of curd and rice fed to Him by his friends and Mother Yasoda. The term kala is used to describe how at lunchtime, Krsna would mix together His foodstuffs with other foods brought by His cowherd friends, so they could share it. This mixture of milk, curd, butter, rice, and other items is called kala.
Whether or not this kala mixture is the pastime behind the traditional use of poha mixed with curd for Dahi Handi we aren't sure, but it seems possible. Poha may also be included for the sake of consistency. When the Gopal-kala, or Dahi Handi mixture is made, the poha soaks up the liquids and becomes somewhat dry, making it much easier to distribute the prasadam to participants than dealing with curd, spilled from on high.
Today, a wide range of ingredients is found in Dahi Handi preparations, including fruits and pickle that are tucked into the middle of the earthen pot, as an extra treat. Following is a nice recipe for an opulent version of Gopal-kala, for use in Dahi Handi pots.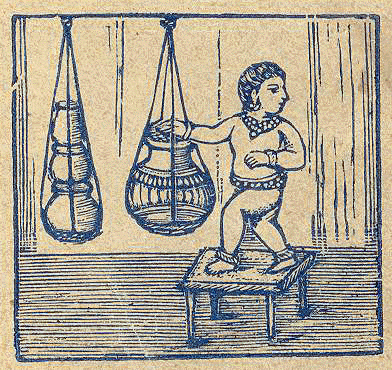 Krsna stealing curds
Wood Engraving, Calcutta, c. 1905
Gopal-kala
Ingredients:

1 cup poha, washed and drained (can be thin or thick)
1/2 cup murmura (puffed poha)
1/2 cup lahiya (dry roasted millet)
2 cups fresh curd (from full cream milk)
1 cup buttermilk
1/4 cup milk
1/4 cup jaggery
pinch of salt
2 green chillies finely cut
finely chopped coriander leaves
a few pieces of cucumber, banana and guava
a little ball of lemon pickle
1 Tblsp. soaked bengal gram dal

Combine all the ingredients together except the lemon pickle and cucumber/fruit pieces. Add extra poha, curd or milk to get the desired consistency. Put the mixture into the earthen pot, then tuck a small ball of the lemon pickle down into the pot, and put a small ball of the cucumber and fruit pieces elsewhere in the pot. Offer to Krsna, then hang the pot high for the Dahi Handi festivities.
Nutritional and Medicinal Benefits of Poha:
Cooking with poha not only reminds us of so many wonderful Krsna pastimes, it also serves as a valuable addition to the nutritional value and healthfulness of preparations. Because the rice flakes are not polished when producing poha (meaning they are not buffed with glucose or talc, like many white rices), they maintain their high nutritive elements.
Poha is an excellent source of iron, having 20 mg per 100 grams of rice flakes, as well as Vitamin B3. Poha has 345 calories per 100 grams. It is often recommended for those having problems with fluid retention, and because it's low in sodium and high in potassium and magnesium, it's an excellent foodstuff for those with chronic heart disease.
Because poha is gluten-free, it is highly recommended for use in special diets for autistic people. Used as a replacement for oatmeal, it's a favored ingredient in oatmeal cookies for autistic children.
Ayurveda also places high value on poha, which the science refers to by the same name given in Rg Veda -- pruthuka. It is incorporated in a poultice preparation for use on strained or injured joints, as noted in the following recipe:
Pruthuka Pottali Swedan (Avil Kizhi)
Ingredients:

Poha flakes
Chincha (Tamarind)
Garlic
Shatava herb (Balant shepa)

Prepare hot infusions of tamarind. Soak the poha flakes in the tamarind infusion and add garlic, shatava and mix. Divide into two equal parts to prepare pottali (boluses). The rest of the tamarind infusion is used to heat the boluses. Massage the effective part (knee, elbow, ankle, etc.) with warm oil, then apply warm boluses of the tamarind-infused poha mixture, one after another, in 15 to 20 minute sequences. Apply a final course of warm oil.
Excellent Prasadam Recipes using Poha
We'll close this segment with several more of our favorite recipes featuring poha, with an aim to demonstrating the great versatility of this foodstuff in snacks, sweets, salads and breads. We'll begin with the most uncommon preparation – a sweet and crunchy salad.
Pancha Kajjaya
Ingredients:

4 cups thin poha
ghee for frying
4 cups grated fresh coconut
1½ cups powdered jaggery
4 Tbsp white sesame seeds
1 tsp cardamom powder
2 Tbsp honey
1 banana for garnish

Lightly fry the poha in ghee, the drain. Mix the poha and coconut and set aside for 30 minutes. Add the rest of the ingredients and mix well. Arrange the mixture in a shallow dish and pour the honey overtop. Decorate with thin slices of ripe banana. (You can also dry coconut if fresh isn't available. Just soak it in water for an hour then squeeze out the moisture.)
There are a number of excellent bread recipes that poha can be used in. While we'd never endeavor to make them by hand, you can find poha papadam on the grocery shelves. The following recipe for Attukula Attu, poha dosa, is a very light and flavorful type of dosa. Sometimes called Sponge Dosa, is has a very soft center with slightly crisp edges.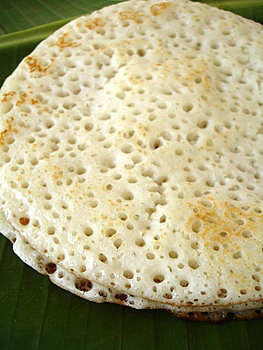 Poha Dosa
Attukula Attu (Poha Dosa)

Attukula is made by soaking poha and fenugreek seeds in sour buttermilk overnight. The mixture is ground to a smooth paste the next morning. Unlike the masala dosa, the Attukula dosa batter isn't made by pushing the batter into a large concentric circle on the tava. Instead a ladle of batter is poured on a hot tava and slightly spread, being allowed to spread on its own while covered with a lid. Cook until the soft and spongy texture is achieved.
Ingredients:

2 cups rice (regular Basmati)
1/2 cup poha
3 1/2 cups thick sour buttermilk
1 tsp fenugreek (methi) seeds
1/4 tsp baking soda
1/2 tsp salt
ghee for frying

Soak the rice, poha, and methi seeds overnight in thick buttermilk. Next morning, grind to a smooth paste, the consistency of a pouring batter. Add salt and baking soda and combine well. Cover with a light cloth a set aside for 2 hours.

Heat tawa or griddle to hot (ready when a drop of water sizzles), then reduce heat. Pour a ladleful of dosa batter and spread lightly in the center. Drizzle a little ghee around the edges of the dosa to crisp the edges. Cover with lid and cook on medium heat for a minute until it begins to brown. Flip the dosa and cook for about half a minute without the lid. When both sides are done, offer hot.
Poha Sweets
Like poha chiwda snacks, there are endless recipes available for using poha in milk sweets. Badami Doodh Poha is a traditional sweet made by soaking almonds in water, then grinding to a paste. The paste is cooked in milk, then poha and sugar is added. The mixture is simmered, then add cardamom, a little fresh cream, beat and chill before offering.
Aval Vellam is a favorite South Indian sweet, usually offered at Janmastami and Saraswati Puja. Thick poha (1-1/4 cup) is soaked for 5 minutes, then thoroughly drained. Melt ¾ cup jaggery in ½ cup water, filter to remove impurities, then cook it down into a thick syrup (string consistency). Stir in the poha, ½ cup coconut, a few cashews, almond slices, raisins, and cardamom. Remove from heat, mix well, and offer.
Poha Kheer is a wonderful preparation to offer Krsna. You'll also find a nice recipe for Sweet Fruit Ladoos from our Raghava's Bag cookbook. This preparation mixes poha with khoya (ricotta), cream and fruit for a wonderful sweetball.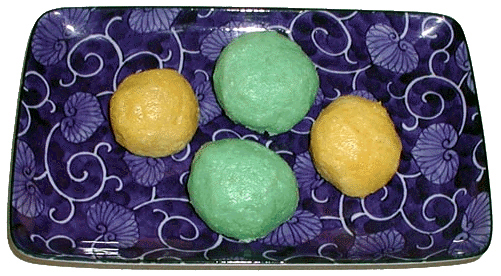 Sweet Fruit Poha Ladoos
Aval Payasam (Poha Kheer)
Ingredients:

Poha flakes - 1/2 cup
Ghee – 1Tbsp
Milk - 1 cup
Evaporated milk - 1 cup
a handful each of cashews and almonds
Jaggery to taste
1 Tblsp Coconut
a few strands Saffron
a pinch of Cardamom powder
a tiny pinch of Camphor

Dry grind the almonds and cashews to a fine powder, setting a few whole pieces aside to roast. In hot ghee, fry the nuts until golden. Set aside. Next, fry the poha in ghee for a few minutes, until it darkens a shade or two. Add the milk and bring to a boil. (Add more milk if it's too thick). Add the ground up nuts, evaporated milk, coconut, saffron, cardamom and camphor. Simmer for five minutes. Garnish with roasted nuts, and offer.

The Sun News Editorials Features Sun Blogs Classifieds Events Recipes PodCasts
Copyright 2005, 2016, HareKrsna.com. All rights reserved.