Middle Kingdoms of India, Part 34
BY: SUN STAFF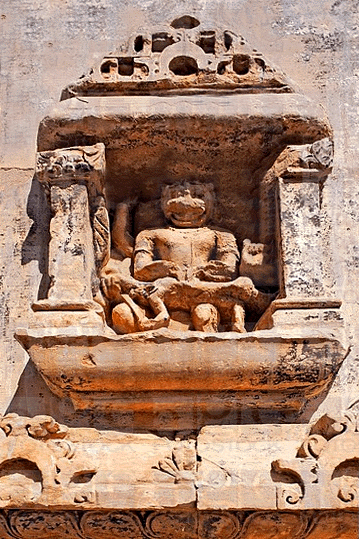 Lord Narasimhadeva
Maitraka dynasty statue at Sabarkantha , Gujarat
May 28, 2015 — CANADA (SUN) — A serial presentation of India's great history, religious movements and temple architecture.
The Maitrakas
'The name Maitraka is said to derive from Mithra, the Sun or Sun deity, also a synonym of Mihira. The Maitrakas, the worshippers of Mitra/Mithra, are thus identified with the Mihiras.[50b-g]
There is evidence that the Maitraka rulers had switched to Shaivism, but when Chinese traveller Hieun-Tsang visited Vallabhi (modern Vala, Gujarat) during second quarter of the 7th Century, he found its ruler to be a Buddhist follower. When I-Tsing, another Chinese traveller visited Vallabhi in the last quarter of 7th Century, he found Vallabhi as a great center of learning, including Buddhism.
Gunamati and Sthiramati were two famous Buddhist scholars of Vallabhi at the middle of the 7th Century. Vallabhi was famous for its catholicity and the students from all over the country, including the Brahmana boys, visited it to have higher education in secular and religious subjects. We are told that the graduates of Vallabhi were given higher executive posts than their peers.
During the reign of the next ruler, Dharasena III, north Gujarat was included in the Maitraka kingdom. Dharasena II was succeeded by another son of Kharagraha I, Dhruvasena II, Baladitya. He married the daughter of Harshavardhana. His son Dharasena IV assumed the imperial title of Paramabhattaraka Mahrajadhiraja Parameshvara Chakravartin. Sanskrit poet Bhatti was his court poet.
The Maitrakas ruled from their capital at Vallabhi, coming under the rule of Harsha in the mid-7th Century, but they retained local autonomy, regaining their independence after Harsha's death.
Maitraka rule ended with the sacking of Vallabhi by the barbarians in 524 A.D. There is no agreement among the scholars as to who these barbarians were.
FOOTNOTES:
[50b] Journal of the Asiatic Society of Bombay, p 245, Bhau Daji (by Asiatic Society of Bombay, Royal Asiatic Society of Great Britain and Ireland, Bombay Branch).
[50b] Gazetteer of the Bombay Presidency, 1904, p 142, 476, by Bombay (India : State); A Concise History of the Indian People, 1950, p 106, H. G. (Hugh George) Rawlinson.
[50c] Advanced History of India, 1971, p 198, G. Srinivasachari; History of India, 1952, p 140.
[50d] Views of Dr Fleet, Dr V. A. Smith, H. A. Rose, Peter N. Stearns and other scholars
[50e] See: The Oxford History of India: From the Earliest Times to the End of 1911, p 164, Dr Vincent Arthur Smith
[50f] History of India, 1907, 284 A. V. Williams Jackson, Romesh Chunder Dutt, Vincent Arthur Smith, Stanley Lane-Poole, H. M. (Henry Miers) Elliot, William Wilson Hunter, Alfred Comyn Lyall.
[50g] Also: Journal of the United Service Institution of India, United Service Institution of India, p331.

The Sun News Editorials Features Sun Blogs Classifieds Events Recipes PodCasts
Copyright 2005, 2015, HareKrsna.com. All rights reserved.