Prasadam - Camphor, Part 3
BY: SUN STAFF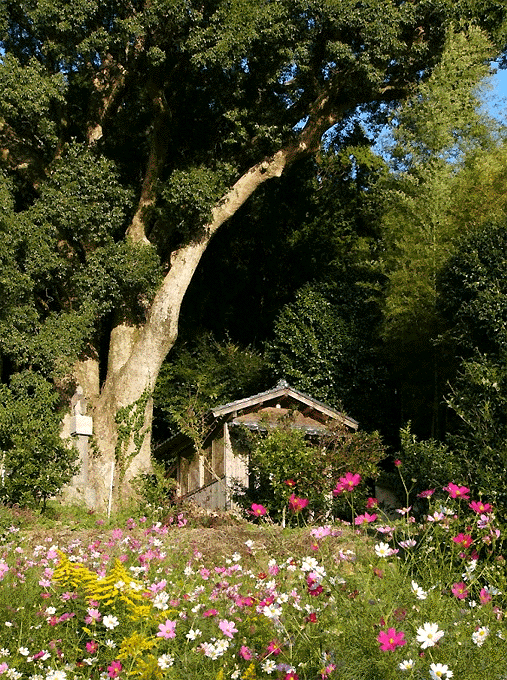 An ancient Camphor Laurel tree
May 08, 2010 — CANADA (SUN) — A journey through India: border to border, bhoga to prasadam.
The highly aromatic qualities of camphor are referred to in numerous sastric descriptions, most referring to the sweet qualities of Radha and Krsna's smiles and personal fragrance. But camphor is also used to illustrate the energetic qualities of two things coming together. For example, in Sri Caitanya-caritamrta there are passages describing the pastimes of Lord Caitanya and Ramananda Raya, such as the following:
Madhya Lila 8.304-305:

"The activities of Sri Caitanya Mahaprabhu are like condensed milk, and the activities of Ramananda Raya are like large quantities of sugar candy. Their meeting is exactly like a mixture of condensed milk and sugar candy. When they talk of the pastimes of Radha and Krsna, camphor is added. One who tastes this combined preparation is most fortunate."
In Antya Lila, we find this passage, where Lord Caitanya is pretending to chastise Ramananda Raya over a verse he read to the Lord:
Antya Lila 1.179-180:

"Your exalted poetic descriptions of the mellows of Lord Krsna's pastimes are like an ocean of nectar. But why have you put in a false prayer about Me? It is like a drop of detestable alkali.

Srila Ramananda Raya objected, "It is not alkali at all. It is a particle of camphor he has put into the nectar of his exalted poetic expression."
These references to camphor give us a great sense of what cooking with camphor is actually like. Only a tiny pinch is needed to add a great deal of flavor and aroma to the dish. Like something alkali or unpleasant to taste, camphor taken directly would be entirely unpalatable, but when mixed with nectar it creates an altogether pleasing effect.
In part two of this segment on camphor, we mentioned several of the preparations Damayanti made for Lord Caitanya to eat while traveling. But these are not the only preparations mentioned in sastra that contain camphor as an ingredient.
Camphor Laurel tree in flowers (inset: mature fruit)
Madhya Lila 14.30:

"There were also the sweets known as hari-vallabha and sweets made of senoti flowers, karpura flowers and malati flowers. There were pomegranates, sweets made with black pepper, sweets made with fused sugar, and amrti-jilipi."
The use of karpura (camphor) flowers in the sweet called hari-vallabha is very interesting. Presumably the tiny flowers were used whole in the preparation, with other edible flowers.
Antya Lila 6.58:

"The other half was mixed with condensed milk and a special type of banana known as canpa-kala. Then sugar, clarified butter and camphor were added."
The following reference is also very interesting, because Advaita Acarya is offering manda, a type of soft sandesh, and a pot of camphor (karpura-kupi).
Antya Lila 10.118:

"These preparations -- paida, sweet rice, cakes made with cream, and also amrta-gutika, manda and a pot of camphor -- have been given by Advaita Acarya."
What this 'pot of camphor' is, we don't exactly know. Elsewhere there is a description of a preparation offered by Srivasa Acarya, who gave the Lord sweet cakes and karpura kupi, being a preparation scented by camphor. Similarly, we can assume that Sri Advaita was offering something like camphor-infused yoghurt or nectar, and not a pot full of raw camphor.
We also find this verse from Antya Lila, describing the wonderful preparations Sri Radha made for Krsna.
Antya Lila 18.106:

"At home Srimati Radharani had made various types of sweetmeats from milk and sugar, such as gangajala, amrtakeli, piyusagranthi, karpurakeli, sarapuri, amrti, padmacini and khanda-ksirisara-vrksa. She had then brought them all for Krsna."
The karpurakeli Radharani made, being small pies or tarts, are described in Govinda-lilamrita by Srila Krishna das Kaviraja Goswami:
Govinda-lilamrita Verse 42:

"Carefully prepare the soft, nectar-defeating tarts called karpura keli and amrita keli. When Krishna samples them, he becomes invigorated. But within the three worlds, only you know how to make such delicious pastries."
The Rasa-tarangini Tika, chapter 19.50-51 gives the recipes for preparing these sweets:
"Karpura keli —First yogurt is added to boiling milk to make curd. Then rice powder, yogurt, black pepper, sugar, ground coconut, jatiphala (a fragrant spice), cardamom, cloves and bananas are mixed into a paste. Next mung dahl is ground into powder, rolled in the above mentioned ingredients, and fried in ghee, adding honey and camphor.

Although these are the directions, no one can prepare such recipes like Radha—for with her unique touch, they become divine."
Another famous use of camphor in Krsna prasadam is in the very ancient preparation offered at Puri Jagannatha Temple, called Bhat Payasa. The recipe for this delectable rice pudding is said to have gone unchanged for over 2,000 years.
Bhat Payasa from Jagannatha Puri Temple
Ingredients:

2 tablespoons ghee or unsalted butter
3/4 cup long grained rice, washed and dried
1/2 bay leaf
2 litres milk
1/2 cup ground rock sugar, or raw sugar
1/4 cup currants
1/2 teaspoon ground cardamom seeds
one pin-head quantity of pure cooking camphor (optional)
1 tablespoon toasted nuts for garnish
Heat the ghee or butter in a heavy pot over medium heat, and toast the rice for a minute. Add the bay leaf and milk. Bring to the boil, reduce the heat, and simmer, stirring occasionally, until reduced to half it's original volume. Add the sweetener, currants, and cardamom, and simmer the mixture until it reaches one fourth of it's original volume, and is thick and creamy. Stir in the optional camphor, and cool to room temperature, or refrigerate until chilled. Serve garnished with the toasted nuts.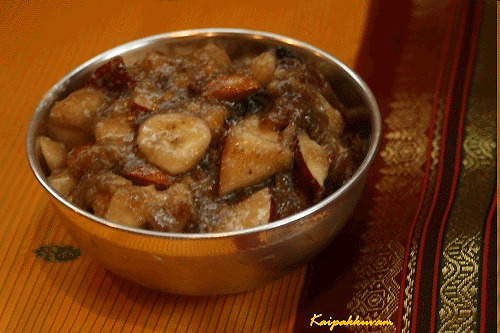 Panchamirtham
Panchamirtham (Five Nectars)
Panchamirtham is one of the preparations traditionally offered to Lord Murugan at South Indian temples. This opulent chutney is usually made with the best Viruppachchi plantains, because they have minimal moisture content. The pancha (five) key ingredients are banana, honey, jaggery, kalkandu and ghee.
Ingredients:

1 Banana or plantain
1 tsp. Raisins
6 Dry dates
1 Apple
¾ cup Jaggery
¼ cup Honey
3 tsp. Ghee
1 tsp. Kalkandu (sugar candy)
1 tiny pinch Camphor
½ tsp. Cardamom powder
Chop banana and apple into small pieces. Mix all the ingredients, adding the honey and ghee last. Mix until the jaggery dissolves.
Shahi Rezala (Royal Kurma)

Ingredients:

2 large Potatoes
2 Carrots, sliced
1 small Cauliflower
2 Tblsp. Butter
1 Tblsp. Ghee
2 Bay leaves
1 knob Ginger, minced
2 green Cardamoms
4 Cloves
1 tsp. Cumin seeds, roasted
2 tsp. Coriander powder
½ tsp. Cinnamon
pinch of Saffron
¼ tsp. Asofoetida
1 tsp. chili powder
4 Tblsp Yogurt or Sour Cream
1 tsp. Paprika
Salt to taste
¾ cup Water
1 ½ tsp. Sugar
a pinch Camphor
2 Tblsp. nuts, ground to paste
Clean and steam the vegetables until half cooked. In the ghee fry the ginger and all the spices except saffron, paprika and camphor. Add a little water to cool the oil, then mix in the sour cream or yoghurt a little at a time until it thickens. Add the saffron and paprika and nut paste and blend well. Add the steamed vegetables and remaining water, and all remaining ingredients. Simmer with lid on for 20 minutes, and offer.
Chakara Pongal

Ingredients:

1 cup Rice
¼ cup Moong dal
2 cups Milk
1 cup Water
½ cup Jaggery
1 cup Ghee
4 Cloves
1 tsp. Nutmeg
¼ cup Cashews
¼ cup Golden Raisins
¼ tsp. Cardamom powder
1 pinch Camphor
Roast the dal in a dry pan. Cook the rice and roasted dal in the milk and water until fully cooked. Melt jaggery in a little hot water and add to the rice and dal. Fry the cashews, raisins and cloves in little ghee, then mix them along with the remaining ingredients into the rice mixture. At the very last, add the camphor and blend well.

The Sun News Editorials Features Sun Blogs Classifieds Events Recipes PodCasts
Copyright 2005, 2010, HareKrsna.com. All rights reserved.