Prasadam - Jaggery, Part 3
BY: SUN STAFF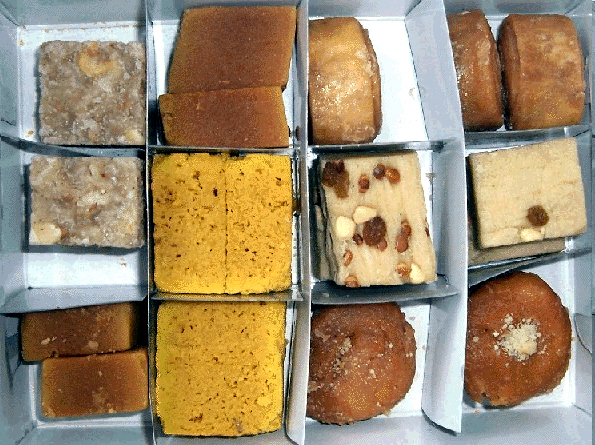 Jaggery sweets
Apr 21, 2016 — CANADA (SUN) — A journey through India: border to border, bhoga to prasadam.
The nutritional and medicinal uses of jaggery are described in ancient Ayurvedic texts, back to 2,500 years old. Jaggery contains a wealth of proteins, minerals and vitamins that are essential constituents for the body, and is a particularly rich source of iron. Being superior to white sugar thanks to the absence of chemicals and animal bone used for processing, jaggery also has 28 grams per kilo of mineral salts, while refined sugar has only 300 milligrams.
In Kerala, jaggery is commonly used in a beverage called Chukkuvellam, which is an Ayurvedic tea made of various steeped herbs, dried ginger and jaggery. Ayurveda recommends it for purifying the blood, preventing rheumatic afflictions, regulating the liver's function, and as a respiratory aid.
Given its wonderful taste, multitude of uses in different types of preparations, nutritional and medicinal value, and long shelf life, it's hard to find fault with jaggery. The only complaint to be heard is that jaggery may have some dust or sand particles in it. That's almost unavoidable, given that it's usually produced right in the fields. While the sugar cane is being harvested on one side of the field, the juice is being cooked down nearby. The liquid is filtered before being poured into the molds, but some particulate can be expected. Better a little field grit than bone char, however. Some cooks take the extra step of pouring their jaggery syrup through cloth before using it, and this works very well.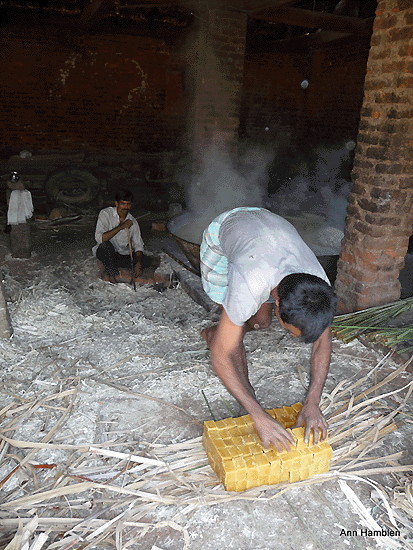 Jaggery can be purchased in blocks of many sizes. We keep a few of the 10 lb. blocks wrapped in burlap on hand, along with several of the smaller cones. As seen above, these can be artistically cut and stacked into nice temple shapes, as decoration. They're also fun to carve up for Govardhana Hill.
Because of its density, jaggery can either be shaved, chopped or split into pieces, depending on your preference. If you place a knife in the middle of the block and tape it with a mallet, the piece will break apart nicely. The small pieces and powder can be kept handy for daily use, and the larger pieces stored in a sealed container.
In our first segment on jaggery, we included a recipe for Unni Appams, a preparation regularly offered to Padmanabha Visnu at Trivandrum temple. Another temple preparation commonly presented to the deities in Tamil Nadu is called Chaney Panchakajjaya, offered in the month of Shravanam (Saawan). This powdered gram dish is a favorite prasadam item during festival days, including Laksmi Puja.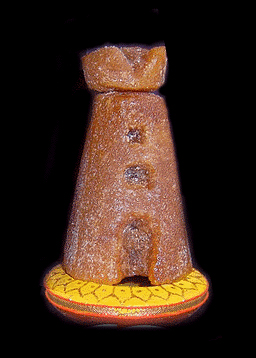 Chaney Panchakajjaya
Ingredients:
Chana dal, powdered - 1 cup
Jaggery, roughly diced – 4 to 6 tablespoons
Black Sesame seeds - 1 tablespoon
Ghee - 2 tablespoon
Cardamom powder - 1/2 teaspoon
Coconut, grated - 6 tablespoons
Melt the jaggery in ghee and cook until it thickens, then add the coconut and cardamom. In a separate pan, roast the sesame seeds, then add to the jaggery, mixing well. Add the powdered chana dal to the mixture, blending well, and let the mixture cool. When it can be easily handled, roll into balls or other shapes.

Another traditional dish prepared for the Tamil New Year is Pongal, or Paniyaram. It is prepared much like the Panchakajjaya, but uses pounded rice instead of dal. The Tamil New Year's festival menu traditionally includes two preps: a cooked mango salad and a neem flower salad.
First the bitter neem flower salad is prepared, being spiced with various flavors then cooked in a jaggery syrup to take off the edge. This dish is eaten first, symbolically taking 'the bitterness of life', getting it out of the way, then moving forward. Next the mango salad is offered, having raw mango that is tempered with mustard seeds and red chilies, then cooked in jaggery syrup. The sweet & sour flavor is meant to signify both the good and bad in life.
Another popular Tamil use for jaggery is the drink known as Paanakaram, which is commonly enjoyed during the summer months. Made by added to water some lemon juice, a little tamarind paste, jaggery and cardamom or ginger, it is traditionally stored in chilled earthen pots. This is preferable to storing the beverage in the fridge, which makes it too cold for the body to comfortably enjoy.
In the chilly months, warm milk with a little jaggery is very satisfying, and is a nice evening preparation to offer the deities before They take rest.
There are so many excellent jaggery preparations, it's difficult to choose just a few recipes, but the following are some of our favorites. They demonstrate the versatility of jaggery, which we hope the reader will be inspired to incorporate into more of their own prasadam preparations.
Jaggery production at Muzaffarnagar Market
Imli Raita
Ingredients:

Imli (tamarind) paste, 100 g (3.5 ozs.)
Jaggery, 3/4 cup
Water for syrup, 1-1/4 cup
Chana dal, 100 g (3.5 ozs.)
Red chilli powder, 1/4 tsp
Cumin (jeera) powder, 1/2 tsp
Salt to taste
Heat the water, and soak the imli and jaggery for 30 minutes. In another pan boil the chana dal until just tender, about 5 minutes (don't overcook). Press the imli and jaggery through a sieve to get a clean syrup. The syrup should be the consistency of tomato sauce. Add all the chana dal and spices, and mix well. Serve with rice, chapatti or roti.
Pumpkin Pachadi
Ingredients:

Pumpkin – 1 cup
Tamarind juice - 1 cup
Rice flour - 1/2 tsp
Mustard seeds - 1/4 tsp
Urad dal - 1/4 tsp
Red chili flakes - 1
Jaggery, powdered - 1/2 cup
Salt - a pinch
Curd or Yogurt - 1/2 cup
Ghee - 1 tsp
Cut the pumpkin into pieces. Use tamarind juice, just enough to immerse the vegetable. Add salt and cook well. After the pumpkin is cooked, add the jaggery and stir until it dissolves. Mix the rice flour in little water and add to the pachadi, and bring to a boil. Garnish with the mustard and dal, fried in ghee. After the pachadi has cooled down, add the curd and mix well. You can also use sweet potatoes in place of pumpkin.
Sprouted Green Gram Salad
Ingredients:

2 cup Sprouted green gram
3/4 cup jaggery
1 cup finely grated Coconut, fresh and half-ripened
To sprout the green gram, simple soak it in about 6 cups of water for 10 hours, then drain. Place a wet cloth over a wide plate and spread the soaked gram evenly on top, in a single layer. Place another wet cloth overtop the gram, sprinkle with a little more water, then put an inverted bowl overtop, leaving a little opening so the air can circulate. Place in a shady spot, preferably near an open window, and let it sit for a day undisturbed. When the top cloth gets dried out, sprinkle a little more water on it. In 24 hours, the gram will have sprouted.
When ready, simply mix the three ingredients together for an excellent salad. The proportion of gram, grated coconut and jaggery can be varied to suit. This salad can also be spiced to taste, although it's nice 'as is'.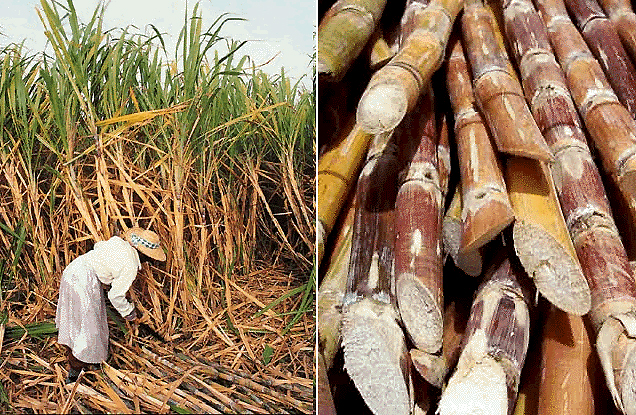 The Sun News Editorials Features Sun Blogs Classifieds Events Recipes PodCasts
Copyright 2005, 2016, HareKrsna.com. All rights reserved.