Prasadam - Jaggery, Part 2
BY: SUN STAFF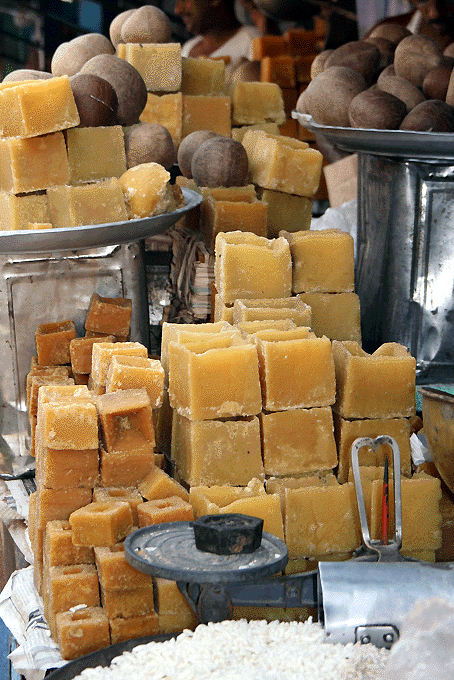 Jaggery stall at Mysore market
Apr 19, 2016 — CANADA (SUN) — A journey through India: border to border, bhoga to prasadam.
India's long use of jaggery as a sweetening ingredient is mentioned in many historical records. In 326 B.C., Alexander's army recorded the use of sugar canes in India during their conquest. There are records of jaggery being produced as early as the 1st millennium B.C. Today, jaggery still accounts for 50 percent of the sugar eaten in India.
Yesterday we mentioned a few of the other names found for jaggery -- gur, gud, vellam, bellam, or bella – but there are many more names used for the stuff. In Sanskrit and Oriyan it is called guda, in Sri Lanka it's hakuru; in Tamil Nadu it's chakkarai or kalkandu. There are dozens of other names for jaggery in the dialects of other Southeast Asian countries like Thailand, along with Latin America, the Caribbean, and even in Swahili.
A product called jaggery is also made from the sap of coconut, sago and date palms. Date palm jaggery is prized for its excellent flavor. In Tamil Nadu, palm jaggery is called karupatti. Sago and coconut palm jaggery are made in South India as well as in Mexico and South America, where it's known as panela or piloncillo.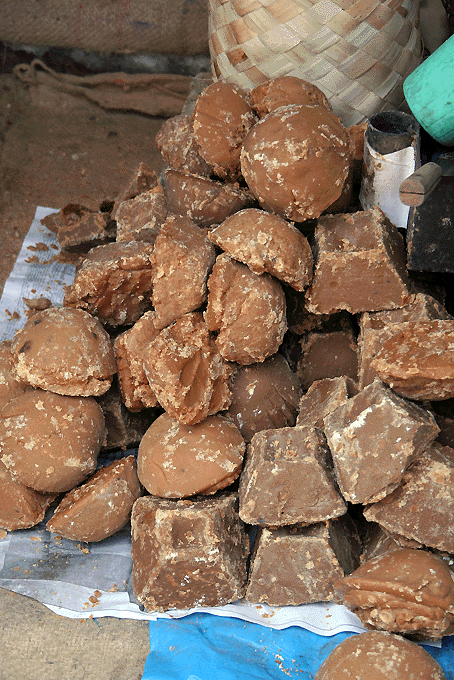 Coconut jaggery from Coimbatore
[Photo by vilb@Flikr]
The largest jaggery market in India is found in the Muzaffarnagar district of Uttar Pradesh. Another huge jaggery market is located in Anakapalli, in the Visakhapatnam district of Andhra Pradesh. These two are the largest jaggery markets in the world.
As a finished product, Jaggery has a range of very distinctive tastes, and a number of different consistencies. It can be as soft as honey, firmly spreadable like peanut butter, or as solid as fudge. Some is extremely hard, and these blocks are excellent for long-term storage. Wrapped in burlap or linen, if keep cool, dark and dry they'll last for years.
The aroma and flavour of jaggery is somewhere between brown sugar and molasses, and on the darker, richer end of the scale it's particularly nice for use in sabjis and savouries. It's widely used to make sweetballs of both grain and dairy, as well as candies and a granola-like snack called chikki.
Both Gujarat and South India make jaggery a prominent ingredient in many sabjis. In Tamil cooking, it's famously paired with tamarind for sweet and sour dishes. Jaggery also goes wonderfully with yoghurt and coconut milk, and is often used in beverages made with both of these bases. It's well known in Bengali kheers, as well.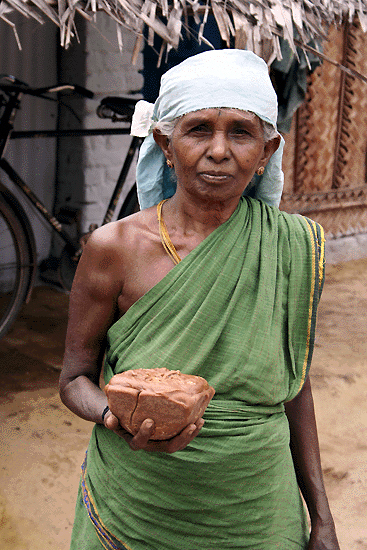 Coconut jaggery
[Photo by vilb@Flikr]
Many recipes rely on a touch of jaggery to take the edge off hot curries. It's also used in dosas and many types of breads for the same reason – to balance the hotness of sabjis. Really, there's almost no category of preparations you won't find jaggery being used in, from pickles to chutneys, dals and sambhars – for breakfast, lunch, dinner, or snacks.
In rice dishes, jaggery goes nicely paired with tamarind, lemon, or sour curd. It's excellent mixed into stuffings for savouries, and is nice in stuffed sour vegetables like kerala (bitter melon).
You can melt jaggery and tamarind together with other spices and stir fry vegetables or pieces of curd until the coating is slightly caramelized. Then throw the pieces into a sabji, rice or work them into savouries or kabobs for a very rich flavor.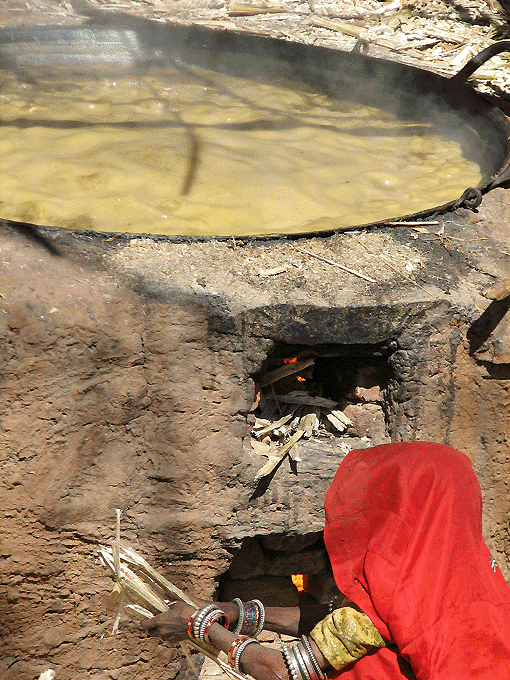 Making jaggery near Udaipur
We couldn't begin to list all the sweets jaggery is used in, but suffice to say, the list is endless. Thin slices are even eaten as dessert, taken alone or paired with fresh fruit for breakfast. Cookbook author Madhur Jaffrey uses it to make up a 'jaggery board', like a cheese board that is presented as the dessert course of a Bengali meal. There are so many colors, consistencies and flavors to choose from, what to speak of jaggery candies mixed with nuts, spices or bits of fruit, that an opulent array can be placed before the Deities.
Aside from its medicinal qualities, which we'll cover tomorrow, this extremely versatile foodstuff is even used, believe it or not, to season the inside of tandoori ovens.
Following are a few more recipes that demonstrate the range of jaggery: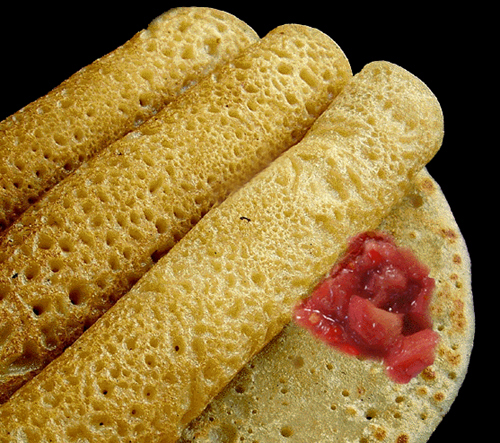 Sharkara (Jaggery dosa) with Mango Chutney
Sharkara (Jaggery Dosa)
Ingredients:
1 cup Wheat flour
1/2 cup grated Jaggery
1/2 tsp Cardamom powder
1 cup Water
Ghee for frying
Heat the water and add the jaggery, stirring until it dissolves. Add the flour and cardamom, and enough jaggery water as needed to make a smooth, medium thin batter. Heat a griddle with a little ghee. Pour a ladle of the batter and spread thin. Top with a few drops of ghee. Cook till golden on both sides. Offer while hot.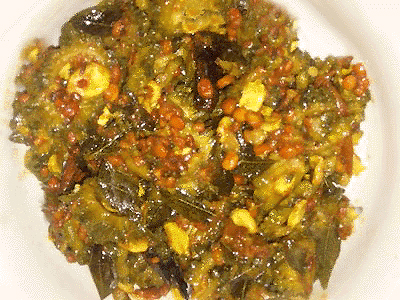 Jaggery and Tamarind Kakarakaya
Jaggery and Tamarind Kakarakaya
Ingredients:
2 Kerala (bitter melons)
1/4 cup softened Gram dal
1 tsp. Tamarind paste
1 tsp. Jaggery, powdered
1 pinch Turmeric Salt to taste
¼ tsp. Cayenne powder

For Seasoning:
½ tsp. Dried red chilis
1 tsp. Urad dal
1 tsp. Jeera (cumin) seeds or powder
½ tsp. Mustard seeds
a handful Curry leaves
¼ tsp. Asofoetida
Cut the bitter melon into pieces. If desired, sprinkle with salt and let sit for 20 to 30 minutes, then rinse to remove some of the bitterness. In a pan add the tamarind paste, bitter melon pieces, turmeric and salt with a very little water. Cover and cook until the vegetables are soft, but keep them in whole pieces. Drain any excess liquid. Fry the spices until the mustard pops, then add to the melon along with the cayenne and jaggery. Offer hot, with rice.

The Sun News Editorials Features Sun Blogs Classifieds Events Recipes PodCasts
Copyright 2005, 2016, HareKrsna.com. All rights reserved.