Prasadam
BY: SUN STAFF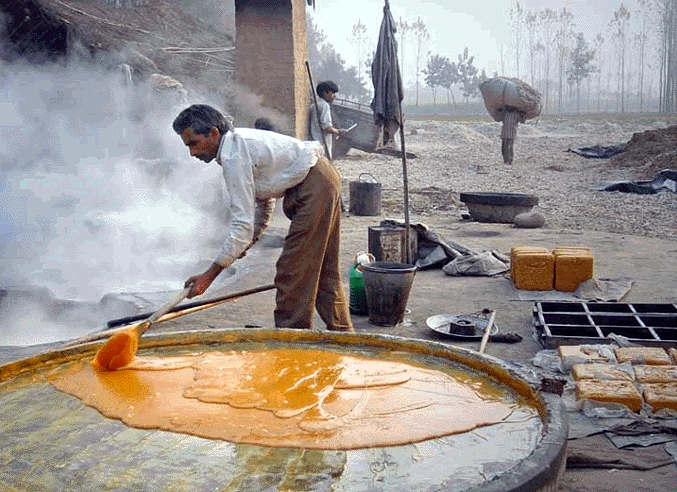 Making Juggery in Gwalior
[Photo: S. Nagpal]
Apr 17, 2016 — CANADA (SUN) — A journey through India: border to border, bhoga to prasadam.
Our next gopa in the Feature series on Sri Krsna's Vrindavan Associates is Ujjvala. However, because the Vrindavan Associates series is quite lengthy, we will rotate Features periodically with a reprise of our 2010 series on Krsna Prasadam.
Each group of Prasadam segments will focus on one particular ingredient: a vegetable, fruit, spice, grain, or other traditionally used foodstuff from Indian cuisine. We'll offer recipes for the day's ingredient in several categories – beverages, soups, salads, dal, sabjis, or sweets – to demonstrate the range of its use. We'll often highlight special regional and temple preps that use the main ingredient, along with other information that will increase our appreciation for offering it to Sri Krsna.
We'll begin on a sweet note, with the wonderful foodstuff called jaggery, a natural sweetener made from concentrated sugarcane juice. Also known as gur, gud, vellam, bellam, or bella, this dark, coarse, unrefined sugar is similar to a very hard-packaged brown sugar. Jaggery has a distinctive taste that's sweet and fruity, with a sharp edge like molasses.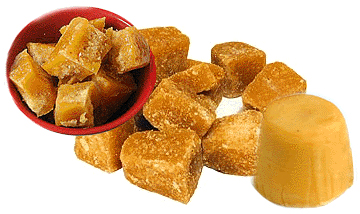 While the manufacture of sugar from sugarcane juice is a process that involves a cocktail of chemicals, natural jaggery is made without the use of chemicals, synthetic additives or preservatives. This pure and healthful sweetener also contains a wealth of minerals, protein and vitamins, and has great nutritional and medicinal value. Jaggery is low in calorie content, and is safe for use by diabetics.
Jaggery has been produced and used in Indian cooking since ancient times. Today, while financial pressures are causing some of the country's commercial sugar mills to close, workers are returning to the simpler art of jaggery production. In Gwalior, Madhya Pradesh, for example, farmers were not being paid a few years ago by the local sugar mill, which caused huge economic pressures. 70 percent of farmers in this region make their living on sugarcane production. To survive, they returned to the ancient practice of crushing sugarcane to produce jaggery, and the business again began to flourish. Exports of this excellent product are also growing, as the Indian diaspora educates the western world on the great benefits of this all-natural sweetener.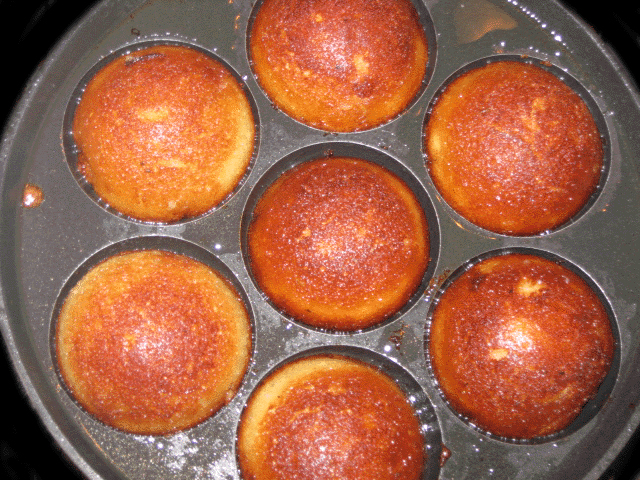 Unni Appams
[Photo: Rashmi@GreatCooks]
Jaggery Prasadam
While the use of jaggery covers nearly all of the Indian subcontinent, it is particularly famous in South Indian recipes. At the Sree Padmanabha Swamy Temple at Thiruvananthapuram (Trivandrum), Kerala, one of the 108 Vaisnava Divya Desams, jaggery is a prominent ingredient in one of the main bhoga preparations offered to the Deity, Lord Mahavisnu on Anantasesa. Called Unni Appams, these spongy sweets are composed of rice flour, banana, jackfruit and jaggery, fried in ghee to a crispy golden brown. In Malayalam, 'unni' means small and 'appam' means rice cake.
Unni Appams
Ingredients:

Rice Flour - 2 cups
Maida (regular flour) - 1/2 cup
Jaggery - 1/2 cup
Ripe Banana – 1
Ripe Jackfruit – ½ cup
Shredded coconut - 1cup
Ghee – 2 Tbl.
Fry the shredded coconut to a light brown and set aside. Heat 1 cup of water and add the jaggery to melt it. In another bowl mix the rice flour and maida. Add the melted jaggery along with the coconut and mix well. When the batter cools, fold the mashed banana and jackfruit into the batter, which should be the consistency of a dosa batter. Add a little milk or water if needed to get the desired consistency.
Lightly cover and let the batter sit for about 6 hours, or overnight. To cook, use ghee to lightly grease the holes of an unni appam pan or idli cooker. Fill with batter and cook over medium heat for about 5 minutes, then flip, cooking both sides to a crispy golden brown. Drain on paper, and offer warm.
Variations: You can add cardamom to the batter for a nice addition. If you want a lighter appam, add a pinch of baking powder to the batter just before cooking. You can also begin with raw rice, well soaked and mashed. This will give a denser appam.

Here is an excellent beverage to offer along with the unni appams. This nectar takes advantage of the distinctively strong taste of jaggery, which stands up to the ginger and pepper. This is a great drink for hot weather because it heats you internally, making the hot air seem cooler on the skin. It's also a good drink for the digestive and respiratory system.
Jaggery Lemon Ginger Juice
Ingredients:

Jaggery 1/2 cup
Ginger 1 inch
Cayenne powder, to taste (1/2 to 1 teaspoon)
Lemon Juice, 4 to 5 teaspoons
A pinch of salt
Add jaggery to 4 cups of water and stir continuously until fully dissolved. Crush a knob of fresh ginger and add to the beverage along with cayenne to taste, lemon juice and salt. Strain and serve chilled or over ice.
Sri Padmanabha Swamy at Trivandrum

The Sun News Editorials Features Sun Blogs Classifieds Events Recipes PodCasts
Copyright 2005, 2016, HareKrsna.com. All rights reserved.