Middle Kingdoms of India, Part 20
BY: SUN STAFF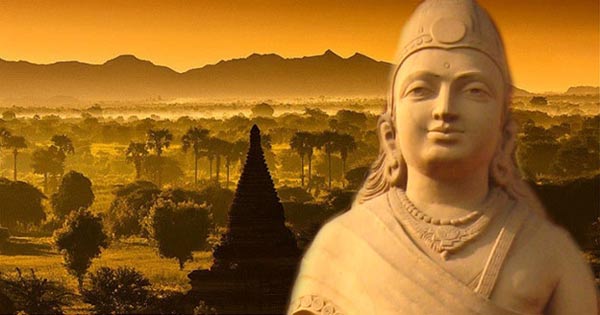 Chandragupta Maurya
Apr 28, 2015 — CANADA (SUN) — A serial presentation of India's great history, religious movements and temple architecture.
The Maurya Empire
Chandragupta Maurya and Chanakya
"The Maurya Empire was founded by Chandragupta Maurya, with help from Chanakya, a Brahmin teacher at Takshashila. According to several legends, Chanakya traveled to Magadha, a kingdom that was large and militarily powerful and feared by its neighbors, but was insulted by its king Dhana Nanda, of the Nanda Dynasty. Chanakya swore revenge and vowed to destroy the Nanda Empire.
Meanwhile, the conquering armies of Alexander the Great refused to cross the Beas River and advance further eastward, deterred by the prospect of battling Magadha. Alexander returned to Babylon and re-deployed most of his troops west of the Indus river. Soon after Alexander died in Babylon in 323 B.C., his empire fragmented, and local kings declared their independence, leaving several smaller disunited satraps.
The Greek generals Eudemus, and Peithon, ruled until around 317 B.C., when Chandragupta Maurya (with the help of Chanakya, who was now his advisor) utterly defeated the Macedonians and consolidated the region under the control of his new seat of power in Magadha.
Chandragupta Maurya's rise to power is shrouded in mystery and controversy. On one hand, a number of ancient Indian accounts, such as the drama Mudrarakshasa (Poem of Rakshasa – Rakshasa was the prime minister of Magadha) by Visakhadatta, describe his royal ancestry and even link him with the Nanda family. A kshatriya clan known as the Maurya's are referred to in the earliest Buddhist texts, Mahaparinibbana Sutta. However, any conclusions are hard to make without further historical evidence. Chandragupta first emerges in Greek accounts as "Sandrokottos". As a young man he is said to have met Alexander. He is also said to have met the Nanda king, angered him, and made a narrow escape.
Chanakya's original intentions were to train a guerilla army under Chandragupta's command. The Mudrarakshasa of Visakhadutta as well as the Jaina work Parisishtaparvan talk of Chandragupta's alliance with the Himalayan king Parvatka, sometimes identified with Porus (Sir John Marshall "Taxila", p18, and al.).
Ashoka the Great
Chandragupta's grandson, Ashoka Vardhana Maurya, son of Bindusara, was also known as Asoka, Ashoka or Ashoka the Great (reign 272- 232 B.C.).
As a young prince, Ashoka was a brilliant commander who crushed revolts in Ujjain and Taxila. As monarch he was ambitious and aggressive, re-asserting the Empire's superiority in southern and western India. But it was his conquest of Kalinga (262–261 B.C.) which proved to be the pivotal event of his life.
Although Ashoka's army succeeded in overwhelming Kalinga forces of royal soldiers and civilian units, an estimated 100,000 soldiers and civilians were killed in the furious warfare, including over 10,000 of Ashoka's own men. Hundreds of thousands of people were adversely affected by the destruction and fallout of war. When he personally witnessed the devastation, Ashoka began feeling remorse. Although the annexation of Kalinga was completed, Ashoka embraced the teachings of Buddhism, and renounced war and violence. He sent out missionaries to travel around Asia and spread Buddhism to other countries.
Ashoka implemented principles of ahimsa by banning hunting and violent sports activity and ending indentured and forced labor (many thousands of people in war-ravaged Kalinga had been forced into hard labor and servitude). While he maintained a large and powerful army, to keep the peace and maintain authority, Ashoka expanded friendly relations with states across Asia and Europe, and he sponsored Buddhist missions. He undertook a massive public works building campaign across the country. Over 40 years of peace, harmony and prosperity made Ashoka one of the most famous monarchs in Indian history.
The Edicts of Ashoka, set in stone, are found throughout the Subcontinent. Ranging from as far west as Afghanistan and as far south as Andhra (Nellore District), Ashoka's edicts state his policies and accomplishments. Although predominantly written in Prakrit, two of them were written in Greek, and one in both Greek and Aramaic. Ashoka's edicts refer to the Greeks, Kambojas, and Gandharas as peoples forming a frontier region of his empire. They also attest to Ashoka's having sent envoys to the Greek rulers in the West as far as the Mediterranean.
The edicts precisely name each of the rulers of the Hellenic world at the time, such as Amtiyoko (Antiochus), Tulamaya (Ptolemy), Amtikini (Antigonos), Maka (Magas) and Alikasudaro (Alexander) as recipients of Ashoka's proselytism. The Edicts also accurately locate their territory "600 yojanas away" (a yojanas being about 7 miles), corresponding to the distance between the center of India and Greece (roughly 4,000 miles).
Ashoka was followed for 50 years by a succession of weaker kings. Brihadrata, the last ruler of the Mauryan dynasty, held territories that had shrunk considerably from the time of emperor Ashoka.
Demise of the Maurya Empire
With the assassination of Mauryan ruler Brihadratha in 185 B.C. and the subsequent rise of the Sunga empire, India was witness to a wave of religious persecution for the Buddhists, and a resurgence of Hinduism.
The fall of the Mauryas left the Khyber Pass unguarded, and a wave of foreign invasion followed. The Greco-Bactrian king, Demetrius, capitalized on the break-up, and he conquered southern Afghanistan and parts of northwestern India around 180 B.C., forming the Indo-Greek Kingdom. (This era was covered in earlier segments of this series, under the Northwestern India section.)
The Indo-Greeks would maintain holdings on the trans-Indus region, and make forays into central India, for about a century. Under them, Buddhism flourished, and one of their kings, Menander became a famous figure of Buddhism. He established a new capital at Sagala, the modern city of Sialkot. However, the extent of their domains and the lengths of their rule are subject to much debate.
Numismatic evidence indicates that they retained holdings in the subcontinent right up to the birth of Christ. Although the extent of their successes against indigenous powers such as the Sungas, Satavahanas, and Kalingas are unclear, what is clear is that Scythian tribes, renamed Indo-Scythians, brought about the demise of the Indo-Greeks from around 70 B.C. and retained lands in the trans-Indus, the region of Mathura, and Gujarat."

The Sun News Editorials Features Sun Blogs Classifieds Events Recipes PodCasts
Copyright 2005, 2015, HareKrsna.com. All rights reserved.