Mahamantra in Maharashtra, Part Four
BY: PREMANJANA DAS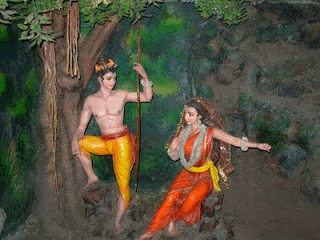 Sita Haran
Apr 17, 2012 — NASIK, MAHARASHTRA, INDIA (SUN) — The last in a devotee travelogue on the sacred sights of Nasik, Maharashtra.
The Glories of Nasik (Continued)
Gondeshwar Temple: The Gondeshwar temple is a very beautiful temple built in the Hemadpanthi style of architecture. During the Adilshahi rule in Maharashtra, Ahmednagar was their capital. One of the pradhans (ministers) of Ahmednagar was Hemadpanth, who popularised a typical style of construction using locally available black stone and lime. This style became very popular and came to be known as the Hemadpanthi style. The Gondeshwar temple is one of the few structures of this style still in good shape.
Muktidham: Muktidham temple is situated in Nashik Road. Built by Late Shri Jayram Bhai, it is a magnificent piece of architucture, made with marble form Makrana in Rajasthan, and by Rajastani sculptors. Unique to this temple are eighteen chapters of Geeta written on the walls. You can also see the replicas of all the twelve Jyotirlingas over here and also icons of all major Hindu Gods and Goddesses. After visiting this temple, every Hindu feels that he has visited all the four Dhams in India. Main Deities are of Sita-Rama-Laxman and Hanuman.
Kapaleshwar Shiv Mandir: 'Kapal' means head. Lord Brahma had five heads, four of them used to glorify Lord Shiva and with one He used to criticise Lord Shiva, so Lord Shiva cut off the head that used to criticise Him. Shiva got the sin of brahma-hatya (sin of killing a brahmin). Nandi told him that if Shiva takes dip in sangam of Godavari (three rivers viz. Godavari, Aruna and Varuna meet here) he will be freed of the sin. Lord Shiva took a dip here and got free of his sins. Since then, this temple has been known as Kapaleshwar mandir. Also, there is no Nandi here in this temple, as Lord Shiva took Nandi as His guru here.
11.5 feet deity of Sri Hanuman-ji: There is a 500 year-old Hanuman murti found by the Pandavas, in thorns. It is also known as 'kanton waale Hanuman-ji'.
Kapila Muni did tapasya here to bring Kapila River to Nasik. He was also the guru of Lord Ramchandra.
Sita Haran: Also here is Sita Haran, where Sita was kidnapped by Ravana, who came disguised as a sannyasi. Also Laxman Rekha , the line drawn by Laxman to protect Sita Devi. This was a line of fire, but it became a line of water when she crossed the line.
I was taken to all these holy places by an auto rickshaw driver who also acted as a guide. Thereafter he took me to his house, and in his small house there was a temple of Durga Devi (he forced me to take lunch at his place, I just had puranpoli, which is a Marathi sweet dish); his wife told me that she did not put any onion-garlic in any vegetables, both of them touched my feet and said that a sadhu has come to their house since I was wearing dhoti-kurta and tilak. This was the first 'sadhu experience' I ever had in my life. I did kirtan at his house for 30 minutes (I was remembering what I heard in Bhagavatam class, when Maharaj said that demi-god worshippers are pious and they believe in worshipping higher beings, but they are not transcendental, so just tell them about Krishna. Krishna gave me a perfect situation, where I told one entire family of demi-god worshippers about Krishna.
I came to ISKCON temple at 5 PM. There was an evening program by the 'Enchanters', a kirtan group who came from Mumbai to Nasik just to perform on this eve of Appearance of the Deities here at Nasik, or deity installation anniversary. The main singer was Mahabhagavat das, who is my friend too. His parents HG Ajamalila Prabhu and Her Grace Mother Radhika devi dasi are disciples of Srila Prabhupada. They sung very sweet and melodious Vaishnava bhajans for about 4 hours. That day was also Gudi Padwa (Marathi New year). Again, there was a lecture by Maharaj in Mother evening on the topic of 'deity installation'. He told about getting the mercy of the Lord when He appears in His Deity form and Mother importance of deity worship. After the program there was a 'great grand feast'; there were 10 dishes along with many other cuisines.
I got up today, went to the temple, honoured Krishna prasadam, completed my 16 rounds and am now I am sitting down to share this small and memorable Nasik trip with all of you before leaving for dirty-dusty and busy Mumbai tomorrow. Nasik is a place to relax and hear the glories of the Lord. One can feel spiritual vibrations here even after lakhs of years have passed since Lord Ramchandra lived here with His associates, and also many great devotees who came here to serve the Lord.
On Sunday morning I was pacing towards the bus stop to get back to Mumbai, but was dragged back towards the temple to hear Rama Katha from Srimad Bhagavatam for more than an hour at a place where He once lived. His Grace Nrsingha Kripa Prabhu said in his lecture that first Brahmotsava was inspiring and sweet, and people who were there were most fortunate. Also, when we hear Rama Katha from a bona fide source at a holy place like Nasik the benefit is manifold.


The Sun News Editorials Features Sun Blogs Classifieds Events Recipes PodCasts
Copyright 2005, 2012, HareKrsna.com. All rights reserved.