Mahamantra in Maharashtra, Part Three
BY: PREMANJANA DAS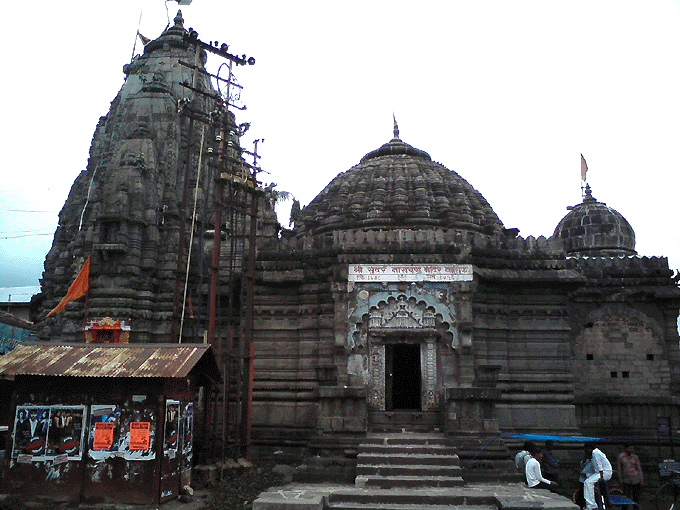 Sundar-narayan Temple, Nasik
Apr 16, 2012 — NASIK, MAHARASHTRA, INDIA (SUN) — A devotee travelogue on the sacred sights of Nasik, Maharashtra.
The Glories of Nasik
Triyambakeshwar: 28 Kms from Nasik. Jyotirlinga, Narayana-Nagbali puja is done here; it is a 'vidhi'.
Brahmagiri Parbat: These hills are origin source of Mother Godavari.
Kushavarta Tirtha: Kund here, Kumbha mela is held for 'Naga sadhus' here.
Panchvati: River Godavari flows through Nashik and its Northern part is called Panchavati. It is said that Lord Shri Rama and Sita along with Laxman stayed at Panchavati for some time, thus Panchavati has gained holy importance. There are five Banyan (Vad) trees and hence the area is called Panchavati. Nearby is Sita Gumpha (cave), where Sita is said to have stayed for some time.
Tapovan: Tapovan literally means precincts reserved for meditation and penance. There is such a precinct for penance ahead of Panchavati, hence the name Tapovan. The sages used to meditate in close proximity with the lush green nature. Laxmana – the brother of Rama - used to stay here and had cut the nose of Shurpanakha – the sister of Ravana. This place has temples dedicated to Sri Laxmana and Hanuman. Even today, this locale captivates the mind because of Godavari's silently gurgling stream, long stretch of green woods and closeness to jungle's flora and fauna.
A cavernous fissure on boulders along the riverbed is called Brahma Yoni. Very close by is the Kapil Tirth. On the right bank of Godavari there are eleven rocky cavernous spaces where rishi-munis must have been retreating for sacraments. There are temples of Gopal-Krishna and Lakshmi-Narayan and the famous Goshala (cow-shed) was built here in 1904. In ancient time, this land was made sacred by the touch of Lord Rama's feet.
Sita Gumpha: The Gumpha (i.e. Cave) is near the five Banyan trees in Panchavati. One can enter the cave with the help of a very narrow staircase. The cave has the Deities of Shree Ram, Laxman and Sita. To the left, one can enter into the cave and have darshan of Shiva Linga. Devotees believe that Ravan kidnapped Sita from the same place.
Ramkund/Gandhi Memorial: The most important place in Panchavati is Ramkund. It is so called because Lord Rama is believed to have taken bath there. Mortal remains (Asthi) immersed in this kunda are immediately absorbed in the water. A dip in this sacred kunda is considered very pious.
Kalaram Mandir: Another important temple is that of Kala Ram. This temple was built by Peshwas. There are great processions and utsavas on Ramnavami, Dasara and Chaitra Padwa (Hindu new year day). The specialty of the temple is that it was built with black stones. The stones were brought from Ramshej 200 years ago. It took 23 lakhs of rupees and 2,000 workers to build the temple in 12 years. The apex of the temple is made up of 32 tons of gold.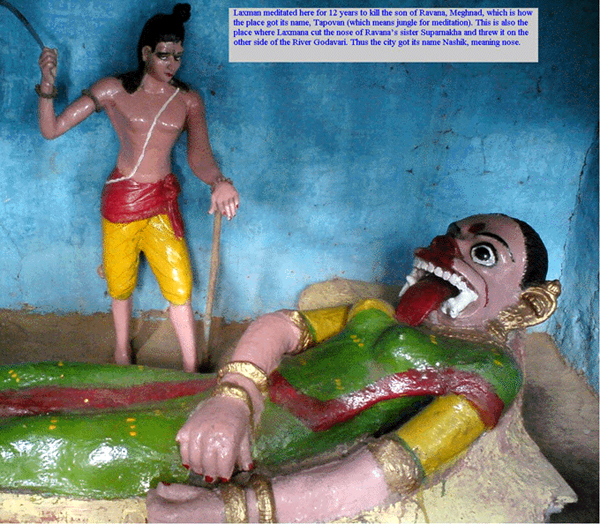 Suparnakha's Nose - Meghnad, Nasik
Naroshankar Temple: Situated in Panchavati area, on the bank of river Godavari, fondly called anga by Nasikites, is Naroshankar Temple of Rameshwar, built by Naroshankar Rajebahaddur in 1747. The architectural style of the temple is called "Maya" style. It is one of the most beautiful pieces of temple architecture of the 18th century. The main temple is on a platform. Rather than inside of the temple, sculpture on the outer part is stunning. It has rows of striking designs. One layer is of decorative lacework. The next one is that of peacocks holding bead garlands. Some of the statues are deformed - their hands are broken. There is also an assembly of animals - tigers, monkeys, elephants etc. This depicts that Hindu culture is not limited only to human beings but also has relation with birds, animals, trees, and nature in general.
The temple is surrounded by an 11 foot fortification. In its four corners are umbrellas - called Meghadambari or Barasati. One of them was washed away by Godavari floods and only three exist presently. The fortification also centres a "Bell house" in the front part. The famous bell, called Naroshankar Bell is fixed there. The bell is a memorial of victory over the Portuguese. The Maratha Ruler Bajirao Peshwa's younger brother, Chimaji Appa, won the fort of Vasai against the Portuguese. The famous knight of Peshwas, Mr. Naroshankar Rajebahaddur, played a critical role in this war. After winning the fort, the Vasai Portuguese Church bell was removed, marched on elephant till Nashik with great celebration and offered to Naroshankar as a medal - an award for his bravery. It is made up of bronze, with six feet diameter. The year engraved on it is 1921. This bell and its ringing is so famous that a phrase is coined after it in Marathi- if a woman is talking in a very high pitch, she is called "Naroshankarachi ghanta".
Sundar-narayan Temple: Sundar-narayan temple is situated at the corner of Ahillyabai Holkar Bridge. The story goes like this: Vrinda Devi was a very pious and faithful wife of Jalandar, a wicked demon. Jalandar, a mighty crook, was the devotee of Lord Shiva. Pleased with his prayers and impressed by Jalandar's wife's chastity, Lord Shiva gave him a boon. With this boon, Jalandar became vicious and started creating havoc on earth. He not only troubled human beings, but also disturbed the demigods. He even ventured to pick a quarrel with Lord Shiva himself. It became necessary to eliminate him, which was contrary to the boon given by Lord Shiva. The only way out was to suspect Vrinda Devi's chastity. For this task Lord Vishnu duplicated himself to look like Jalandar, and lived with Vrinda Devi. Thus her chastity was suspected and the boon given to Jalandar was withdrawn and he was destroyed. When Vrinda Devi came to know of the trick played by Lord Vishnu, she got furious and cursed Lord Vishnu. His attractive body turned black due to the curse. Lord Vishnu took a holy bath in the river Godavari and regained his complexion. Since He became beautiful again, the Lord is named as Sundar-Narayana. 'Sundar' in Marathi means beautiful.
The Sundar-Narayan temple was built by Gangadhar Yashwant Chandrachud in 1756. The entrance of the temple is to the East. The two Mandaps may be small but their architecture is attractive and the round dome is made by little ornamental cordons. The arched recesses are impressions by Mughal style because during the Mughal regime, many temples were demolished by Muslims and graveyards were built in their place. The main deity is of Lord Vishnu - alias Narayana. To his left and right are Laxmi and Saraswati, respectively. Fine design is carved on the stones of the temple. On the road leading towards Godavari River there is a pond named Badarika Sangam Pond. It is said that the king of Devgiri bathed and performed rites in this pond. This pond is also mentioned in the holy book, Dnyaneshwari. One remarkable thing about this temple is that it is built at such an angle that on 21st March, rays of the rising Sun first fall exactly upon the Deities.
Ganga Godavari Temple: The Godavari Temple was built by the elder Madhavrao Peshwa's mother, Gopikabai in 1760. This temple is open for devotees only during the period of Kumbha mela (once every 12 years) for 13 months. It is also called Ganga Temple. Arti, worshipful prayers are held here every day at 7 PM. The three sacred rivers, Aruna, Varuna and Godavari meet here at Triveni sangam.
Holy places at River Godavari: The places where a holy dip can be taken in the river Godavari are: Govardhan Tirtha, Pitru Tirtha, Golan Tirtha, Brahma Tirtha, Runamochan Tirtha, Krishna Tirtha, Papnashan Tirtha, Koti Tirtha, Agni Tirtha, Shukla Tirtha, Aruna Tirtha, Surya Tirtha, Chakra Tirtha, and Ashwini Tirtha.


The Sun News Editorials Features Sun Blogs Classifieds Events Recipes PodCasts
Copyright 2005, 2012, HareKrsna.com. All rights reserved.