Ancient Mathas of Prachi Valley, Part Two
BY: SUN STAFF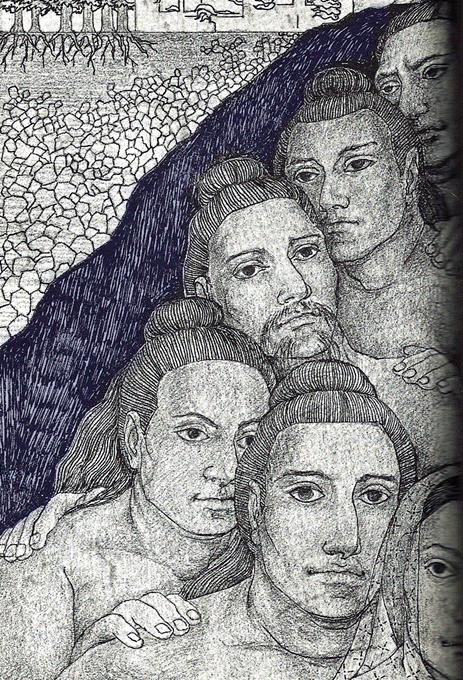 The Pandavas
Mar 16, 2016 — CANADA (SUN) — A serial presentation of mathas located in the ancient Prachi Valley of Orissa, and the Deities worshipped there.
Pandavakuda Matha
The Pandavakuda matha is situated over a sand dune in the village Pandavakuda, near Amnakuda Panchayat, Balipatna in Khurda district. It sits on the left bank of the River Prachi. The matha is about 20 km from Balipatna, 2 km south-west of the village Amnakuda and 4 km from Niali. (Long. -860 02 - 15" E., lat. -200 08 - 57" N., elev.- 29 ft.) It can be approached to about 1 km on a kachha road on the left side of Niali (Nuagaon), Bhubaneswar (Uttara Chowk) road.
During the period of their exile, the Pandavas spent a few days in this locality, hence the name Pandavakuda. Further it is said that in order to obtain water, Bhima threw his gada and where it fell, a tank was formed. This became known as Pandava-Pushkarani [1].
Pandavakuda matha belongs to the Gauranga sect, and is presently under the custody of Mahanta Damodara das, who claims 1,300 years of its existence. The matha has its own landed property and the Naga matha of Puri is a branch of this matha.
The presiding Deities housed in the sanctum over a moulded pedestal are The Lordships Jagannatha, Balabhadra and Subhadra, along with brass Radha and Damodara Deities. All the festivals related to Jagannatha Temple at Puri, such as Janmastami, Radhastami, Snana Purnima, etc. are celebrated here.
Ancient bricks (40 x 27 x 8 cm in dimension) have been used on the present floor near the entrance of the matha, which suggests the antiquity of the site. Inside the matha a modern rectangular pidha shrine, faces the east, preceded by a jagamohana and a verandah built over a low platform. The walls of the vimana and the jagamohana are divided into five segments and the bandhana band of the jagamohana is decorated with a row of elephants interspersed with a full-blown lotus. Pidhamundi design niches are carved into the centre of the wall of the vimana. The pidha vimana consists of five tiers and is surmounted by the mastaka on the top.
The compound wall of the matha is made of bricks with the entrance on the eastern side, while the temple is made of laterite and bricks. Within the matha precinct A few detached, defaced sculptures and lion fragments are noticed. Due to proper care and maintenance the matha is now in a good state of preservation.
REFERENCES:
[1] Ray, P.K. (ed.), 1975, Archaeological Survey Report 1974-75, Prachi Valley, Odisha State Archaeology, Bhubaneswar, p. 38.
Adapted from "Archaeological Vestiges of Monasteries in the Prachi Valley, Odisha" by Jayashankar Naik

The Sun News Editorials Features Sun Blogs Classifieds Events Recipes PodCasts
Copyright 2005, 2016, HareKrsna.com. All rights reserved.