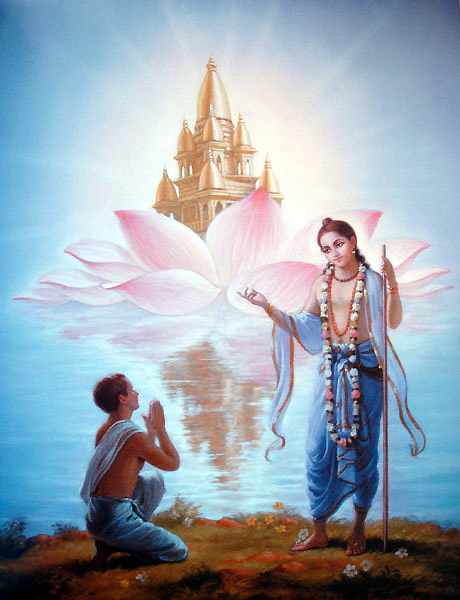 Sri Nityananda Prabhu with Srila Jiva Goswami


Bhaktivedanta Book Trust
Mar 03, 2014 — CANADA (SUN) — A serial presentation of the holy places mentioned in the Jaiva Dharma of Srila Bhaktivinoda Thakur - Part 15.
Today we conclude our discussion of Antardvipa with a presentation of instructions for taking parikrama around the holy dhama. We begin with this passage from Srila Bhaktivinoda Thakur's Navadvipa-dhama-mahatmya:
The Procedure for Parikrama of the Dhama

"By devotion, the dhama is sometimes visible in dreams, meditation, or to the naked eye. The island which lies at the junction of the Ganges and Yamuna is known in the sastras as Antardvipa. Within Antardvipa lies the holy sanctuary of Mayapur, where Lord Caitanya appeared. Know, devotees, that Mahavana, in the center of Goloka, is none other than Mayapur of Navadvipa. [ ]

That person who once visits Mayapur is easily freed from the bondage of maya. One who walks throughout Mayapur is freed from the influence of maya and the repetition of birth. North of Mayapur lies Simantadvipa. Sadhu and sastra have explained the rules of parikrama. After having darsana of Mayapur in Antardvipa, learned devotees go to Simantadvipa. Next one should go south of Mayapur to Godrumadvipa, then one should joyfully go to Madhyadvipa. After seeing these four islands on the east bank, one should reverently cross the Ganges. Having walked around Koladvipa at leisure, then take darsana of Ritudvipa. After seeing the most beautiful Jahnudvipa, go see Modadrumadvipa and then Rudradvipa. Then again cross the Ganges, and walk back to Mayapur. There, respectfully enter the temple of Jagannatha Misra and Sacidevi and take darsana of the Lord. This is the procedure of parikrama for all times. One who follows this practice will obtain unlimited happiness."

(Navadvipa-dhama-mahatmya, Parikrama-khanda, Chapter Three)
Later on, in Chapter Ten of Navadvipa-dhama-mahatmya we find this description of Brahmana Pushkara, Sri Uccahatta, and the sequence of parikrama:
"While on the way to Kuliya Pahadapura, Nityananda Prabhu said to Jiva, "The order in which we have proceeded till now is the authorized order of parikrama with the best effect. When Sri Caitanya brought His associates to purify the Kazi with an evening kirtana contingent of fourteen mridangas, His starting point was Mayapur. Through the period of one night, which became one night of Brahma due to the sweet kirtana, Gauranga wandered through His land. After that, every Ekadasi tithi My Lord went on sankirtana, wandering over the sacred islands. Sometimes He wandered over the five krosas of Antardvipa, and sometimes, according to His desire, He wandered eight krosas.

"From His house, He went first to Barakona-ghata, then around Ballal-dighi, and then to Sridhara's house. From there, He would go to the edge of Antardvipa and thus easily complete a five krosa tour. From Simuliya, He would go to the Kazi's house. After talking to Sridhara, He would go to Gadigacha (Godruma), then Majida (Madhyadvipa). Crossing the Ganges at that point, on the other bank He would go up to Paradanga and Chinadanga, on the bank of the Ganges. Then crossing the Ganges again, He would return home, completing eight krosas."

(Navadvipa-dhama-mahatmya, Parikrama-khanda, Chapter Ten)
And finally, this passage from Audarya Dhama: The Most Munificent Abode, compiled by Padmalochan dasa:
The Dhama Unfolds

It has been explained by Nityananda Prabhu in his instructions to Jiva Gosvami that when performing parikrama of Navadvipa one should take nine days (one for each island), starting from Lord Caitanya's birthplace in Antardvipa (Mayapura) after having taken darshana of Jaganatha Misra and Saci-devi, taking the dust of that topmost place on his head and constantly singing the holy names.

sri krsna caitanya prabhu nityananda sri advaita
gadadhara srivasadi gaur bhakta vrnda,


And the sweet names of Radha-Krsna.

Hare krsna hare krsna krsna krsna hare hare
hare rama hare rama rama rama hare hare.

One can offer obeisances to Navadvipa with the following Mantra:

navina-sri-bhaktim nava-kanaka-gaurakriti-patim
navaranya-sreni-nava-surasuridyata-valitam
navina-sri radha-hari-rasamayotkirtana-vidhim
navadvipam vande nava-karuna madyannava-rucim

One should visit all of the pastime places of Lord Caitanya Mahaprabhu in Antardvipa after which one should proceed to Simantadvipa, Godrumadvipa and Madhyadvipa after having taken darshana of these four islands on the eastern bank of the Ganga (river). One can offer obeisances to Mother Ganga with the following mantra:

navadviparama-prakara-kusumamoda-valitam-sfuradratna-sreni-cita-tata sutirthavali-yutam harega-rangasyatula-carana-renuksita-tanum samudyat-premormini tumula hari-sankirtana-rasaih

prabhu-kirday-patrimamrita-rasagatrimrisighata siva-brahmendradidita-mahita-mahatmya-mukharama lasat-kinjalkambhojani-madhupa-garbhoru-karuna maham-vande-ganga-magha-nikara-bhanga-jalakanam

sadyah-pataka-sanhantri-sadhyo-dukha-vinasini
sukhada-moksada ganga-gangaira parama gatih

After one has taken bath in her purifying waters, one can proceed to take darshan of the five islands on the western bank; first Koladvipa and then Ritudvipa, Jahnudvipa, Modharumadvipa and Rudravipa after again taking bath in Mother Ganga's transcendental waters and begging her to purify one from all of the millions of offences, one must have committed while performing parikrama of Lord Caitanya's abode. Again one can cross over to the eastern bank and finish the parikrama by offering obeisances to Lord Caitanya at the yoga-pitha (birth place).

namo aha-vadanyaya krsna-prema-pradaya te
krsnay krsna-caitanya-name gaura-tvise namah

"O most munificent incarnation! You are Krsna Himself appearing as Sri Krsna Caitanya Mahaprabhu. You have assumed the golden colour of Srimati Radharani, and You are widely distributing pure love of Krsna. We offer our respectful obeisances unto You."

Although one can perform parikrama of Navadvipa at any time and receive unlimited transcendental benefit, for maya's influence will cease and the goddess bhukti (material enjoyment) and the goddess mukti (liberation) will beg to be able to perform a little service to that fortunate devotee.

That unlimitedly fortunate devotee who performs parikrama in the month of phalguna (March) starting on the sukla saptami (the seventh day of the bright half of the month) and finishing on the purnima (full moon) will attain eternal service at the lotus feet of Lord Caitanya and thus be able to enter into the transcendental pastimes of Radha-Krsna in Vrndabana which is the very reason for the manifestation of Navadvipa.

Radha-Krsna appeared in the Form of Lord Caitanya to distribute the sweetness of Their Vraja Vrndavana pastimes, and Radha-Krsna's eternal Madhurya-Dhama (Vraja), the reservoir of unlimited sweetness, has appeared as Audarya-Dhama (Navadvipa), the distributor of that Rasa (sweetness).

Now after having offered obeisances to Nityananda Prabhu, Who is non-different to Lord Balarama, the original spiritual master, and eternal guide of all living beings--

nityanandam aham naumi sarvananda-kjaram param
hari-nama-pradam devam avadhuta-siromanim

"I bow down to the Supreme Lord Nityananda Prabhu, who is the awarder of the highest joy to all, the bestower of the holy name and the crest jewel of all paramahamsa mendicants."

(Audarya Dhama: The Most Munificent Abode - Part Two)

The Sun News Editorials Features Sun Blogs Classifieds Events Recipes PodCasts
Copyright 2005, 2014, HareKrsna.com. All rights reserved.