Holy Lake of the Acts of Lord Rama, Part 17
BY: SUN STAFF
Rama with Sugarcane Bow
Thanjavur, c. 1830
Feb 27, 2012 — CANADA (SUN) — A serial presentation of Tulasi das's 'Ramacaritamanasa'.
[Doha 98] When they heard Narada's words, all ceased to grieve, and in a moment the story he had told was noised abroad from house to house throughout the city. [Caupai 99] Then Maina and Himalaya were overjoyed and again and again did homage to Parvati's feet; and all the people of the city, men and women, children, young and old, rejoiced exceedingly. Festive songs were heard in the city and everyone made ready all sorts of golden vessels. All manner of dishes were prepared, as the books of culinary science prescribed; but how can one describe a banquet in the house where Bhavani the Mother dwelt?
The king courteously invited all the wedding guests – Visnu, Brahma and all the gods. The guests sat down in rows, and the expert cooks began to serve the food; and when the women perceived that the gods were feasting, they began to pass jesting remarks in gentle tones.
[Chanda 13] The fair ladies jested in gentle tones and words of double meaning, and the gods were so delighted with their banter that they prolonged the feast. A myriad tongues could not tell their enjoyment as they feasted; but at last they rinsed their hands and mouths, took pan and retired, each to his guest-room.
[Doha 99] Then the sages went and told Himalaya that the appointed day was come, and when he saw that it was time for the wedding, he sent to summon the gods. [Caupai 100] He summoned all the gods with reverence and gave each a seat suited to his degree. An altar was prepared as the Veda prescribed and the women sang auspicious festal songs. There was a throne of surpassing splendour, beyond all description, for Brahma had fashioned it.
Siva bowed to the Brahmans and took his seat upon it, dwelling in his heart on his own Lord Raghurai. Then the high sages summoned Uma, and her maidens dressed her and brought her. All the gods were enchanted at the sight of her beauty; what poet in the world could describe her charm? The gods did obeisances to her in their hearts, for they recognized in her the Mother of the world and Siva's consort. Bhavani is the perfection of beauty, a beauty not a thousand tongues could tell.
[Chanda 14] The marvellous beauty of the Mother of the world not a thousand tongues could tell. (Scripture, Sesa and Sarada shrink from describing it; then how can Tulasi, [ ]?) Bhavani the Mother, altogether lovely, moved to the midst of the pavilion where Siva sat; she could not look upon her husband for modesty, but her heart hovered like a bee about his lotus feet.
[Doha 100] At the sages' bidding Sambhu and Bhavani worshipped Ganapati [ ]. [Caupai 101] The great sages performed the whole ceremony in accordance with the Vedic rites. The king of the mountains held the sacrificial grass, and taking his daughter's hand gave her to Siva, acknowledging her to be Bhavani. When Mahesa took her hand, all the high gods rejoiced. The sages pronounced the Vedic verses, and the gods cried, 'Glory, glory, glory to Samkara!' All sorts of music sounded and from the sky fell blossoms of all kinds in showers.
The wedding of Hara and Girija had been performed, and there was joy in all the worlds. [Servant-girls and servants], horses, chariots and elephants, cows, dresses and jewels and every sort of gift, and wagon-loads of corn and golden vessels the king gave as a dowry, all beyond description.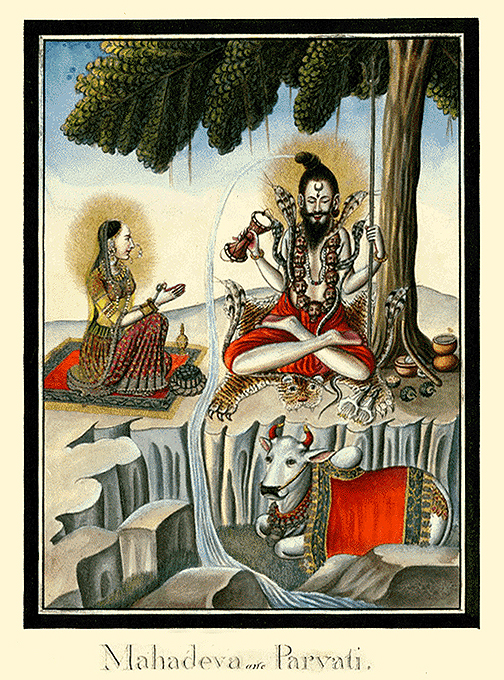 Shiva, Parvati and Nandi
Patna, 19th c.
[Chanda 15] All sorts of gifts the king gave as dowry; then with folded hands he said, 'What can I give you, O Samkara, who lack nothing you desire?' He stayed there clasping Siva's lotus feet, while Siva, the ocean of grace, did his best to comfort his wife's father. Then Maina with a heart full of love clasped his lotus feet and said, [Doha 101] 'Uma, my lord, is dear to me as life itself; make her a servant of your house and pardon all her faults; be gracious now and grant this boon.'
[Caupai 102] Shambhu reassured his mother-in-law and she bowed her head before his feet and went home. Then her mother sent for Uma, and taking her on her lap gave her this wise advice: 'Always worship Samkara's feet; this is the duty of a wife, for her husband is her god, and there is none else.' Her eyes filled with tears as she spoke, and once more she clasped her daughter to her bosom. 'Why did God create women in the world?' she said. 'Those who depend on others can never hope for happiness!' Her mother was disquieted by her exceeding love, but she composed herself, for she thought it no fit time for mourning. Again and yet again she embraced her daughter and fell down before her, clasping her feet in unspeakable affection. Bhavani embraced all the women, and then went again and clung to her mother's breast.
[Chanda 16] Again she went and embraced her mother, and they all blessed her as was due. She turned again and again to look towards her mother as her maidens led her away to Siva. Samkar satisfied all the beggars with alms and went with Uma to his home. All the immortal gods rejoiced; they rained down flowers and played sweet music in the sky.
[Doha 102] Then with them went Himalaya lovingly to escort them; he on whose banner is blazoned the bull spoke many words of consolation and bade him farewell.
[Caupai 103] Straightway Himalaya the Mountain King returned home, and summoning all the hills and lakes, treated them with all honour, and with courtesy and gifts and humble reverence gave them leave to depart.


The Sun News Editorials Features Sun Blogs Classifieds Events Recipes PodCasts
Copyright 2005, 2012, HareKrsna.com. All rights reserved.