Lord Caitanya on Renunciation, Part 13
BY: SUN STAFF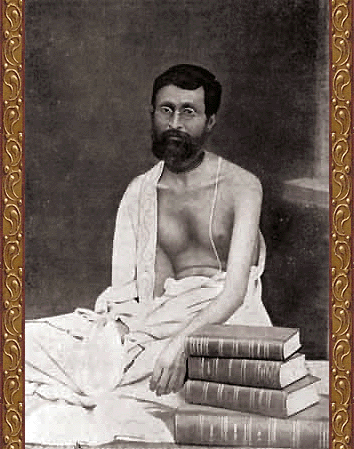 His Divine Grace Srila Bhaktisiddhanta Saraswati Thakur
Feb 16, 2011 — CANADA (SUN) — An exploration of Sri Caitanya's instructions on renunciation.
Tonight we continue to lay the groundwork for a discussion of sannyasa renunciation in the mode of goodness. Having begun with Lord Caitanya Mahaprabhu, the personification of sannyasa in sattva-guna, tonight we offer a narrative about the circumstances of Srila Bhaktisiddhanta Saraswati's acceptance of the renounced order.
Following is an excerpt from Biography of Shrila Bhaktisiddhanta Sarasvati Thakura Prabhupada - A Ray of Vishnu by Rupa-vilasa dasa (2003). Considering the instructions of Sri Krsna in Bhagavad-gita 18.9 about renunciation in the mode of goodness, the reader will no doubt see many points of comparison between the circumstances of Lord Caitanya's acceptance of sannyasa, and that of Srila Bhaktisiddhanta Saraswati's renunciation. Likewise, in the segment to follow, these same spiritual principles and transcendental qualities will be evident in the narrative of Srila Prabhupada's acceptance of sannyasa.
Biography of Shrila Bhaktisiddhanta Sarasvati Thakura Prabhupada
A Ray of Vishnu

by Rupa-vilasa dasa
9: Sannyasa
"With this spectacular vision in mind as his impetus and at the urging of his disciples, Srila Bhaktisiddhanta Sarasvati Thakura thought the time had come for widespread preaching. Up until 1918 Siddhanta Sarasvati was mainly immersed in chanting and publishing books. In Vrajapattana, Mayapur, on the full-moon day of Phalguna, the 29th of March, 1918, Siddhanta Sarasvati took sannyasa and took the name Sri Bhaktisiddhanta Sarasvati Gosvami Maharaja at the age of 44, according to the Vedic rites which he had gathered from the Ramanujas in his travels. He took initiation from a picture of Srila Gaura Kisora dasa Babaji Maharaja. Taking sannyasa from a picture was certainly not a standard practice of the Ramanujas. The situation, however, was unique. Srila Sarasvati Thakura had no spiritual master who was physically present, and he had no Godbrothers, being the only disciple of Gaura Kisora dasa Babaji. He was furthermore a self-realized soul, and there is no doubt that he took sannyasa to fulfill the innermost desires of his spiritual masters, who had both ordered him to preach. This practice was never meant to be imitated by others in much less unique and less qualified positions. He wanted to establish a mission that would take the teachings of Sri Caitanya Mahaprabhu all over the world.
Srila Bhaktisiddhanta Sarasvati Thakura was beginning his preaching effort towards the end of the First World War, in which many Indian nationalists had taken part on the side of the British, thinking that this might encourage the British to consider their desires for independence. This was not to be. In 1919 the British passed the Rowlatt Act to repress the move for Indian freedom, and one week later in Amritsar in the square called Jallianwalla Bagh, British soldiers shot and killed hundreds of unarmed, peaceful Indian protestors. Gandhi's non-cooperation movement gained momentum-nationalistic fervour was at its height. It was in the atmosphere of British rule and nationalistic foment, a time of revolution, that Srila Bhaktisiddhanta Sarasvati Thakura began his preaching.
But as Srila Prabhupada learned in his meeting with the great saintly person in 1922, it was not a nationalistic revolution that Srila Bhaktisiddhanta Sarasvati Thakura was interested in igniting, but rather the spiritual lives of humanity at large as described in the Srimad-Bhagavatam:

tad-vag-visargo janatagha-viplavo
yasmin prati-slokam abaddhavaty api
namany anantasya yaso 'nkitani yat
srinvanti gayanti grinanti sadhavah
"On the other hand, that literature which is full of descriptions of the transcendental glories of the name, fame, forms, pastimes, etc., of the unlimited Supreme Lord is a different creation, full of transcendental words directed toward bringing about a revolution in the impious lives of this world's misdirected civilization. Such transcendental literatures, even though imperfectly composed, are heard, sung and accepted by purified men who are thoroughly honest."
He wanted to effect the upliftment of mankind throughout the world to the eternal, spiritual platform of Krishna consciousness, where all strife, sectarianism, social discord, etc., were resolved forever. The means were the teachings of the liberated sages in the form of transcendental books-he aimed to propagate the great science of self-realization far and wide. Traditionally, the followers of Sri Caitanya Mahaprabhu, beginning with the Gosvamis of Vrindavana had accepted the babaji-vesha (dress). According to the tradition, one does not accept a brahmana's thread (or gives it up if he has accepted one) and does not carry a danda. One wears only a short white wrapper and a top piece.
The idea is that when one has reached the liberated platform, he rids himself of any item of dress or symbol of varnasrama-dharma (activities within the modes of nature, of which the sacred thread and sannyasa asrama are perceived as part) and makes his only business the chanting of the Holy Name in the mood of a bhajananandi. This is considered the final, transcendental stage of a paramahamsa Vaishnava. This had been the convention since the time of Sri Caitanya Mahaprabhu.
Some persons also thought that to maintain the sacred thread and to accept tridanda-sannyasa were practices opposed to Sri Caitanya Mahaprabhu's teaching on the principle of humility: trinad api sunicena. However, this is a fallacious view. Srila Bhaktisiddhanta Sarasvati Thakura has explained it in the following light: If the sacred thread is not taken at the time of initiation, this constitutes contempt for the process of initiation. The thread is not to signify brahminical pride that "I am meant to be served by everyone." But rather it is a sign that one has been purified by the lotus feet of a guru. The thread is meant to indicate eternal service to the Lord, not egoism. And as far as accepting sannyasa is concerned, that is for increasing one's serving mood-to serve the Lord with one's mind, body and words. Sri Caitanya Mahaprabhu taught this when He took sannyasa by chanting the verse of the Avanti brahmana who took tridanda-sannyasa and which is described in the Srimad-Bhagavatam, 11.23.56:

etam sa asthaya paratma-nishtham
adhyasitam purvatamair maharshibhih
aham tarisyami duranta-param
tamo mukundanghri-nishevayaiva
"I shall cross over the insurmountable ocean of nescience by being firmly fixed in the service of the lotus feet of Krishna. This was approved by the previous acaryas, who were fixed in firm devotion to the Lord, Paramatma, the Supreme Personality of Godhead. The characteristics of a gosvami are described by Srila Rupa Gosvami in the first verse of Sri Upadesamrita:

vaco vegam manasah krodha-vegam
jihva-vegam udaropastha-vegam
etan vegan yo vishaheta dhirah
sarvam apimam prithivim sa sishyat
"A sober person who can tolerate the urge to speak, the mind's demands, the actions of anger and the urges of the tongue, belly and genitals is qualified to make disciples all over the world."
Srila Bhaktisiddhanta Sarasvati Gosvami Maharaja wanted to show an example to persons of the world from within the parameters of the varnasrama system. Daivi-varnasrama, or the practice of executing the principles of varnasrama-dharma by those who simultaneously practice and preach the practice of sadhana-bhakti, was also much extolled by Srila Bhaktivinoda Thakura in his writings and was especially discussed by him in his Caitanya-sikshamrita. Therefore, to set a personal example of how the preacher, who comes to the madhyamaadhikari platform for his preaching work, also follows the principles of varnasrama for the sake of showing an example to his followers, Srila Bhaktisiddhanta Sarasvati Gosvami Maharaja took sannyasa.
He also wanted to show by this action that he was actually taking a humble position below his two gurus, Srila Bhaktivinoda Thakura and Srila Gaura Kisora dasa Babaji, who had both accepted the paramahamsa-vesha. At that time, many sense gratifiers and bogus sahajiyas were wearing babaji dress and Bhaktisiddhanta Sarasvati Thakura wanted to exhibit, by personal example, just how exalted such personalities should be if they want to wear the same dress as Srila Rupa Gosvami, Srila Bhaktivinoda Thakura, Srila Gaura Kisora dasa Babaji Maharaja, and other exalted eternal associates of the Lord. So with a view to exhibit the activities of a gosthyanandi, a preacher, he accepted the dress of a sannyasi.
For his preaching work, Srila Sarasvati Thakura wisely chose to accept sannyasa, as people in India naturally show respect to sannyasis, and this was Sri Caitanya Mahaprabhu's motive as well: to save and attract persons, who would have otherwise criticized Him or not taken Him seriously. There was also further precedent in our line for this action, as Srila Prabodhananda Sarasvati, the author of Sri Caitanya-candramrita, Sri Navadvipa-Satakam, Sri Vrindavana-Satakam, Sri Radha-Rasasudhanidhih, and many other Vaishnava works also accepted tridanda-sannyasa.
His Divine Grace A.C. Bhaktivedanta Swami Prabhupada also explains in his commentary on the Srimad-Bhagavatam verse about the Avanti sannyasi in Caitanya-caritamrita [Madhya-lila 3.6] that, "The most intimate devotee of Sri Caitanya Mahaprabhu, namely Gadadhara Pandita, accepted the tridanda-sannyasa and also accepted Madhava Upadhyaya as his tridandi-sannyasi disciple. It is said that from this Madhavacarya, the sampradaya known in western India as the Vallabhacarya-sampradaya has begun. Srila Gopala Bhatta Bose, who is known as a smrity-acarya in the Gaudiya Vaishnava sampradaya, later accepted the tridanda-sannyasa order from Tridandipada Prabodhananda Sarasvati."
Thus with solid historical precedent and a mood to preach widely, Srila Sarasvati Thakura, on the same day as he accepted sannyasa, established a temple at Vrajapattana called the Caitanya Math and installed the Deities Sri Sri Guru-Gauranga-Gandharvika-Giridhari.
He began to preach in the immediate locality in Krishnanagar, Dalautpur, etc. In June he left Calcutta with a group of 23 devotees for Jagannatha Puri, and he visited Sauri, Kumara, etc. on the way and saw Gopinatha at Remuna. At Balasore he lectured on the Sikshashtaka, and he also gave discourses in Cuttack and Puri.
While in a forested area in Alalanatha, near Jagannatha Puri, Srila Sarasvati Thakura entered a state of deep ecstasy and trance (vipralambha), having realized the non-difference of this forest and the forest of Vrindavana, and lost his external awareness of the world. When he came back to his external consciousness alone in the woods, he could not determine where he was. Meanwhile, his followers, who had originally assumed that he gone to the forest to answer the call of nature, became very worried about him and began to search for him everywhere. Finally, they found him and led him out. As he traveled to the various sites of Sri Caitanya Mahaprabhu's pastimes, Srila Sarasvati Thakura was overwhelmed on several occasions with symptoms of ecstasy and would always cite and chant the appropriate verses from Caitanya-caritamrita to commemorate the mood and activities of the Lord in those sites."

Rupa-vilasa dasa.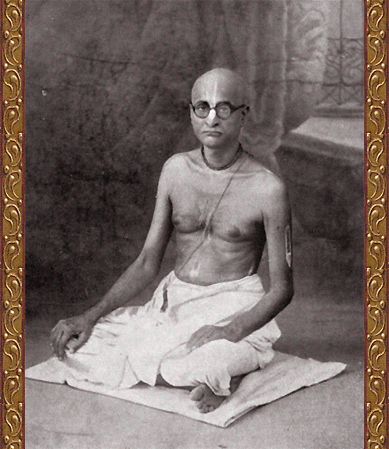 The Sun News Editorials Features Sun Blogs Classifieds Events Recipes PodCasts
Copyright 2005, 2011, HareKrsna.com. All rights reserved.