Shankha-kshetra: The Second Fold
BY: SUN STAFF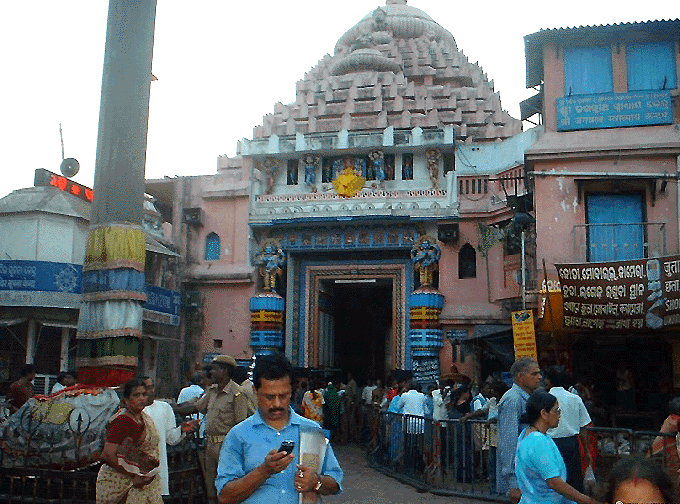 Jan 22, 2015 — CANADA (SUN) — A seventeen-part series on Sri Jagannath Puri Dham.
As described in yesterday's segment on Shankha-kshetra, the conch-like shape of Jagannatha Puri Dham is composed of seven concentric folds. The first fold is the innermost, being the kshetra's navel, where the abode of Lord Jagannath, Baladeva and Subhadra resides.
The second fold begins along the outer edge of the innermost fold, and this one is hexagonal in shape. Within the area reside four of the Devis, Sri Garuda, the top of Nilgiri Hill, which is shaped like the back of a tortoise, along with two tirthas and two vraksha-stahlas, or sacred trees. The Devis residing here are the goddesses Bimala (who represents origin), Kamala (desire), Sarbamangala (knowledge) and Uttarai (action). The trees are Kalpapadapa and Salmalitaru, and the tirthas are Rohini Kunda and Pranitodakakunda.
Kamala Devi is also known as Bhubaneshwari. Her temple is situated on the west side of the main Jagannatha temple. The Kamala deity is made of black stone, five feet in height and ornamented in silver. She is regularly offered dry food and fruits by a temple sevyat.
Shri Khyetraswari Bimala temple is situated in the southwestern corner of the temple complex, within an inner compound known as Kurma Bedha. The Bimala (Vimala) deity is made of black Muguni stone. In front of Bimala's temple is a small tank known as Rohini Kund.
In Puri there are five sacred bathing places known as the Pancha Tirtha, and Rohini Kunda is one of these. Pilgrimage to Puri is considered incomplete unless one takes holy bath in each of the five sacred tanks. Along with Rohini Kunda there is the Indradyumna Tank, Markandeya Tank, Swetaganga, and the ocean.
The water contained in Rohini Kunda is said to be karana, or the water of creation. Situated next to Rohini Kunda is a chakra and a four-foot tall crow, part of the pastime of King Indradyumna, who invited Lord Brahma to come after the construction of Lord
Jagannath's temple was complete. At the time, King Galamadhava possessed the temple, and insisted that it belonged to him. As Lord Brahma settled the dispute, the crow and the wheel came to witness on the side of King Indradyumna, and they have remained here ever since. King Galamadhava himself is said to have remained at the holy tank of Rohini Kunda, where he eternally prays to Lord Jagannatha.

The Sun News Editorials Features Sun Blogs Classifieds Events Recipes PodCasts
Copyright 2005, 2015, HareKrsna.com. All rights reserved.