Sri Garuda, Part Two
BY: SUN STAFF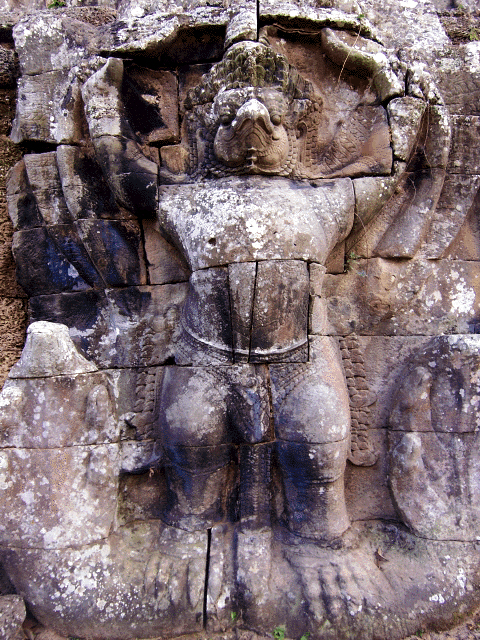 Garuda holding Vasuki
Angkor Wat, Cambodia
Jan 06, 2015 — CANADA (SUN) — A serial exploration of Sri Garuda, the transcendental carrier of Lord Visnu.
The widely distributed murtis and images in honor of Sri Garuda are a testament to the devotees' great affection for this transcendental vahana (carrier) of Lord Visnu. Beautiful murtis of Garuda are found throughout southeastern Asia, from Patan, Nepal to Kerala, in Bali, Cambodia, Fiji, and elsewhere. While a tremendous number of Garuda images are found in temple carvings, on stambhas, and in murti form, there are few temples dedicated primarily to the worship of Garuda, in which he is the presiding Deity.
Given the pastime of Garuda's attempt to Kill Vasuki, one would expect to find temple shrines to Garuda in Fiji, but unfortunately little is found there in the way of his worship. According to the Skanda Purana, Garuda was once hunting for snakes to devour and came across Vasuki, hiding in a large cave, called Biladvara. Striking Vasuki with his mighty wings and tearing at him with his sharp claws and beak, Garuda tried to kill him. Owing to Vasuki's strength however, Garuda became dazed by the poisonous vapors emitting from Vasuki's mouth, as well as the luminous jewels on his hood.
As they fought, the great sage Kasyapa Muni appeared and requested Garuda to desist from killing Vasuki who was a great devotee of Lord Siva. With great humility, Garuda folded his palms and told the sage that he was starving and had not eaten in days. Kasyapa told him, "Go to the Ramanaka Islands (modern day Fiji) where snakes and uncivilized Kiratas (hunters) are available in plenty." Immediately Garuda went to that place to satisfy his hunger.

Vellamassery Garudan Kavu
In Kerala, India, only one Garuda temple is found. The Vellamassery Garudan Kavu is located in the Malappuram district of Kerala, near Tirur. This 1,800 year old temple is positioned nearby the Mahavishnu temple. Many come to the temple to pray for an easy recovery from snakebite and other diseases. The Garudan temple is said to be the only temple in the area in which Garuda is worshipped in his flying form.
The origins of Vellamassery Garudan Kavu is explained by the temple officials: "Centuries ago a great sage immersed in penance was able to realize the vision of Lord Vishnu and requested him to boon him a way out for the human soul from pain and sin. As if explaining to his divine vehicle Garuda, Maha Vishnu elucidated the methods and ways of redemption open before the human soul in its predicaments. To keenly participate in this dialogue of his master, the Garuda flew and sat on a location which now is the bank of the Theertha pond of the Garudan Kavu temple. That place where Vishnu gave darshan to his devotee too became a holy spot. Centuries later at this divine location, as if explaining to his divine vehicle Garuda, His highness the Raja of Vettathu Nadu constructed a temple. He gave it as a danam. It is believed that later the penance undertaken by Sree Padmapadacharyar, a disciple of Jagad Guru Sri Sankaracharya in this temple added much to its nobility and lore.
The Temple Complex
The temple has developed over many years. Sankara Narayana and Shiva prathisthas facing the east were installed. On the left of Lord Garuda are found Veettekkaran and Kartha Veeryarjunan. Vishnu and Sankara Narayanan have Namaskara Mandapa. Vishnu has a balippura on the south as well. In the west are placed Sastha, Bhagavathy, Ganapthy and Bhadra Kali. There is a gopuram at the west and a deepasthambham inside. The large and serene temple pond on the south is a favored feature of the temple site.
The temple is proud to admit not only Hindus by birth, by all devotees. Temple officials state that Sri Garuda always retained an elitist height, from which every jivatma had an equal opportunity to approach, and this principle was enunciated by Lord Vishnu in the Garuda Purana.

Naga murtis at Garudan temple

The Sun News Editorials Features Sun Blogs Classifieds Events Recipes PodCasts
Copyright 2005, 2015, HareKrsna.com. All rights reserved.